Why We Don't See The Bachelor Contestants Eating On Their Dates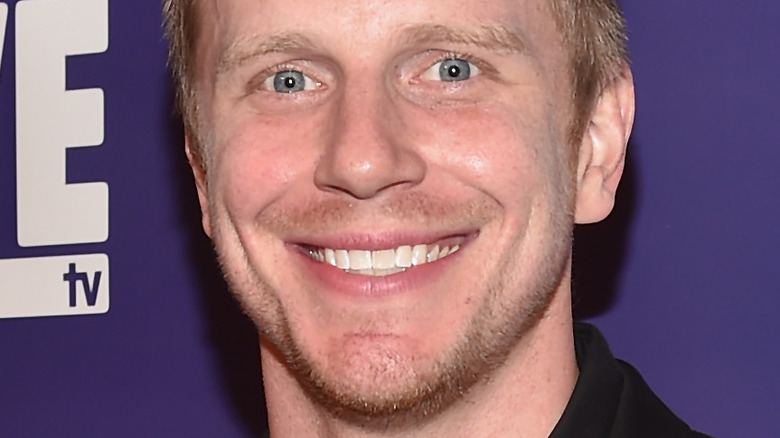 Alberto E. Rodriguez/Getty Images
"The Bachelor" franchise is about finding love, so the show takes extra care to create a romantic environment. The mansion featured in the series has a picturesque garden, a sprawling patio, and plenty of nooks for flirtatious pairs looking for one-on-one time. And that's just the beginning. To shake things up, contestants often travel to various locations around the country and the globe in hopes that one smitten couple will reach the final rose ceremony. Whether it's a group hangout or a more private rendezvous, the dates are designed to get people to open up and step out of their comfort zone. While some aspects of "The Bachelor" seem staged, the dates are a fun way for the contestants to gauge their interest in one another.
Noticeably, a common factor on these dates is food. As far as dating is concerned, going out to dinner is pretty typical — so the meticulously laid-out spreads on the show don't seem out of place. However, you rarely see anyone actually touch their dinner if you watch closely enough. Reality shows often aim to portray a heightened version of reality by strategically altering a situation to make it seem perfect, and "The Bachelor" is no exception. Thankfully, one of the show's former stars has the inside scoop on why you never see anyone eating on their dates.
The food is just for show
Sean Lowe, who appeared on "The Bachelorette" before getting his shot at love as the leading man on Season 17 of "The Bachelor," has given fans a closer look at his experience via his book, "For the Right Reasons." Although he ultimately proposed to now-wife Catherine Giudici, Lowe went on plenty of other dates before that happened. According to the star, the food going untouched is another way the series works to curate a love story. After all, people can't have dramatic conversations with food in their mouths, especially if they need their hair and makeup to stay pristine for the cameras. Not to worry, though — the contestants do get fed. In his book, Lowe explained what mealtime is really like behind the scenes.
"Before we went on the date, the producers sent food to our hotel rooms," Lowe revealed (via Cosmopolitan). "We ate in our rooms and then went out for dinner, where we would be given beautiful food arranged nicely on the plate. This was just for show. No one looks good eating, and microphones pick up all kinds of chomping."
This tactic helps date scenes to appear intimate instead of resembling an ASMR eating video. Aside from planned events, contestants are mostly left to cook for themselves, according to Refinery29. On the road to love, things aren't always as glamorous as they seem.