How Jackass' Johnny Knoxville Helped Save Steve-O's Life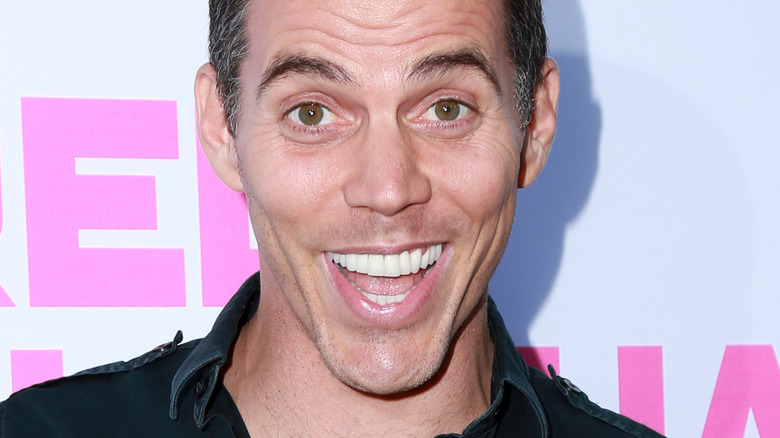 Kathy Hutchins/Shutterstock
This article contains discussions of issues relating to addiction, mental health, and suicide.
When you think about the classic MTV stunt show "Jackass," you see a group of friends having a grand ol' time pranking each other in fun and creative ways. However, when taking a surface-level look behind the scenes, for some "Jackass" cast members, the stunts came with a considerable cost. For example, there's the infamous bull stunt featured in "Jackass Forever" that ended Johnny Knoxville's stunt career because of severe injuries. 
While performing for various "Jackass" projects over the years, franchise star Steve-O's drug and alcohol addiction — which, according to Reuters, started in his teenage years – reached its peak, resulting in some difficult times and destructive behavior. For instance, Steve-O admitted during an interview with Gaming Bible that one of his lowest points was when he was recording voiceover bits for 2007's "Jackass: The Game." The following year, in 2008, during a live broadcast of MTV's "Jackassworld.com: 24 Hour Takeover," Steve-O was visibly under the influence, so much so that MTV executives had him ejected from the set, per E! News. 
Later that same year, Steve-O sent a disturbing email that eventually led to an intervention. And to this day, he still credits one "Jackass" co-star who helped stage the intervention with playing a crucial role in saving his life.
If you or anyone you know is struggling with addiction issues, help is available. Visit the Substance Abuse and Mental Health Services Administration website or contact SAMHSA's National Helpline at 1-800-662-HELP (4357).
Steve-O credits Johnny Knoxville with helping to save his life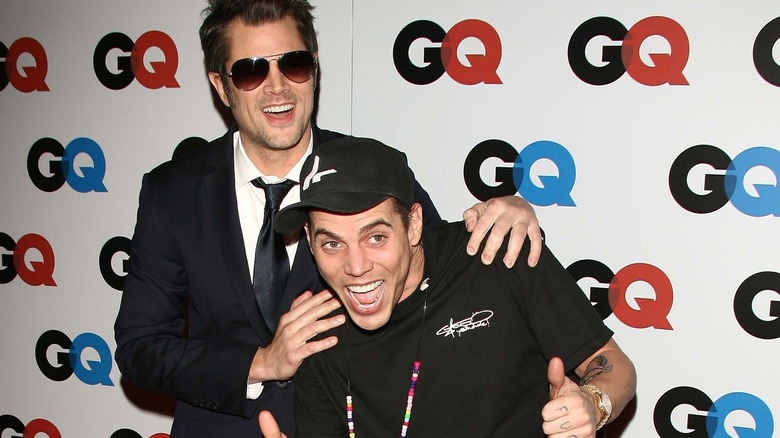 s_bukley/Shutterstock
On a recent episode of "Steve-O's Wild Ride!," Steve-O spoke with his former "Jackass" co-star Bam Margera, who reappeared after a long absence, which included a stint in rehab. When speaking with Bam about the severity of his addiction, Steve-O explained that when their drug and alcohol usage was at its worst, there were no consequences because it was left unchecked for so long. However, as he explained to Bam, "It stopped being something we'd wanna give you a high five for because we're like ... we've been watching you self-destruct." 
In regards to his own battle, Steve-O told Bam that he credits two people with helping him by making him understand the ramifications of his actions: " ['Jackass' director Jeff] Tremaine and Knoxville saved my life by enforcing some consequences."
During a different interview on "In Depth with Graham Bensinger," Steve-O recalls that during a particularly harrowing period of his addiction, he sent out an email to friends that detailed an elaborate and dangerous stunt that would have ended in grievous injury. Though already disturbing, Steve-O ended the email with "I'm ready to die!" According to E! News, in March 2008, Johnny Knoxville and several others staged an intervention, involuntarily committing Steve-O to a mental hospital for a 72-hour psychiatric hold due to a potential suicide attempt, which was then extended to two weeks. Thankfully, it was that intervention, helped set up by Knoxville, that Steve-O would credit for starting him on the path to recovery, as conveyed in a Tweet celebrating 10 years of sobriety.
In a moment of clarity, while in rehab, Steve-O penned an email expressing, "So far, I've figured out that I did a great deal of damage to my brain by abusing drugs and, now that they've all worn off, I'm facing the consequences." 

If you or anyone you know is having suicidal thoughts, please call the National Suicide Prevention Lifeline by dialing 988 or by calling 1-800-273-TALK (8255)​.