Jackass' Bam Margera Is Better Than Ever As He Returns From Long Disappearance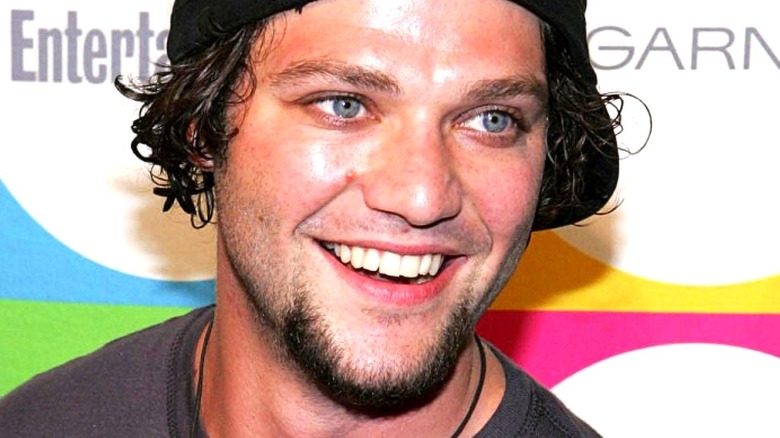 Everett Collection/Shutterstock
Bam Margera is one of the more famous members of MTV's sadomasochistic "Jackass" franchise. Although Margera got his start skateboarding, "Jackass" put him front and center as he gleefully terrorized his family. Luckily, his family was incredibly tolerant of his shenanigans and could overlook his constant assaults on his father. And let's not forget when he placed a live alligator in his parents' house. However, these skits proved to be a big draw for "Jackass," as illustrated by this clip on YouTube from "Family Guy." Margera's schtick was worthy of lampooning.
Unfortunately, the reality star went through a rough patch, and his struggles have become a matter of public knowledge. The prankster was absent from "Jackass Forever" because of his addiction issues, and several former co-stars attempted to help him. Speaking with Rolling Stone, "Jackass" frontman Johnny Knoxville said, "We wanted him all throughout the movie, but unfortunately, that's not the way it worked out. It's really heartbreaking. I love Bam. We all love Bam. He's our brother, you know? You just hope that he takes it upon himself to get the help that he needs because we all care about him a lot." However, it now seems like there is light at the proverbial end of the tunnel for Margera.
Margera appeared on Steve-O's podcast and discussed his new outlook on life
According to Newsweek, Bam Margera was ordered by the court to attend rehab after a report of a disturbance at a hotel in September 2021. After spending several months in rehab, Margera took to Instagram to celebrate his sobriety and recovery.
In surprising news, Margera recently appeared on Steve-O's Wild Ride Podcast, where Steve-O commented on how it must be a shock for fans of "Jackass" to see the two appear together. The subject of the previous year then came up, and Margera said, "I did a year of alcohol treatment and I actually have never felt better. I actually didn't realize I had such a problem that I did." At this point, Steve-O interjected and asked for him to make the distinction between still having the issue or not, and Margera agreed that was an important clarification. Margera says his sobriety is still something he needs to work on. 
He proceeded to say that he is completely done with his former hard-partying lifestyle. Margera noted that he has a kid to worry about and that he never wants to feel hungover again. Steve-O then expressed some concern for his friend and wanted to know if he would stay true to his new path, and Margera replied that he is still doing classes and being drug tested. It sounds like Margera is back on the straight and narrow, much to the delight of his friends and fans.
If you or anyone you know is struggling with addiction issues, help is available. Visit the Substance Abuse and Mental Health Services Administration website or contact SAMHSA's National Helpline at 1-800-662-HELP (4357).