Jurassic Park's Laura Dern Had A Specific Concern Before Filming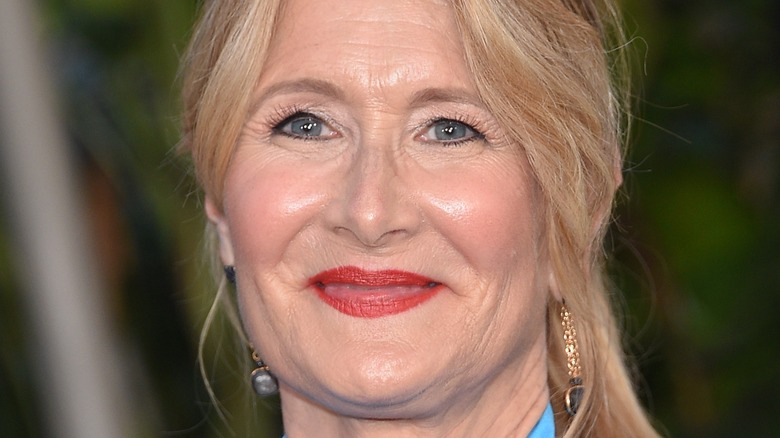 DFree/Shutterstock
When the original "Jurassic Park" premiered in 1993, it spawned a franchise that includes five sequels, comic books, video games, Universal Studios rides, and even a successful animated series aimed at kids: "Jurassic World: Camp Cretaceous." The film's actors, including Sam Neill, Laura Dern, Jeff Goldblum, and Samuel L. Jackson, were certainly known at the time, but "Jurassic Park" proved to be a big step in all of their careers. Neill had an inkling they were creating something special and unique from the start. "We were literally breaking new ground," he told Den of Geek in 2022. "It wasn't just another job. We felt like this might be a milestone in the history of cinema. And I think it was."
But while it's become common for studios to use green screens and CGI to create more complex creatures and set pieces, that wasn't the case in 1993. Realistic costumes and makeup, stop-motion, and animatronics — that's what was primarily used because computer CGI wasn't considered realistic enough yet. Despite this, special effects were still a big part of "Jurassic Park," and making the dinosaurs threatening and awe-inspiring was an essential element of the film. After agreeing to take on the role of Ellie Sattler, Laura Dern recalled having some concerns about starring in such a special effects-heavy film.
Laura Dern was concerned about working with the special effects
Apparently, starring in a film with so many technical components gave Laura Dern some pause early on. "Going into it, that was a concern of mine, in that I thought, more than anything, that I was going to be waiting around, you know, performing with nothing while they were kind of getting the special effects organized," Dern told take2markTV during the original "Jurassic Park" press tour. "But a lot of times there was something there. It was profound and fantastic. I enjoyed working with these creatures." The creatures Dern is referring to are the animatronic dinosaurs used in the film. Unlike many movies where the actors are running from something that will be computer-generated into the film later, Dern and the cast were actually being chased by dinosaurs — albeit robotic ones controlled by humans.
Dern has spoken fervently about seeing her first animatronic dinosaur on the "Jurassic Park" set, telling Time Magazine in 2022 that while she was excited to see the animatronic dinosaurs again while filming "Jurassic World Dominion," the first film was particularly special. "It was equally as jaw dropping, but nothing will be like that first moment I walked through a field on Kauai with Sam Neill and I looked ahead and I saw a triceratops," she said. "That was my first dinosaur and I will love that dinosaur the most forever." While she knows they're just puppets, to Dern the experience felt terrifyingly real.