Who Plays Alina Park In The Blacklist?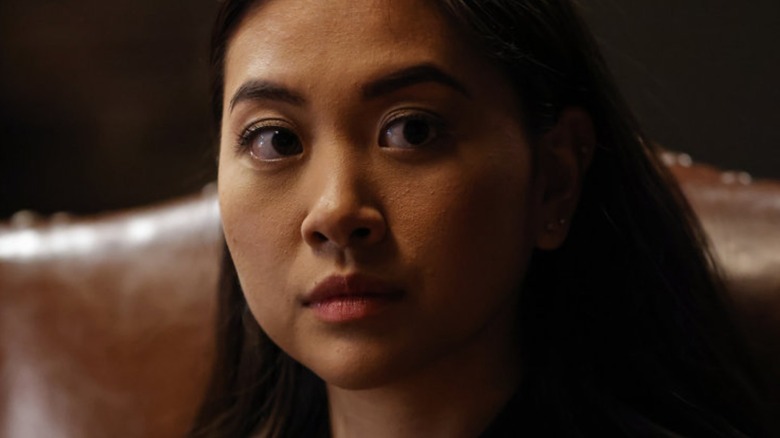 Will Hart/NBC
If "The Blacklist," a drama where a true baddie helps catch some of the world's worst criminals, naturally features lots of ruthless, violent people, then Alina Park has to be one of the most hardened characters on either side of the law. Introduced in Season 7 of the show, FBI Agent Park joins the Task Force despite Raymond Reddington's (James Spader) uncertainty. But Park quickly proves herself to him when she nearly kills Francesca Campbell (Mila LaPorte) with a piece of glass.
Park's inner darkness is fueled in part by her psychological trauma, including accidentally killing her mother as a child. However, fans won't get to see more of what makes the agent tick after this latest season. According to The Wrap, Agent Park won't be returning for "The Blacklist" Season 10 after the character, now pregnant, went on medical leave in the Season 9 finale. But who was the actress that left a mark on viewers — and her enemies — as Agent Park?
Laura Sohn only had a few credits before The Blacklist
Before she made 56 episodes of "The Blacklist," Laura Sohn only had a few film and television credits (via IMDb). The actress's first appearance was in a short film, "The Vampire Leland," before she guest starred on a few CBS shows, including episodes of "Instinct," "NCIS: New Orleans" and "God Friended Me" (IMDb). Sohn usually had small roles in these projects, so she confessed to finding it "very intimidating" to join the cast of a veteran hit show like "The Blacklist" (via Entertainment Weekly).
However, Sohn started feeling more comfortable once she was able to find a place on the show, saying on The Neil Haley Show, "it's been really fun to just play with the different character dynamics that have been blossoming." She also liked channeling Agent Park's anger and violence, though she notes how "she will do whatever it takes to protect those people, the people she loves around her" (Entertainment Weekly).
It's unclear whether the actress leaving the series was her decision or that of the writers (via The Wrap). But it's likely Sohn has a long career ahead of her, and who knows, maybe Agent Park will return to "The Blacklist" for a future episode.