The Big Bang Theory's Brian George Has A More Prolific Voice-Acting Career Than You Likely Realized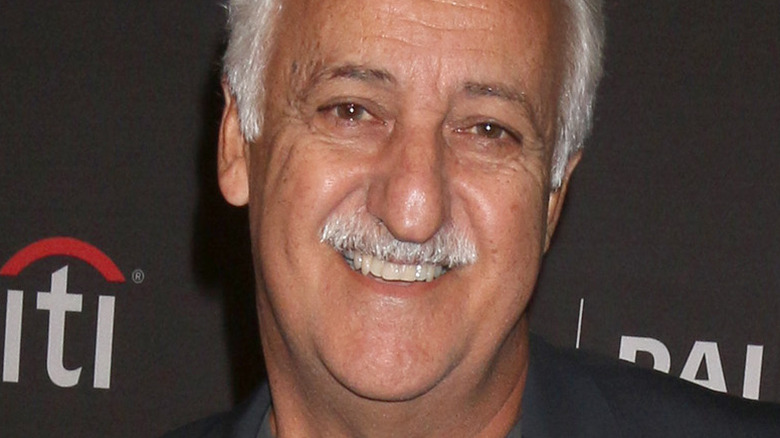 Kathy Hutchins/Shutterstock
As Dr. V.M. Koothrappali on CBS's long-running geek-centric sitcom "The Big Bang Theory," Brian George plays the demanding and concerned father of Raj Koothrappali (Kunal Nayyar). Why the parental anxiety about his astrophysicist son? Living far removed from Raj in India, much of the good doctor's apprehension stems from what he feels are Raj's "inappropriate" choices in buddies. The fact is, Dr. Koothrapalli is convinced at first that roommates Sheldon (Jim Parsons) and Leonard (Johnny Galecki) are gay, a supposition Leonard quickly disavows (per The Big Bang Theory Wiki). But this belief about Raj's pals persists and also leads both his parents to wonder about Raj's relationship with his bestie, Howard (Simon Helberg). And this, as it turns out, is worrisome for them because both mom and dad are determined to match Raj up with a suitable, preferably Indian, preferably female, future wife.
As Ray's father throughout his 16 episodes on "The Big Bang Theory" from 2007 to 2019, George finds himself portraying a character with a heavy, easily identifiable Indian accent, even though the actor himself speaks with a pronounced British accent when not inhabiting Dr. Koothrappali on the show. And, the truth is, George also has other accents in his acting toolkit and deploys them in a voice-acting career that's more varied and extensive than most fans of "The Big Bang Theory" may know.
The Big Bang Theory's Brian George has lent his voice to numerous films, TV series, and video games
Back in 1966, Brian George began his professional acting career while living in Toronto, Canada. There, he would hone his comedic chops with the legendary Second City improv group, along with fellow comedians John Candy, Catherine O'Hara, and Martin Short (per SBV Talent). After moving to Los Angeles, his early voice-over career would include voicing Mr. Fetucinni in "The Care Bears Movie" in 1989. The next year, he would team up with his Second City colleague John Candy to play the character of Botch in six episodes of the animated "Camp Candy" TV series.
As George's skills came to the attention of Hollywood voice casting directors during the following years, he would provide his vocal talents to films including "Batman: The Killing Joke," "Hotel Transylvania," "The Boxtrolls," and others (via English Voice-Over Fandom). Additional V.O. outings would see the actor voicing characters like Inspector in "The Pink Panther Show," Lou in "Steven Spielberg Presents Animaniacs" and five different personas in "Star Wars: The Clone Wars." Then there are his many video game voicing gigs from "The Hobbit" to the "World of Warcraft" franchise (per IMDb). And this is just the tip of the voice-acting iceberg when it comes to the dozens of times Brian George has made a vocal "appearance" in films, TV series, video games, and more.