The Sci-Fi Musical Flop Olivia Newton-John Filmed Before She Appeared In Grease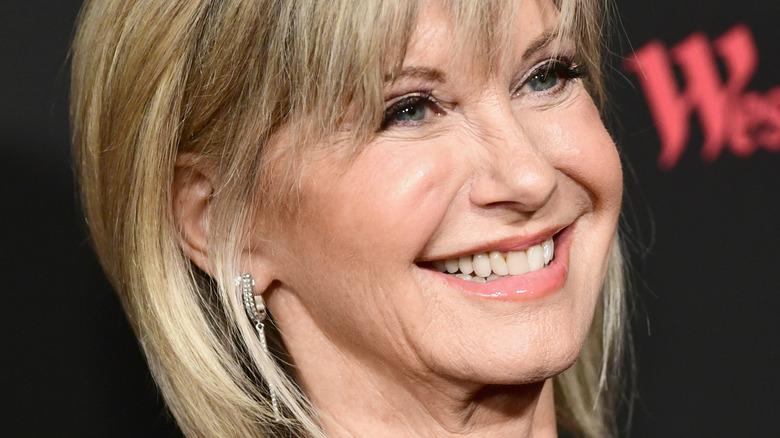 Emma Mcintyre/Getty Images
Olivia Newton-John boasted a strong and successful career since the 1970s. The singer and actor had her breakout in the 1974 hit "Grease," which she starred in alongside John Travolta. The 1950s throwback musical made both performers into household names seemingly overnight based on the massive popularity of the film alone.
While Travolta would go on to focus more on acting than singing, Newton-John went the opposite route. The golden-voiced songstress went on to record over 25 albums across her lifetime, scoring music awards from the likes of The Grammys and The Billboard Awards (via IMDb), as well as her very own star on the Hollywood Walk of Fame before Newton-John tragically passed away in 2022.
Still, the performer never completely lost the acting bug. Though her movie roles would taper off over the years, she remained active in the television space all the way up to 2015, often guest-hosting or playing herself, and shot her final film performance in 2020 (via IMDb). However, there's one odd little role from early on in Newton-John's career that even die-hard fans might have missed.
Olivia Newton-John was in Toomorrow
Four years before she appeared in "Grease," Olivia Newton-John starred in writer-director Val Guest's bizarre science fiction musical "Toomorrow" (via IMDb). The movie follows a fictional band called Toomorrow who ends up being abducted by a group of desperate aliens that believe their music can help to repopulate their dying race. Yes, that's really the plot of the movie.
With this incredibly strange premise in mind and the obvious low-budget nature of the film, it's really no wonder that "Toomorrow" didn't make much of a splash. Still, the team behind the movie clearly knew that Newton-John had the vocal prowess to help carry their musical over the finish line, and her voice still sounds great in the film. Of course, Newton-John would rise from these humble beginnings to become a megastar whose hits like "Let's Get Physical" and "I Love You, I Honestly Love You" still play on radio stations to this day.