The Boys' Erin Moriarty Isn't Taking Misogynistic Fan Abuse Lying Down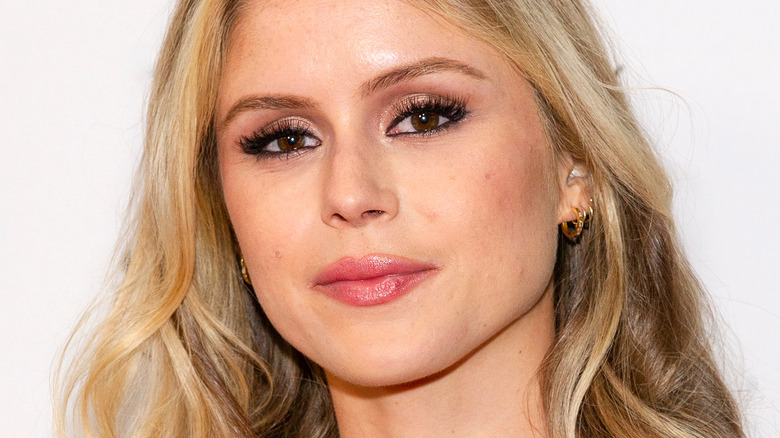 Ovidiu Hrubaru/Shutterstock
"The Boys" star Erin Moriarty is someone who isn't afraid to speak her mind when it comes to her character, Annie January — aka Starlight — and all the misogynistic fan backlash that's been hurled at her since the show's debut. And that's exactly what she has started to do on social media. 
Over the past three seasons, Moriarty and Starlight both have come under fire for their position in "The Boys" universe as one of the most powerful Supes in the series, and for some people, seeing a woman in that spot really irks them. Now, this isn't all "Boys" viewers. In fact, many have called out the misogynistic fan abuse and praised Moriarty for standing strong during it. 
"People who hate on Starlight are wack," wrote one Redditor in the title of a June 2022 discussion thread. "What these smooth brains don't realize is Starlight has been a Supe since she was a kid, she knows Supes and their limits," the person added. 
In another r/TheBoys discussion from July 2022 — titled "The Starlight hate in this sub is rooted in misogyny" — one Redditor pointed out how Moriarty was also being targeted online by fans. "I am quite shocked to see all the hate Starlight gets here (and Erin Moriarty whose physical appearance is also discussed in very demeaning manners)," wrote the Redditor. "The whole point of the show is to denounce toxic masculinity and yet I read comments like they are written by f***ing incels on 4chan. So infuriating." Well, Moriarty has also apparently had enough, with her choosing to voice her frustrations and feelings on the backlash in a September 6 Instagram post. 
Moriarty says she feels 'silenced' and 'dehumanized'
Sharing a fan article on her IG page that was written about her, titled "#IStandWithStarlight?: The Betrayal of Erin Moriarty by The Boys Fans," Erin Moriarty describes feeling a lot like her character Starlight — "silenced" and "dehumanized," among other things. The "#IStandWithStarlight" fan piece also echoed this sentiment. 
"As it turns out, you can dedicate an entire season of a television show to exploring how the toxicity of masculinity crushes and controls women, and seemingly a majority of the audience will still fail to employ the lessons learned — or worse, not have recognized there was a message at all," writes the article's author, IG user @butcherscanary. "The harassment feels all the worse given the context of her role as Starlight on the show, a woman silenced and sexualized, treated like a celebrity canvas for others to project onto rather than a human being with her own thoughts and feelings," they said. "But Annie is fictional, and Erin is not. The torment doesn't end for her when the credit starts, because there is no switch off." The user later says, "Whilst I'm sure her male colleagues have endured unjust criticism, the obsession with her looks and the extent of objectification is unmatched."
Writing in the post description, Moriarty agrees with @butcherscanary's opinions on the fan backlash and describes how it has been making her feel. "I do feel silenced. I do feel dehumanized. I do feel paralyzed," Moriarty says. "I've put blood, sweat, and tears into this role (over & over & over again), I've grown UP in this character's shoes (*emphasis on grown up – we change & evolve mentally AND physically)." Moriarty later adds, "This does break my heart." But she doesn't plan to keep taking the fan abuse lying down.
'This kind of trolling is exactly what this role (Annie) would speak out against'
While many people would immediately jump ship from "The Boys" or get off of social media as a result of all the fan hate, Erin Moriarty has other plans. The former "Jessica Jones" and "True Detective" star is, instead, choosing to call out and recognize the online abusers, with her doing just that in her IG post.
"This kind of trolling is exactly what this role (Annie) would speak out against," Moriarty wrote. "Everyone's going through their own battle(s); let's not add to that. I will never intentionally (and ESPECIALLY) publicly add to yours." 
While Moriarty could have easily taken the low road and lashed out at the online haters, she goes on to sympathize with them and says she found peace within herself by not stooping down to their level. "This has only strengthened my empathy muscle," Moriarty writes. "And to anyone who comes at me: I see you, I don't hate you, I only empathize and forgive." 
The ending of "The Boys" Season 3 saw Moriarty's Starlight ditching her Supe status and becoming a member of the infamous Boys crew, led by Karl Urban's Billy the Butcher, heading into Season 4. So, sorry misogynists. It doesn't appear that your favorite "The Boys" character is going anywhere.