The Time Anthony Michael Hall Got Completely Stumped On Celebrity Wheel Of Fortune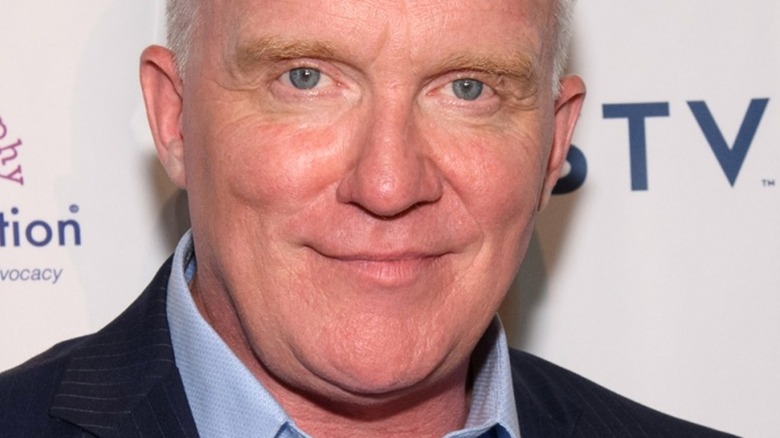 Timothy Hiatt/Getty
"Wheel of Fortune" has been one of the most popular game shows on television for nearly five decades (via Esquire). The deceptively simple puzzle game asks contestants to play a Hang-Man-esque guessing contest while spinning a massive prize wheel to decide their winnings if they guess correctly and solve the puzzle.
Over the years, "Wheel of Fortune" has had plenty of big winners, even as its host Pat Sajak has had to skirt the occasional controversy along the way (via The Sun). Among those winners have been a vast collection of celebrity contestants as well, who play the game in hopes of winning prize money for their charity of choice.
One such contestant was Anthony Michael Hall. Best known for starring in John Hughes' 1980s coming-of-age movies like "Sixteen Candles," "The Breakfast Club," and "Weird Science," Hall tried his hand at the puzzles when he took the iconic wheel for a few spins as a competitor on "Wheel of Fortune."
Anthony Michael Hall missed on the final puzzle
Anthony Michael Hall made it to the final round on "Wheel of Fortune," but that's where his luck started to run a little low. As the actor faced a puzzle in the PERSON category, even the four letters Hall was able to select for assistance weren't enough to help him get to the right solution. As the stumped star sputtered a bit, the timer ran out, and he lost out on an additional $25,000 for his charity of choice (via ABC).
Still, it wasn't a total loss for Hall by any means, as the actor was able to secure over $52,000 for Save the Children. The charity aims to help children around the globe to survive and thrive as life grows increasingly complicated and dangerous in these trying times. "For over 100 years, we've advanced children's rights around the world. We do whatever it takes every day and in times of crisis — to give children a healthy start in life, the opportunity to learn, and protection from harm," reads a statement from the charity's website.
With many ongoing crises currently unfolding across the world (via United Nations), the charity will no doubt need all of the donations it can get. Hopefully, Hall's contributions from his time on "Wheel of Fortune" have helped the organization to go the extra mile, even if the star couldn't quite clinch the puzzle in the final round.