The Fantastic Beasts Souvenir Dan Fogler Took Home From Set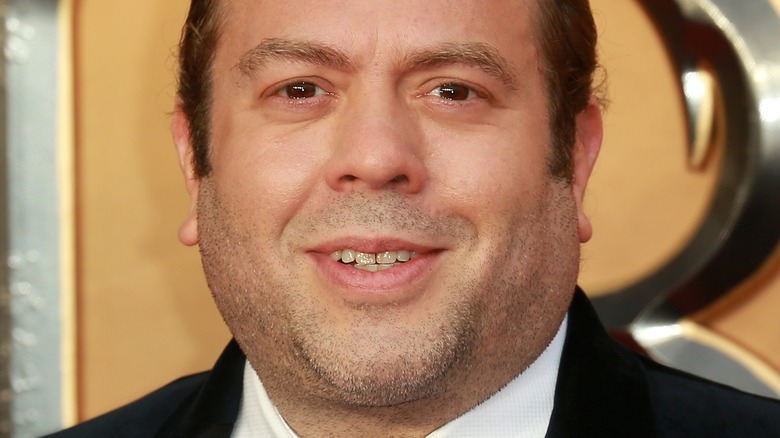 Fred Duval/Shutterstock
The cast of the "Harry Potter" film franchise spent an entire decade together on set, bringing to life the epic novels penned by J.K. Rowling. During those 10 years, the actors were constantly surrounded by the intricate details that make up the wizarding world, from wands and books to costume pieces unique to their characters. Therefore, it makes sense that most sneakily kept some memorabilia from this huge chapter in their lives.
Not only did Daniel Radcliffe nab several pairs of Harry Potter's black spectacles, but he told BBC Radio 1 that he also has the prosthetic arm worn in "Harry Potter and the Chamber of Secrets," from when Gilderoy Lockhart (Kenneth Branagh) accidentally removes Harry's arm bones. Matthew Lewis told Parade that he has Neville Longbottom's false teeth at home. As for Rupert Grint, he revealed to BBC News that he attempted to take the golden egg from "Harry Potter and the Goblet of Fire," but was thwarted: "Apparently it was worth a few thousand dollars."
After working with such a sticky-fingered group, some rules were put in place for the "Fantastic Beasts" cast, according to Dan Fogler, who plays Jacob Kowalski. "The producers made a big deal about, 'Don't take any props, don't take anything. I guess on 'Harry Potter,' all the kids abused that rule. I think that Daniel Radcliffe has 27 different pairs of his glasses,'" he told WENN, as reported by AceShowBiz. "So when it got to us, there were cameras everywhere."
Still, Fogler was able to secure one souvenir from the "Fantastic Beasts" set. 
Dan Fogler has Jacob Kowalski's socks
Just as the set of "Harry Potter" boasted countless magical props and knickknacks, so did that of its prequel series, "Fantastic Beasts." The actors looking to snag memorabilia had plenty of options, from the period fashion pieces of 1920s New York City to the blood pact necklace of Albus Dumbledore (Jude Law) and Gellert Grindelwald (Mads Mikkelsen).
For Dan Fogler in particular, his character of Jacob Kowalski makes some tasty-looking baked goods and even gets his own wand in "Fantastic Beasts: The Secrets of Dumbledore." He also becomes immersed in the magical beast-filled world of Newt Scamander (Eddie Redmayne). Fogler joked to Collider about stealing an Erumpent puppet — a massive creature with an explosive horn. Since this wouldn't exactly fit in his car — and given production's strict rules about taking stuff from the set — Fogler secured something else in an honest manner. He told WENN, as reported by AceShowBiz, "I waited until the very end and went to Colleen Atwood, who is the costume master, and said, 'Is there anything from the costume I could take, like a piece of cloth?'"
Atwood agreed to let Fogler keep Jacob's socks, a tradition they've upheld at the end of all three "Fantastic Beasts" movies. The actor usually keeps them safely tucked away, but does wear them sparingly. He told WENN, "I only bring them out for special occasions, like premieres. The first movie I had mismatching socks, so that's a hard one to wear out."