The Kylo Ren Props Adam Driver Brought Home From The Star War Set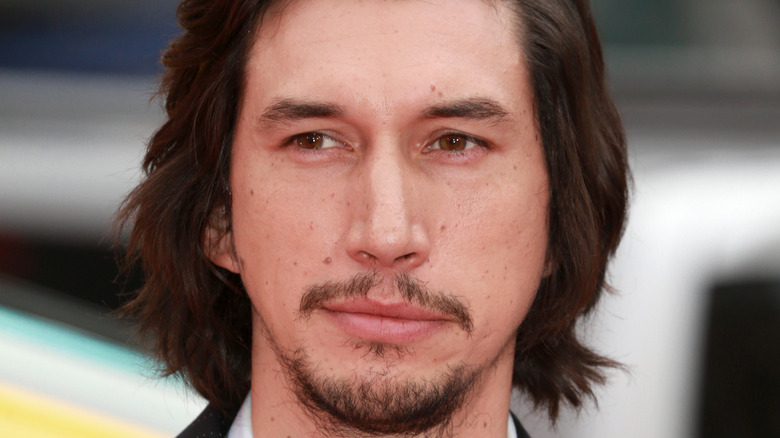 Cubankite/Shutterstock
"Star Wars" has become of the biggest franchises of the last five decades. What began as a rather small-scale science fiction movie (via Polygon) has since gone on to produce millions of dollars in merchandise, several new television series per year, and even its own unofficial holiday. Though "Star Wars" creator George Lucas has parted ways with the ubiquitous franchise, Disney is keeping the legacy of his characters and their universe alive in his stead, as most of the new media for the hallowed series has emerged on the back of the latest trilogy and the ending of the Skywalker saga.
One of the most pivotal and memorable characters from the latest batch of films has been Kylo Ren, played by Adam Driver. Though the successor to the legendary Darth Vader perished at the tail end of the final movie, "Star Wars: The Rise of Skywalker," Driver, who played the character, is still very much alive and well, and the actor has the "Star Wars" props to prove it.
Adam Driver has 2 Kylo Ren helmets and a lightsaber
Adam Driver sat down with BBC Radio 1 to discuss which props he took home from his time across the new trilogy, among other things. "I have lots of stuff," Driver confessed. "I have two helmets, actually. I have a lightsaber. I have stuff from "The Dead Don't Die." Every movie I try to take ..." With the incredible amount and high quality of movies that Driver has been in over the last decade, the star must be amassing quite an impressive trophy case of props and memorabilia from his film and television career in that case. Still, that wasn't the juiciest part of the interview.
"I wear my helmets when I drive just to confuse people," Driver admitted with a laugh. "I, really, I have lots of stuff, and I take a lot of pictures too." The actor also mentioned taking home some excellent clothing from his time on 'House of Gucci," but it's the driving bit that's probably going to stick in the heads of most fans. After all, it's strange enough to imagine someone driving around with a "Star Wars" prop on their head but to have them remove it and reveal a central actor from the series would be so utterly surreal that it's almost unimaginable. Either way, keep your eyes peeled for the guy in the Kylo Ren helmet next time you're out on the freeway.