The Office Star Melora Hardin's Favorite Episode Is Really No Surprise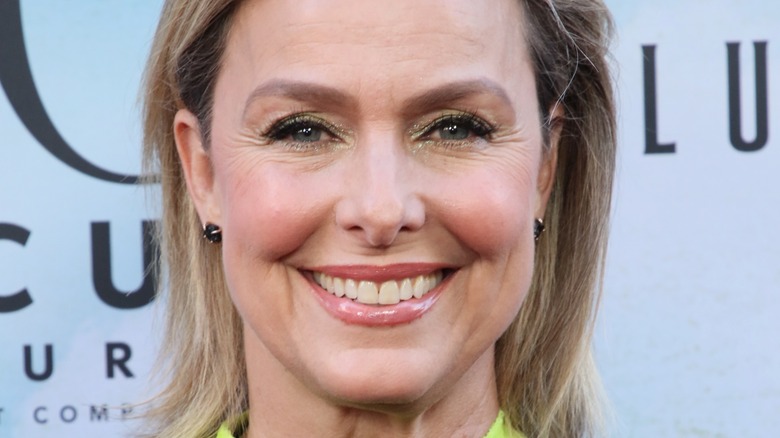 Robin L Marshall/Getty Images
Actress Melora Hardin has quite the resume over her career thus far, beginning in the entertainment industry as a child back in the late 1970s (via IMDb). Some might remember her from one of her very first roles ever, as Cindy Prescott on the series "Thunder" in 1977. Hardin also starred in the 1988 "Dirty Dancing" TV series, playing Frances "Baby" Kellerman — the role made famous in the movie by Jennifer Grey — alongside Patrick Cassidy's Johnny Castle. However, if you grew up in the early 2000s, it's more likely that you saw her in "27 Dresses" and, of course, "The Office."
Hardin, like many of the main cast members of the comedy series, struck gold with their roles in the show. "The Office" won five Primetime Emmy Awards (via Emmys.com) during its nine seasons on NBC, and still gained popularity after it ended in 2013, as it found new fans on streaming services like Netflix and Peacock. In fact, during the first week of January 2021, "The Office" was responsible for 9.2% of all streaming (via Forbes). Hardin played Jan Levinson in the series, the future ex-girlfriend and former boss of Michael Scott (Steve Carell). Michael and Jan shared plenty of hilarious moments in the series, including an accidental reveal of an inappropriate photo, a meeting to get Michael a raise, and more.
While all of Michael and Jan's interactions are eventful, Hardin recently revealed her absolute favorite episode, and it's really no surprise.
Melora Hardin's favorite episode of The Office is Dinner Party
During a conversation back in 2020 on Really Famous with Kara Mayer Robinson, Melora Hardin confirmed that her personal favorite episode of "The Office" was "Dinner Party." The ninth episode in Season 4, it follows Jim (John Krasinski) and Pam (Jenna Fischer) as they reluctantly attend a dinner party that Michael invites them to at his and Jan's home. Naturally, things are unbearably awkward, especially given that Michael and Jan's relationship is falling apart at the moment. Andy (Ed Helms) and Angela (Angela Kinsey) also arrive, along with Dwight (Rainn Wilson) and his guest soon after, making the situation even worse. It provides for an uproarious episode that many fans have noted as their favorite in the entire series (via Reddit).
Hardin says it was certainly fun for her to be part of: "Oh yeah, definitely. Yeah, no, absolutely my favorite episode for me," she noted while laughing. "It was just great fun, great fun to do," she continued. Hardin also explained that there was indeed a lot of improvisation by all of the actors in the episode, including her own choice to use her fingers as devil horns, which Carell then continued to improvise off.
Hardin is currently part of the ABC show "A Million Little Things."