Why Boy Meets World's Will Friedle Received A Call From Disney About A Sock
CarlaVanWagoner/Shutterstock
Over the years, "Boy Meets World" actor Will Friedle has worked on numerous family-friendly projects. Several of the titles on his resume have been developed under Disney, which is known for having strict policies and rules for stars to follow (via Animated Times). Despite providing so many years of service on a successful TV show, it appears no one is above the system.
As an actor, writer, and podcast host, it's no secret that Friedle is a man of many talents and has had to overcome lots of obstacles in his career. While his biggest claim to fame on the small screen is "Boy Meets World," he has also headlined a few motion pictures, including "Trojan War." However, his skills aren't limited to live-action. The prolific voice actor has lent his vocal talents to several franchises, such as Terry McGinnis in "Batman Beyond," Star-Lord in the Disney XD series, "Guardians of the Galaxy," and Ron Stoppable in "Kim Possible."
Out of all of the credits that make up his body of work, Will Friedle is most notably remembered for portraying Eric Mathews, the older brother of Cory Mathews in "Boy Meets World." During the family comedy's seven-season run, Friedle entertained audiences with his side-splitting antics, and he rarely disappointed when he was on screen. Unfortunately, however, it wasn't all fun and games — there was an issue Disney didn't take lightly that the actor had to deal with involving, of all things, a sock.
Disney doesn't mess around when it comes to wardrobe accountability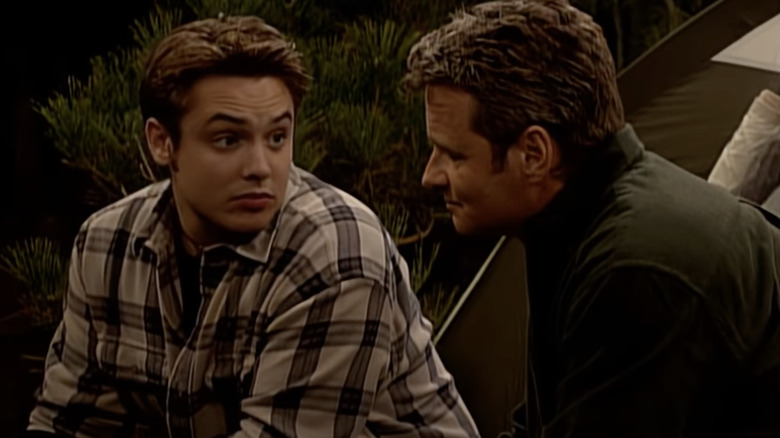 ABC
"Boy Meets World" cast members Danielle Fishel, Rider Strong, and Will Friedle host a podcast called "Pod Meets World," where they rewatch old episodes and reminisce about what happened behind the scenes. In the episode "Q&A Meets World Part 1," Friedle revealed that Disney is rather meticulous about having every piece of wardrobe returned and accounted for when a series comes to a close. "And it was crazy to the point where you talk about how exacting Disney can be," he explained. "It was a good three or four weeks later, I got a call from someone at Disney — who was not affiliated with the show but with Disney Wardrobe overall — asking me for a pair of black socks that apparently I had taken." He claims he didn't have the socks, and it is unknown if they were ever recovered.
Despite the strict sock accountability policy, Friedle seems to not hold any ill will toward Disney or the show — but that isn't the case for everyone. In an interview on Today, Strong and Fishel spoke about wanting to disassociate themselves from the show once it ended. That isn't how Friedle felt, as the actor revered his experience on the series and said he "loved everything about it." It's clear that he created a lot of great memories while on the ABC series — it's just unfortunate he cannot recall what happened to that missing pair of socks.