Carrie Fisher's Dog Inspired An Alien In Star Wars: The Last Jedi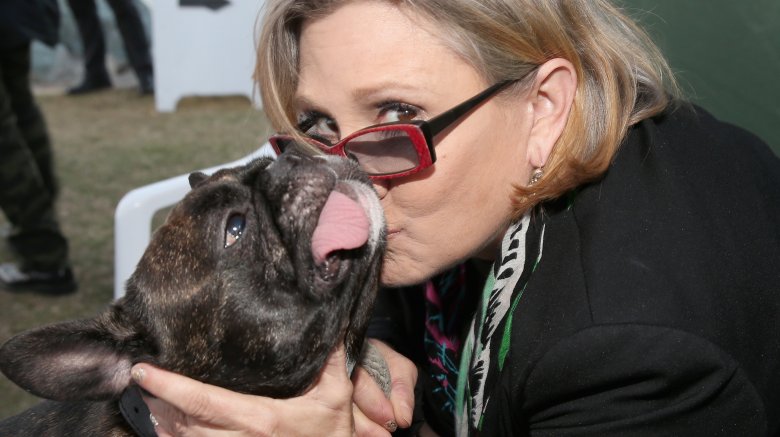 Getty Images
Star Wars: The Last Jedi will feature the final performance in the franchise by Carrie Fisher, but it will also have an homage to one of her most beloved companions.
An eagle-eyed Twitter user noticed that a recently released photo set in the casino city of Canto Bight has a small creature that looks suspiciously like Gary, the late Fisher's omnipresent French bulldog. When asked about the alien, director Rian Johnson replied that the creature is, in fact, an homage to Gary. 
@rianjohnson we @FanthaTracks want to know if you can confirm this cute little creature is #spacegary in #TheLastJedi pic.twitter.com/0if7XRiqog

— clair henry (@irishgeekgirl) December 6, 2017
YES! Wow, good eyes.

— Rian Johnson (@rianjohnson) December 6, 2017
In the years before her death last December, Fisher always had Gary by her side. Whether at red carpet premieres or during onscreen interviews, he was a constant presence anywhere Fisher happened to be. People reports that Fisher's assistant has since adopted Gary.
Although Fisher's death will have far-reaching repercussions in the final chapter of the current Star Wars trilogy, Johnson recently said he didn't have to make any alterations to The Last Jedi. "We didn't end up changing a thing," he said. "Luckily, we had a totally complete performance from her." 
However, the fate of Leia Organa will likely rest in the hands of J.J. Abrams and the team behind Episode IX. "It's a sad reality," Abrams said. "In terms of going forward... time will tell what ends up getting done." 
There's always a chance Leia could be digitally recreated, much like what was done in Rogue One with Grand Moff Tarkin, the character of the late Peter Cushing. But it's probably more likely that something will happen to Leia offscreen in the time between The Last Jedi and Episode IX.  
Meanwhile, we've still got one more Carrie Fisher performance to look forward to. Star Wars: The Last Jedi arrives in theaters on Dec. 15.