Does The Last Kingdom's Alexander Dreymon Do All Of His Own Stunts?
Gary Gershoff/Getty Images
Starring Alexander Dreymon as its conflicted, hybrid Saxon-Viking hero, the epic historical-action series "The Last Kingdom" was first produced by the BBC, then became a BBC/Netflix co-production before ending up entirely under the Netflix banner (per The Last Kingdom Fandom). Chronicling the emergence of England as a unified country beginning in the ninth century AD, the series draws heavily on the turbulent history of the era but also takes liberal poetic license with its narrative.
As the fictional but more or less period-authentic character of Uhtred of Bebbenberg, Dreymon's character is a Saxon lad brought up and schooled in the ways of war by Danish Vikings. Having been dispossessed of his rightful fiefdom by a scheming uncle following his father's death, Uhtred throws in with the iconic British monarch, Alfred the Great, played by David Dawson of "Peaky Blinders" and "Ripper Street" (per IMDb). As one of Alfred's foremost warriors, the fictional Uhtred will occupy a key role in a number of legitimate historical events and major battles on the series as the "Last Kingdom" of Wessex is besieged by invading Viking hordes. So, with his participation called for in many of the show's violent, axes-and-broadswords-swinging combat scenes, does Dreymon actually handle his own very convincing-looking on-screen stunts in "The Last Kingdom"?
Alex Dreymon loves doing his own stunt work on The Last Kingdom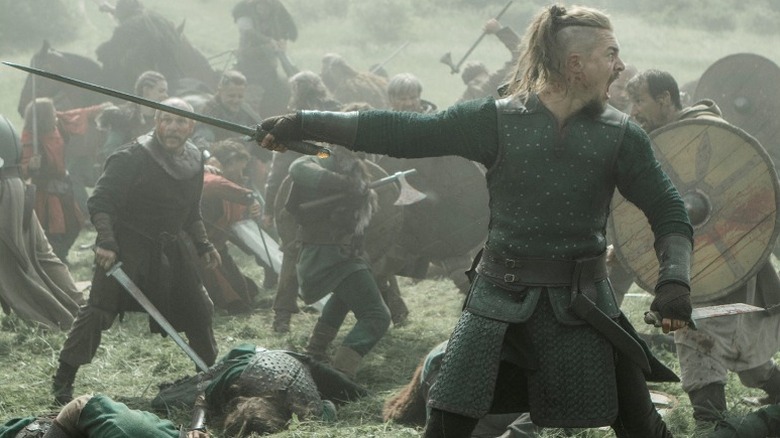 Adrienn Szabo/Netflix
Speaking (appropriately enough for a Viking brawler) with MuscleAndFitness.com, Alexander Dreymon was eager to discuss the details of day-to-day life on the set of "The Last Kingdom." Asked if he does many of the stunts himself, the actor replied, "Oh yeah. I've learned so much from my stunt double Tamás Katrics." Dreymon went on to add that since he also spends a lot of time on horseback on the series, he's benefited in a major way from the series' stunt coordinator, Levente Lezsák, who instructs the cast on how to handle their mounts. The actor then explained that doing his own equine stunts is something he's well-suited to. "When I lived in South Dakota," he said, referring to the time his family resided on a Native American reservation, "I'd jump on a horse and just ride for hours. It's the ultimate sense of freedom."
As an indicator of how proud he is of his blade-wielding, enemy-vanquishing work on "The Last Kingdom," Dreymon posted this video to his Instagram feed, showcasing his character's athletic ability to slice and dice not just a single opposing combatant but more than half-a-dozen at once. Featuring a caption that begins: "Rehearsal with my friend and stunt double @katrix.horse," Dreymon concludes his Instagram tribute to his stunt work with his series' colleagues, writing, "I miss you all and can't wait to kick your a***s again soon."