The Real Reason Brendan Fraser Agreed To Star In The Whale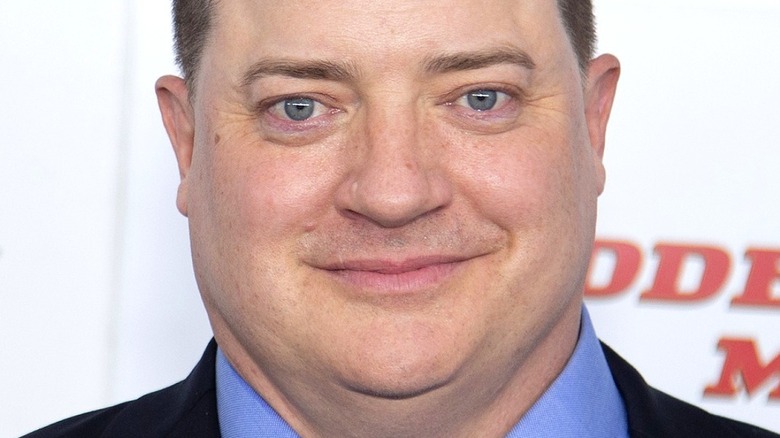 Santiago Felipe/Getty Images
It's been a frustratingly quiet few years for fans of Darren Aronofsky. After all, the boundary-pushing filmmaker hasn't released a feature film since 2017's "Mother!," and it's safe to say that wilder than wild little passion play tested the mettle of even Aronofsky's most devoted followers. Thankfully, the director behind electrifying films like "Pi," "The Fountain," and "Black Swan" is returning to theaters this year with his latest opus, "The Whale." Based on a lauded stage production from "Baskets" mastermind Samuel D. Hunter (who also penned the screenplay), "The Whale" follows the story of a reclusive, obese English professor as he attempts to re-connect with his estranged daughter (Sadie Sink).
As widely publicized, the new film will front the resurgent Brendan Fraser in what's being called a "career-defining performance" in press materials for the Toronto International Film Festival. And even a cursory glance at the lone behind-the-scenes photo of "The Whale" released by A24 portends that Fraser fans are indeed about to see the actor in a way they never have before. Ahead of the film's Venice Film Festival debut, Fraser spoke candidly to Vanity Fair about his role in "The Whale." And the actor offered some interesting insight about why he agreed to appear in the film.
Brendan Fraser welcomed the risks and challenges involved with his role in The Whale
As Brendan Fraser fans are aware, he was one of the biggest stars in Hollywood during his 1990s to early 2000s heyday. But things cooled considerably for much of the 2010s, with Fraser admitting in a 2018 GQ interview several factors (including lingering health issues) contributed to his career cool-down. Things have been heating up recently, however, with many noting the actor has been noticeably choosing roles out of his comfort zone of late via parts in the Showtime drama "The Affair" and HBO Max's DC series "Doom Patrol."  
In the eyes of many, that course signals Fraser's intent to reinvent himself for modern audiences, with the actor telling Vanity Fair that was part of what led him to "The Whale." It seems Darren Aronofsky also believed it was time the world reacquainted itself with the actor, as Fraser claimed, "He [Aronofsky] said he wanted an actor to reintroduce," adding, "And I wanted to be reintroduced."
According to Fraser, taking on such a complicated role (one that also required him to spend a significant time in a prosthetic body suit) was a risk vs. reward scenario, stating, "If there's no risk, then why bother?" The actor continued, offering specifically of his performance in "The Whale," "My hope was that I would become unrecognizable." Though the film has yet to premiere, it seems Fraser has been successful in that endeavor, with Deadline reporting TIFF organizers are already set to honor him with the 2022 TIFF Tribute Award for his work in "The Whale." Here's hoping the actor's fans show him as much love when the film hits theaters later this year.