How Bill Hader Really Felt During His Time At SNL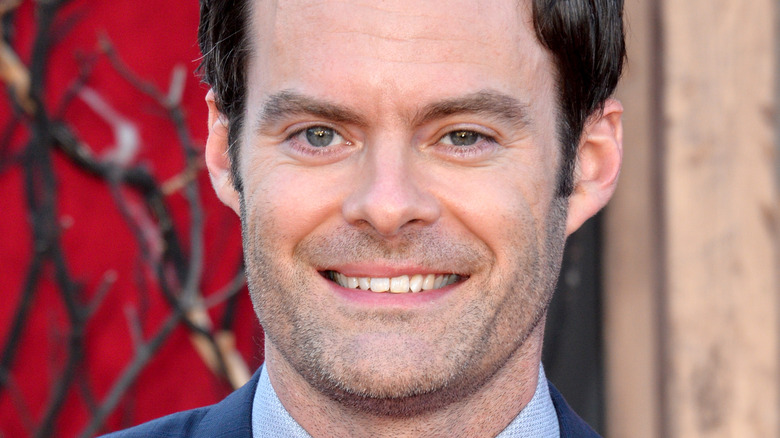 Featureflash Photo Agency/Shutterstock
Some "Saturday Night Live" actors have remained on the series for years at a time, while others have lasted less than a full season. It seemingly depends on whether an actor fits into the show or if they even enjoy performing live every week in front of millions of viewers. Impressionist Darrell Hammond was on "SNL" for nearly 15 years, while Damon Wayans famously got himself kicked off the show after only 12 episodes.
Bill Hader was a featured cast member of "SNL" for eight years, in part because Megan Mullally liked his sketch troupe Animals from the Future and recommended him to Lorne Michaels (Playboy). Hader originally wanted to be a filmmaker before trying comedy (via Grantland), but he instead became famous on "SNL" for his many impressions, including Vincent Price and Al Pacino, as well as his recurring New York City club veteran character, Stefon.
Throughout his time on "SNL," Hader became an immense success and was well known as one of the show's most talented performers. However, it may surprise fans to learn that Hader has admitted that not every aspect of the series was as enjoyable behind the scenes.
Bill Hader had panic attacks before performing on SNL
In interviews, Bill Hader has often talked about how he encountered perpetual stage fright during his time on "Saturday Night Live." In 2013, Hader explained these difficulties in an interview with Playboy. "During my first two seasons I wouldn't sleep on Friday night," Hader said. "I'd be up all night." According to Hader, he was already frightened about not being good enough to be on the show, and he worried about getting fired (via GQ).
Hader also admitted that he frequently struggled with anxiety about performing live. He wasn't just losing sleeping and having panic attacks — he was even stressing over line readings: "It'd be a sketch where I'd be, like, a customer at a Jamba Juice, and I'd run my line over and over again, all the different permutations of how I could say it" (via Grantland). 
The actor touched on the severity of his anxiety. "It was becoming really detrimental for my performing," he admitted (via GQ). Eventually, he had to make a change and began therapy and meditation, which helped calm his nerves before he had to perform. Hader finally left "SNL" in 2013 (via Playboy), and now combines his interests in acting and filmmaking via the hit HBO dramedy he co-created and stars in, "Barry."
If you or someone you know needs help with mental health, please contact the Crisis Text Line by texting HOME to 741741, call the National Alliance on Mental Illness helpline at 1-800-950- NAMI (6264), or visit the National Institute of Mental Health website.