The Unexpected Reason Behind Mila Kunis Riding The Bus To The That '70s Show Set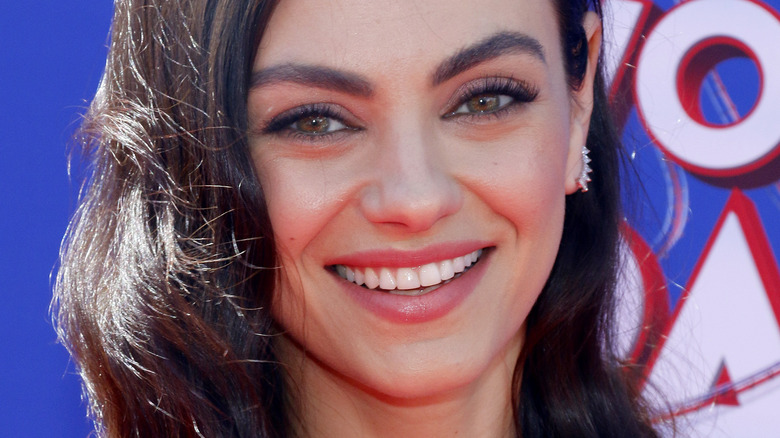 Tinseltown/Shutterstock
In a "Tonight Show" interview in 2012, Mila Kunis admitted that, when she auditioned for the role of Jackie Burkhart in "That '70s Show," she was only 14. The producers didn't want anyone under 18 on the show, so she stretched the truth a little bit. "I told them I was gonna be 18, which is not technically a lie, cause at one point ... I was gonna be 18," Kunis told Jay Leno. This meant that she grew up on the show as an actual teenager, living with her parents, having rules to follow, and getting in trouble.
There were some complications to her being only 14 when she started on the show, most notably her character's relationship with Ashton Kutcher's character, Michael Kelso. Kutcher was 19 at the time and felt extremely uncomfortable having a kissing scene with a 14-year-old. "It was really weird. I was like, isn't this illegal? Am I allowed?" Kutcher explained on The Howard Stern Show. Kunis was pretty nervous about the kiss too, as her and Kutcher's first onscreen kiss also happened to be Kunis' first kiss altogether (via People). 
However, that wasn't the only thing that got awkward about being a teenager working on a television show.
Her parents took away her keys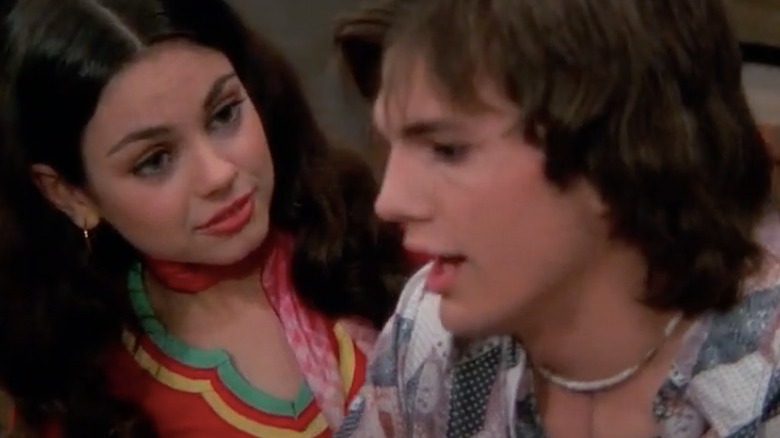 Fox/YouTube
Mila Kunis revealed during an appearance on "Conan" that, on two separate occasions, her parents punished her by taking away her car keys, forcing her to take the bus to work shooting the show. "They took my car keys away and, the first time, my parents left me $1.25 where my car keys normally are," Kunis recalled. When asked what she was being grounded for, she said it was probably for "talking back" because of how old-fashioned her family was.
In another interview, Kunis explained that this was especially difficult because she had never ridden the bus before. "I freaked out as I had never taken the bus before and I had no idea how to do it," she said (via Business Standard). Still, there was a silver lining to have to take the bus to work, as her on-screen boyfriend, Kutcher, was kind enough to drive her home on these days. She also revealed in the "Conan" interview that Kutcher used to do her Chemistry homework for her. And in the future, this friendship may have paved the way for their real-life love story.
Kunis and Kutcher ended up getting married, years and years later
Stefanie Keenan/Getty Images
Mila Kunis and Ashton Kutcher have had a very public real-life romance. The two went their separate ways after the show, but ultimately found their way back to each other. According to the timeline put together by People Magazine, Kutcher married Demi Moore in 2005 and Kunis began dating Macaulay Culkin in 2003. 
Both of those relationships ended in 2011, and when the two stars ran into each other the following year at the Golden Globes, something rekindled. Kunis explained the encounter on an episode of Marc Maron's podcast, where she said, "I was looking around, and there was a really beautiful man from the back," Kunis said. "I was literally like, 'Oh, he's kinda hot' ... and then he turned around, and I was like, 'Oh my god, it's Kutch.'"
According to the timeline in People Magazine that was mentioned earlier, Kutcher and Kunis started a "casual" relationship after that, but by April of 2012 they had moved in together. The couple married in 2015, and now have two children together. So maybe getting her keys taken away wasn't the worst thing that could have happened to Mila Kunis. And thankfully for fans, both Kutcher and Kunis will be reprising their characters in the upcoming spin-off "That '90s Show."