The Terrifying Real-Life Inspiration For Chris Pine's Don't Worry Darling Character Makes Too Much Sense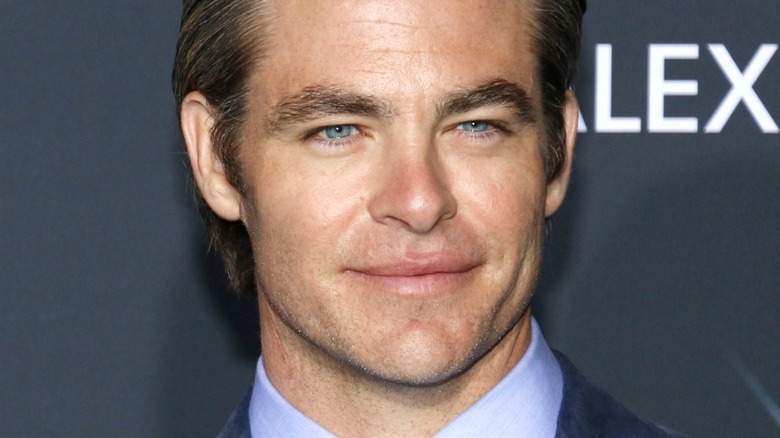 Tinseltown/Shutterstock
In July of 2022, Warner Bros. Pictures released a lengthy trailer for "Don't Worry Darling," which is the second feature film directed by accomplished actor Olivia Wilde. Wherehas her directorial debut "Booksmart" is a Judd Apatow-adjacent teen comedy, "Don't Worry Darling" appears to be entirely new territory, seemingly inspired by or perhaps even well within the bounds of the burgeoning elevated horror genre.
The cast of "Don't Worry Darling" includes a number of big names, including Florence Pugh, Chris Pine, Gemma Chan, Nick Kroll, and Harry Styles. Styles, of course, is less experienced than his co-stars, but early reports about his work on-set suggest that he may be capable of holding his own, even opposite so many talented performers. According to one account, Styles left the "Don't Worry Darling" cast in tears with the depth of emotion he expressed in one particular scene.
Pine, meanwhile, portrays a character named Frank, who heads something called the Victory Project. While this aspect of his character largely remains a mystery and will likely continue to until the film's release, he and his Victory Project at the very least appear to be of a sinister nature. As it turns out, Wilde revealed in an interview published in advance of the film's premiere that Frank was broadly inspired by a real-life public figure.
Jordan Peterson inspired Chris Pine's Don't Worry Darling character
Olivia Wilde spoke at length about the upcoming "Don't Worry Darling" in a back-and-forth between she and fellow actor-turned-director Maggie Gyllenhaal published by Interview Magazine. Partway through their interview, after Wilde first complimented Chris Pine's commitment to the craft of acting, she revealed the real person on whom his character is based.
"We based that character on this insane man, Jordan Peterson, who is this pseudo-intellectual hero to the incel community," Wilde said. She then went on to explain the concept of an incel and why she finds it troubling to Gyllenhaal, who wasn't familiar with the term the first time Wilde used it. After that, Wilde outlined just what about Peterson inspired Pine's villainous character.
"This guy Jordan Peterson is someone that legitimizes certain aspects of their movement because he's a former professor, he's an author, he wears a suit, so they feel like this is a real philosophy that should be taken seriously," she said.
Presumably, then, the Victory Project headed by Pine's character likewise benefits from some perceived legitimacy thanks to a put-together presentation. Viewers can find out more about the Victory Project and just how Frank's leadership of it resembles Peterson's work when "Don't Worry Darling" premieres in theaters on September 23.