She-Hulk's Ginger Gonzaga Hints That Even More Jen Walters Twerking Footage Exists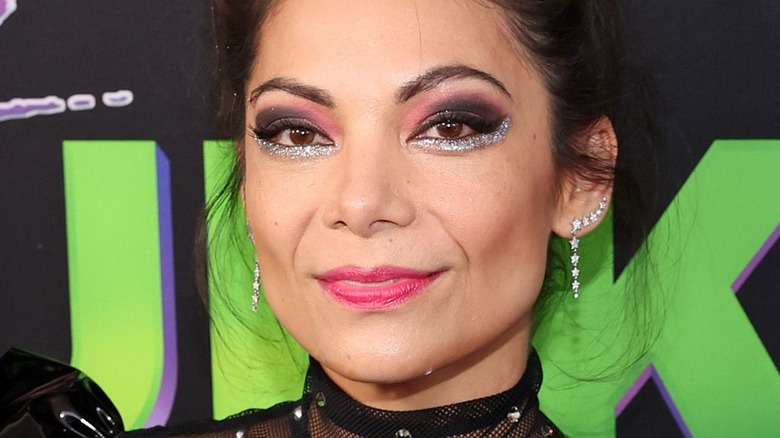 Jesse Grant/Getty Images
Right on schedule, the third episode of "She-Hulk: Attorney at Law" arrived on September 1, 2022, much to the delight of Marvel Cinematic Universe fans. Although, one aspect of the episode has already managed to overtake just about all others in terms of online discussion. It's not the emergence of Wong (Benedict Wong), the introduction of the Wrecking Crew, or any other element of Jennifer Walters' (Tatiana Maslany) adventures in her new life as a superhero-lawyer. It's not even the episode's highlight of toxic MCU fans that has set social media ablaze.
It's the post-credits scene, where She-Hulk twerks with Megan Thee Stallion.
For context, one of Walters' former work colleagues, Dennis Bukowski (Drew Matthews), believes he's in a relationship with the musical artist. However, he later learns she's actually Runa (Peg O'Keef): a shapeshifting Light Elf who calls New Asgard home. He takes her to court for defrauding him and wins the case with Walters' help, and afterward, we see her and Megan Thee Stallion meet at her office to take care of some paperwork. While doing so, they turn the meeting into a polarizing dance party that includes no shortage of twerking. 
All in all, it's a fun, brief scene that doesn't carry much weight, but according to the actress behind Jennifer Walters' BFF, Nikki Ramos, Ginger Gonzaga, it could've been a bit longer.
According to Gonzaga, Tatiana Maslany has some impressive dance moves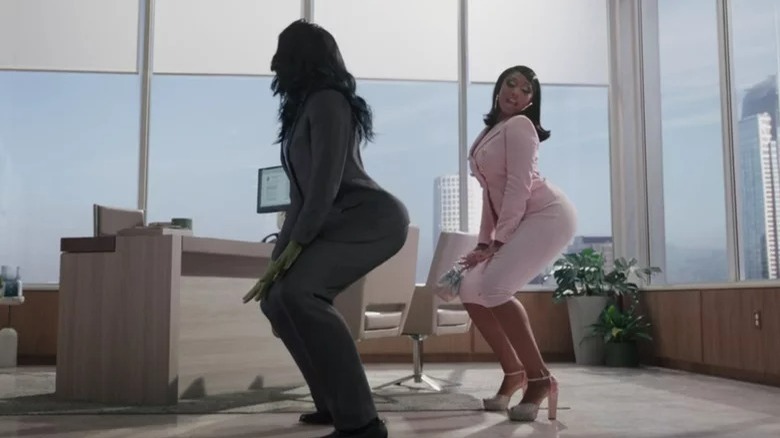 Marvel Studios/Disney+
On the same day that "She-Hulk: Attorney at Law" Episode 3 arrived, Tatiana Maslany and Ginger Gonzaga spoke to Entertainment Tonight about it — specifically the Megan Thee Stallion scene. Maslany expressed that getting to work with the rapper was a dream come true, saying, "It was the best day of my life." Meanwhile, Gonzaga mentioned that there's more footage out there that didn't make it to the small screen. "I hope they release behind-the-scenes [footage] because the dancing was much longer, and Tatiana came to slay," Gonzaga said, jokingly threatening to leak it herself if need be.
As it turns out, Megan Thee Stallion's "She-Hulk" cameo didn't come together by pure coincidence. In fact, director Kat Coiro made it a point to get her on the show as a gift to Maslany, who's a huge fan. "We actually added that dancing scene so that Tatiana could have a scene with Megan, which is where we learned that Tatiana is an amazing twerker," Coiro told Polygon, corroborating Gonzaga's claim about Maslany's dance skills. She also touched on what Megan Thee Stallion was like on set, referring to her as "excited, professional, lovely, [and] just such a positive force."
It remains to be seen if Megan Thee Stallion will appear again in the MCU, and if she does, it stands to reason that Tatiana Maslany will have something to do with it.