Here's Where You Can Find The Young Sheldon House In Real Life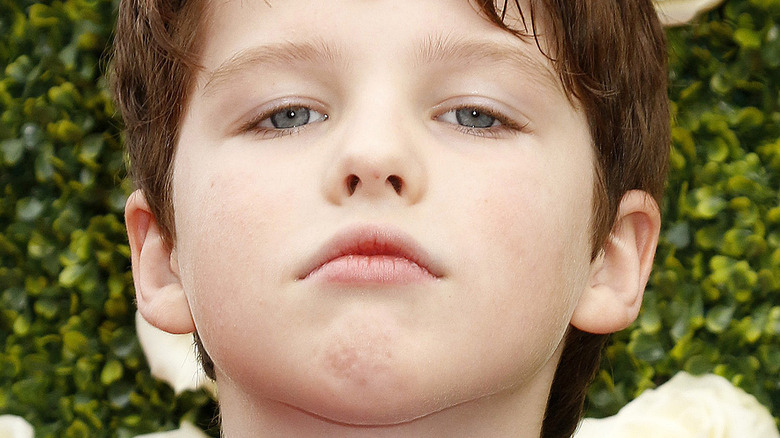 Kathy Hutchins/Shutterstock
"Young Sheldon" is drastically different from "The Big Bang Theory," its parent series. The prequel, which sees a young Sheldon Cooper, Iain Armitage (who played another starring role before his "Young Sheldon" gig), trying to fulfill his intellectual curiosities in Texas, isn't filmed in front of a live studio audience. The spin-off is far more intimate, utilizing a single-camera setup. "I think the pacing is obviously very different," said co-creator Chuck Lorre during a Television Critics Choice event (via Variety). "The actors don't have to hold for laughs ... They're not playing out. They're working with one another. A four-camera show is played like a theatrical presentation."
Because "Young Sheldon" doesn't use a multi-camera setup like "The Big Bang Theory," the series can go beyond the studio's confines and not feel restricted. This direction makes sense for "Young Sheldon" as we see the character grow throughout the seasons, going from high school to college, all of which utilize different sets and exterior locations. Because of its external locations, many "Young Sheldon" fans will be pleased to know that one of the show's most iconic locations can be seen in real life.
The real Young Sheldon House is in California
A decent amount of "Young Sheldon" is filmed on sound stages 12 and 23 at Warner Bros.' Burbank lot (via IMDb). The Burbank lot doubles as several sets for "Young Sheldon," which is set in small-town Texas. However, some locations can't be replicated in a studio, so the creative team occasionally uses local Los Angeles landmarks and locations to bring Sheldon's hometown to life.
The exterior shots of Sheldon's humble abode aren't stock or generic; they're from a real house in North Hollywood, California, some 6 miles away from the studio. The "Young Sheldon" home was put up for sale in 2019, two years after the series debuted. Parade notes that the house was listed for nearly $1.2 million, and by the looks of the interior, it's definitely worth the steep price. Unlike the show's simplistic and cozy Cooper residence, the real-life house is posh and upscale, fitted with luxurious amenities such as a spa-like bathroom. As for Sheldon's real home, it's on sound stage 12, as noted by Brioux TV.