Vin Diesel Thinks One Line Accurately Represents The Fast And Furious Franchise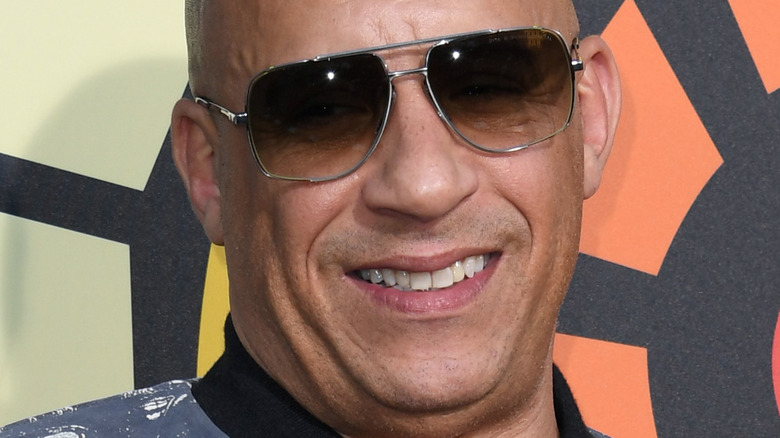 Jon Kopaloff/Getty Images
The "Fast & Furious" movies are finished after the two-part "Fast X" finale, and much information has been revealed since Dominic Toretto actor Vin Diesel continues to show fans that production is underway on his Instagram. The returning cast list is exactly who you'd expect, with Michelle Rodriguez, Jordana Brewster, Tyrese Gibson, Ludacris, Nathalie Emmanuel, and more. Fans also know who unfortunately won't be showing up, like Dwayne 'The Rock' Johnson (via CNN). However, we know Brie Larson is in the film (via Variety), along with Alan Ritchson (via Deadline), and Jason Momoa is the central antagonist.
The franchise spans two decades now and has come a long way since "The Fast and the Furious" in 2001. Of course, we lost the late Paul Walker in 2013 during the filming for "Furious 7," and Diesel, along with the rest of the cast, has continued doing the movies in his honor. Although not everyone is a fan of the "Fast & Furious" saga (via Reddit), it still has been a notable presence in pop culture for years. The overarching theme of family is still well-intentioned and surprisingly wholesome, although sometimes highly meme-able.
Looking back on it all, Diesel believes there is even one specific line that defines the entire franchise, and it's probably not what you'd expect.
Vin Diesel says the quarter mile life quote defines the Fast and Furious franchise
In an interview with Vin Diesel during a behind-the-scenes moment on "Furious 7," the actor reflected on the defining moments of the "Fast & Furious" franchise thus far. "There have been so many great moments throughout this saga," Diesel explained. However, he would continue that there is one line from the first movie that proceeded to solidify "The Fast and the Furious" as a definitive franchise. "But, I think the one moment that made this saga is when my character says, 'I live my life a quarter mile at a time.' When the audience heard that, I think that's when 'The Fast and the Furious' became a franchise," Diesel said. This line happens during a conversation that Paul Walker's Brian has with Diesel's Dom in his garage.
In "Furious 7," Diesel would honor this moment by repeating the same line again at the end of the movie in voiceover as Dom and Brian raced off into the sunset (via IMDb). This quote will likely come up again during "Fast X" to close out the entire series.