Who Plays Bronwyn On The Lord Of The Rings: The Rings Of Power?
Amazon Prime is set to unleash its most expensive series ever with "The Lord of the Rings: The Rings of Power" (via The Hollywood Reporter). Heavily inspired by Peter Jackson's award-winning "Lord of the Rings" trilogy, the new show also draws from J.R.R. Tolkien's extended histories of Middle-earth in the author's many appendices as well as "The Silmarillion." Though most of the central characters in the original story won't be reprising their roles due to the time in which "The Rings of Power" is set, immortal characters like Galadriel (Morfydd Clark) and Elrond (Robert Aramayo) will be returning, albeit as much younger versions.
However, with all the new characters popping up on "The Lord of the Rings: The Rings of Power," there are plenty of fresh faces to keep track of. One of these new characters is Bronwyn, a village healer and mother who resides in a remote village in Middle-earth. But who's the actor behind her?
Nazanin Boniadi plays Bronwyn on The Rings of Power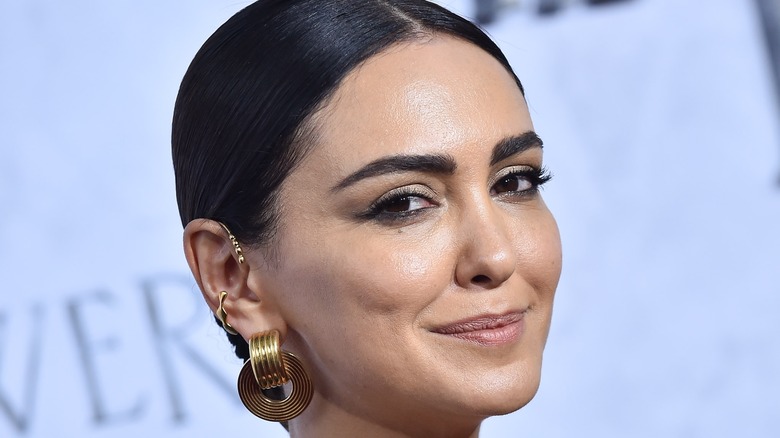 DFree/Shutterstock
Nazanin Boniadi portrays Bronwyn on "The Lord of the Rings: The Rings of Power." If the actor looks familiar to you, you may recognize her from Starz' sci-fi thriller series "Counterpart," on which she played Clare Quayle across 17 episodes, or Showtime's politically charged drama series "Homeland," on which she played Fara Sherazi across 16 episodes.
Other places you might know Boniadi from are her 10-episode stint as Nora on "How I Met Your Mother"; the high-profile remake of the cinematic classic "Ben-Hur," in which she portrays Esther; or her role as Zahra in the tense hostage thriller "Hotel Mumbai," which was inspired by real-life events (via Time). Though much of "The Lord of the Rings: The Rings of Power" is still shrouded in mystery, with Boniadi second-billed on IMDb, it would seem that she will be playing a pivotal role in the bold new series from Amazon Prime.