The Black Bird Episode That Left Paul Walter Hauser In Tears
Kevin Winter/Getty Images
Spoiler warning: This article contains major details from the limited streaming series "Black Bird."
While actor Paul Walter Hauser has played his share of criminals over the years — from the dimwitted accomplice in the attack on Nancy Kerrigan in the Tonya Harding biopic "I, Tonya" to his good-natured grifter role opposite Emma Stone's titular character in "Cruella" — he's never gone as far down a dark path as he does in "Black Bird" (which Hauser compares to "A Few Good Men"). In the AppleTV+ limited series based on actual events, Hauser turns in an unnerving performance as Larry Hall, a serial killer serving prison time in connection with the kidnapping and murders of teen girls. "Black Bird" also stars Taron Egerton (who may be joining the MCU) as Jimmy Keene, a convicted drug trafficker whom the feds recruit to befriend Hall as a way to find out where the bodies of his victims are buried. Unless Keene can get Hall to admit to the locations of the graves, the killer stands to get out of prison on a technicality.
Hauser makes his debut at the end of the first episode in the six-episode series, as Keene must concoct a plan to gain Hall's trust without raising any suspicions with his fellow inmate. Eventually, Hall begins to open up to who he thinks is his friend and starts telling tales surrounding the murders of the teen girls, which in some cases are reflected in flashback scenes. Ultimately, playing the haunting role of Hall led Hauser to reevaluate his life and make some significant changes.
Hauser admits he broke down after watching the Black Bird finale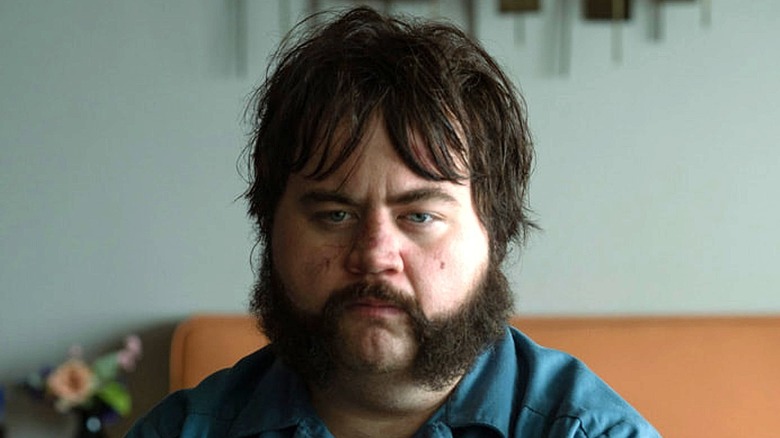 AppleTV+
"Black Bird" was created and written by best-selling crime author Dennis Lehane, who adapted his teleplay from the book "In with the Devil," written by the real-life Jimmy Keen and Hillel Levin. Paul Walter Hauser, whose other screen credits include "Cobra Kai," "BlacKkKlansman," and "Richard Jewell," told IndieWire that playing Hall left him shaken, mainly as he filmed the fifth and sixth episodes.
"I have to say some things that I hate saying," Hauser said. "I'm okay with saying them [but] had they asked me to portray some of what I talked about, I don't believe I would have done the role. I have a very gentle spirit, and I don't like to let darkness in, to that degree."
When it came to watching the final episode, Hauser admitted to IndieWire that he was overcome with emotion. "When I watched it for the first time with Dennis Lehane, I left his house and had to call my sponsor and my therapist. I was just crying. I didn't know why I was crying," Hauser recalled. "Usually, you can trace the origin of thought for why you're tearful, couldn't do it. I chalked it up to I wasn't watching myself while watching the one scene that I'm talking about, and it scared me. It scared me like, 'Am I a bad person for inhabiting that? Am I evil? Am I ugly, and disgusting, and cruel?' It's hard to look at."