Who Plays Halbrand On The Lord Of The Rings: The Rings Of Power?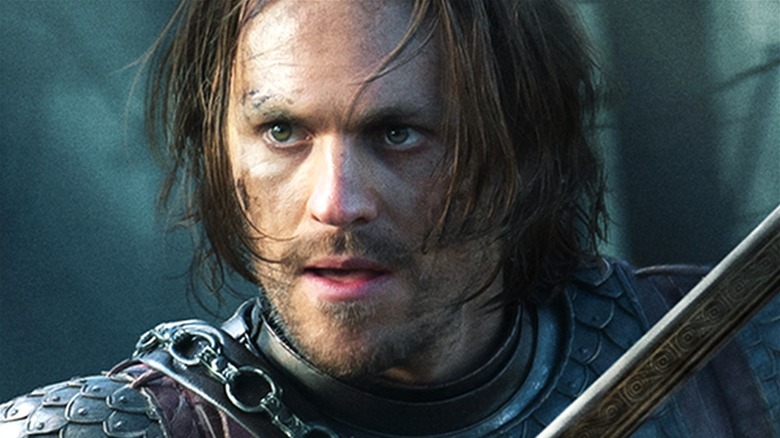 Prime Video
Although longtime fans of J.R.R. Tolkien's extensive epic fantasy novel "The Lord of the Rings" will recognize most of the massive cast of characters from Amazon's "The Lord of the Rings: The Rings of Power," one character they might not recognize is the warrior Halbrand. Halbrand is an invention of the television series, and as such does not have any basis in the writings of J.R.R. Tolkien — though surprisingly, it appears as though this mysterious figure will play a major role in the series' first season.
Halbrand is a mortal man who is running from some nameless trauma in his past and whose journey intertwines with that of Galadriel (Morfydd Clark), an Elven warrior-queen (per Vanity Fair). This unlikely duo appeared together in an official trailer for the series, where we can see them fighting for survival amidst a tumultuous and stormy sea. The trailer also saw Halbrand imprisoned in some sort of cell, saying, "I am not the hero you seek," which is followed by Galadriel telling him, "Whatever it was you did, be free of it."
Considering the fact that Galadriel is being presented as perhaps the most important character in the entire series (and indeed, is a major figure within "The Lord of the Rings" itself), that so much of her story seems to be connected to this unknown mortal is very intriguing. Although we may not know much about Halbrand's past, we do know a bit about the actor bringing him to life in the series. Here's who plays Halbrand in "The Rings of Power."
Charlie Vickers will play Halbrand in The Rings of Power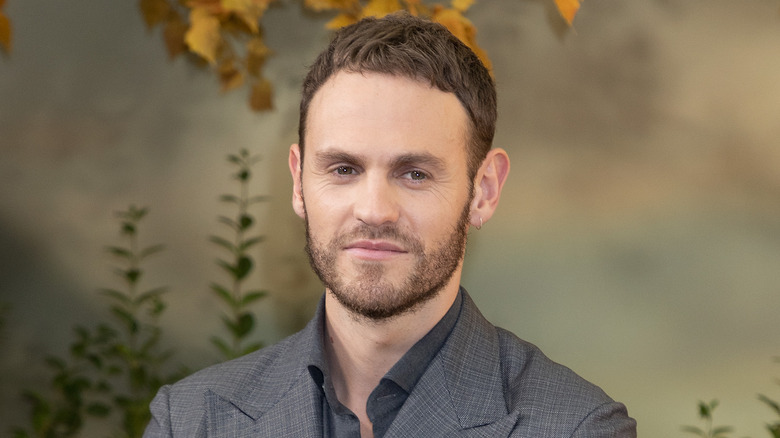 Dave J Hogan/Getty Images
Halbrand is set to be played by Charlie Vickers in "The Lord of the Rings: The Rings of Power." In his short career prior to the huge series, Vickers' most notable roles include his performance as Guglielmo Pazzi in eight episodes of the 2016 historical drama series "Medici," as well as his role in the 2019 Australian film "Palm Beach." Outside of those projects, Vickers' acting resume is quite limited, though he does currently have two projects in post-production: a TV series called "The Lost Flowers of Alice Hart," and a thriller called "Death in Shoreditch."
Morfydd Clark and Vickers actually sat down with Looper earlier this year to discuss his role in the Amazon series, and Vickers dropped a few interesting insights about the mysterious character of Halbrand — specifically in regards to the notion that Halbrand is fleeing some part of his past. "The description of running from his past — I grapple with that because I use it as well. But maybe at this point in his life, he's not necessarily running from it," the actor explained. "He's realized that he doesn't want to be there at all anymore, so he's just left it. Nothing is coming. [It] doesn't feel like anything's chasing him at that point."
Although this brief description sheds a bit more light onto the character of Halbrand, it also raises a few more questions about who exactly he is. What exactly is he fleeing? Whose side is he truly on? Although those questions will certainly be answered as the series goes on, Vickers' cryptic comments are sure to have fans second-guessing who or what his character is truly running from.