How Ashlee Simpson Addressed That Viral SNL Lip Sync Debacle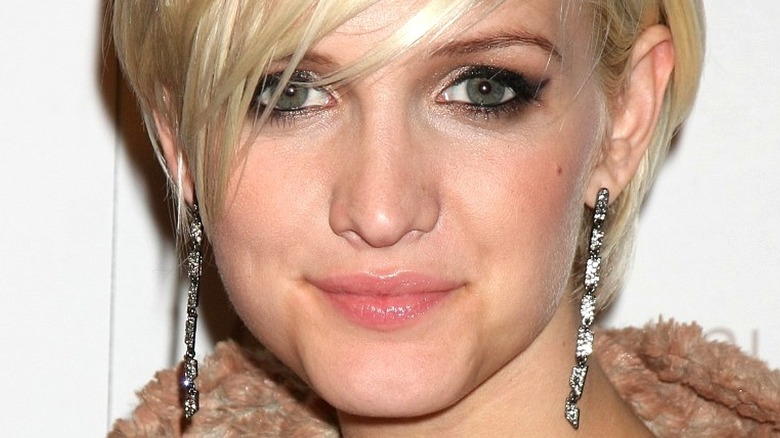 Kathy Hutchins/Shutterstock
It was October 2004, and Ashlee Simpson, the little sister of pop sensation Jessica Simpson, was at the top of her game. Her debut album "Autobiography" had dropped that summer, with the masses gravitating toward her angsty lyrics and grungy vibe. In fact, her hit single "Pieces of Me" reached No. 5 on the Billboard Hot 100 that September.
However, the positive perception of the pop rocker wavered after one of the most cringy performances in "Saturday Night Live" history. Sporting her signature low-rise, baggy pants and side-swept bangs, Simpson got through "Pieces of Me" with no issues. But for her second song, as the band began to play the title track, "Autobiography," the lyrics from "Pieces of Me" started to play over it. After a brief pause, Simpson did a sort of jig before hanging her head and walking off stage, with the band continuing to play.
Simpson came under fire for the mess-up, especially after previously denouncing lip-syncing in an interview with Lucky magazine, as reported by MTV. She said, "I'm totally against it and offended by it. I'm going to let my real talent show, not just stand there and dance around. Personally, I'd never lip-sync. It's just not me."
So what changed? Let's look at what actually happened on the "SNL" stage and how she responded to the controversy.
Ashlee Simpson blamed acid reflux and her drummer for the lip-sync fiasco
Shortly after her failed "SNL" appearance, Ashlee Simpson tried to do some damage control by speaking to Carson Daly on MTV's "TRL." According to the singer, her chronic acid reflux acted up and resulted in her losing her voice. Rather than cancel such a high-profile performance, she and her father and manager, Joe Simpson, decided to have her go on with a backing track. At the time, she blamed her band for the mishap, specifically her drummer.
"My band started playing the wrong song, and I didn't know what to do, so I thought I'd do a hoedown. I'm sorry. It's live TV. Things happen. I'm sorry," said Simpson, who added that her drummer triggered the wrong track to play.
Over the years, the incident has stuck with Simpson, who is still regularly asked about it. In a 2018 "Watch What Happens Live with Andy Cohen" interview, she shifted the blame to herself rather than her band. She said, "I had a vocal problem. I had two nodes beating against each other, and I woke up, and I had no voice. Then I should've said, 'No, I will not go on, I will not do this.'"
Simpson also addressed the "SNL" incident on the short-running E! series "Ashlee+Evan." Though she did a happy jig on stage, she was mortified: "For me, it was the most humbling experience of my life because the world thinks that everything that you just put your heart and soul into writing is a joke."
The decision to lip-sync was made at the last moment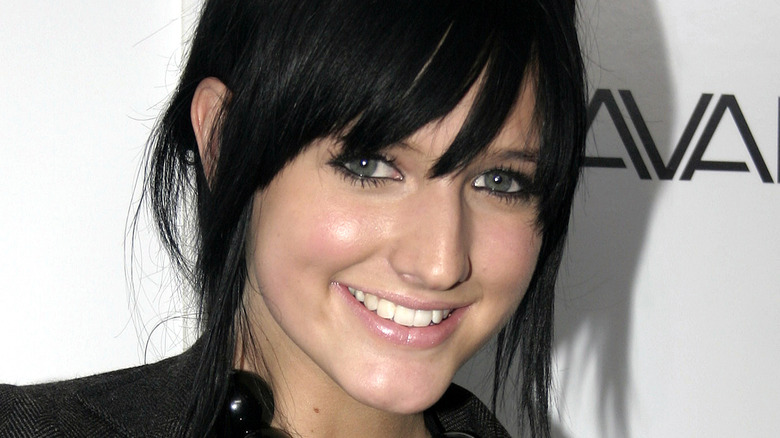 Tinseltown/Shutterstock
When rehearsals began for Ashlee Simpson's "SNL" performance, she had every intention of singing live. However, according to show director Beth McCarthy-Miller while speaking to FoundationINTERVIEWS in 2014, the artist began to struggle with her vocals during a run-through early on Saturday.
Something "popped" in Simpson's throat while singing "Pieces of Me" and by "Autobiography," she could barely get through the track. Though someone suggested a cortisone shot in her throat, she and her team opted for a lip-synced set. However, since this wasn't the original plan, not everyone was comfortable with the Pro Tools technology needed to pull off the illusion.
"Because she'd been singing live, the drummer had never triggered both tracks," said McCarthy-Miller. "So the first song, he had triggered it, it was fine ... he triggered the first song again by accident."
Lorne Michaels, creator and producer of "SNL," was blindsided by the whole thing. He told "60 Minutes" that he had no idea of the lip-sync plan. If he did, he wouldn't have approved it. After all, "Saturday Night Live" is filmed live. "If the plan had been, ya know, like, they'd done the Thursday rehearsal and had lip-synced and said, 'Well, that's what we do,' then we would have said, 'No, we can't do that,'" Michaels said.
Despite Simpson being the first "SNL" performer to ever walk off stage, she was invited back the following year. This time, she sang "Boyfriend" and "Catch Me When I Fall" off her sophomore album "I Am Me" without a hitch.