Emily Deschanel Has Both Good And Bad News For Fans Awaiting A Bones Reunion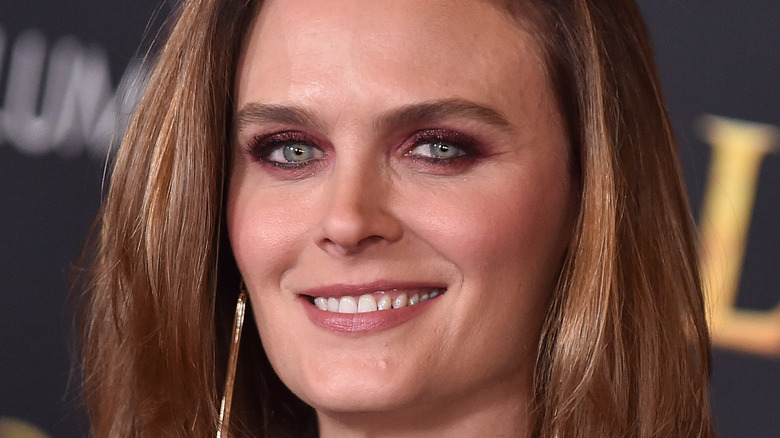 DFree/Shutterstock
When pop culture fans hear the words "forensic anthropology," there is a good chance they think of "Bones," the long-running Fox series that has brought the field of forensics and its vitality to law enforcement to the forefront. "Bones" premiered in 2005 during a decade that seemed to find one forensic-based scripted program after another crowding the airwaves. "Bones" has stood apart, however, due to its dedication both to the science of its premise and the friendship at its heart. The dramedy explores the bonds of friendship in hectic careers and injects this with strong doses of dark humor from time to time. The series also rewards viewers who watch episodes more than once thanks to its meticulous attention to detail.
"Bones" came to an end in 2017 after 12 seasons and 246 episodes, which made it FOX's longest-running drama ever (via USA Today). As with any series that manages to last this long, fans undoubtedly found the ending to be bittersweet. In an age of reboots, remakes, and reunions, many hold out the hope for an eventual return to the working partnership of FBI Special Agent Seeley Booth (David Boreanaz) and Dr. Temperance "Bones" Brennan (Emily Deschanel). The two stars' opinions on this happening provide some good and bad news.
Emily Deschanel is on board for a Bones reunion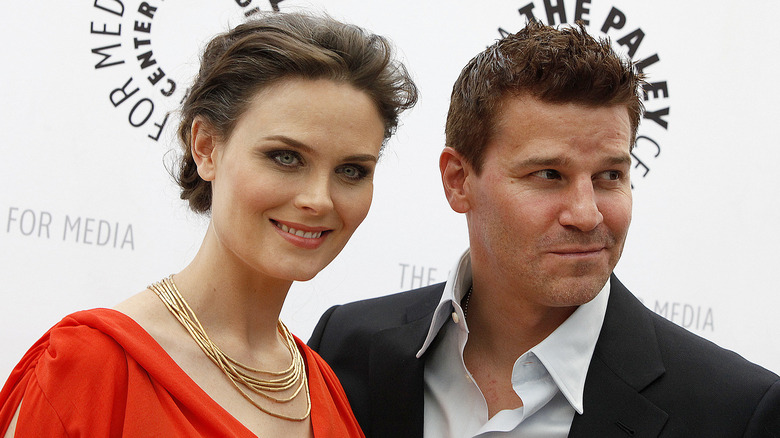 Kathy Hutchins/Shutterstock
Emily Deschanel has been working steadily since the end of "Bones." She had a recurring role as the charismatic yet tragic Angela on TNT's "Animal Kingdom," guest appearances on "The Simpsons" and " The Rookie," and a starring part as psychiatrist Dr. Suzanne Mathis in the Netflix thriller miniseries "Devil in Ohio." But she is not without some hope for a potential "Bones" reunion in the future. 
In an interview with TVLine, the actress was asked if she had seen the reference to a futuristic reboot of "Bones" reference in an episode of "Lucifer," which predicts that the show will return with Seeley and Temperance's cyborg daughter working alongside an android. Around the 3:03 mark in the video, she replies, "That's amazing! I did not know that. How do I not even know this?" When asked if a "Bones" reunion was possible in the future, she added, "I think it's always possible. David Boreanaz said nope, he is not doing it but, never say never for me. ... I'd be open."
The real reason David Boreanaz would never do a "Bones" movie or TV reunion is that he doesn't like to look back. This is a similar feeling he shares for a potential reunion of either "Buffy the Vampire Slayer" or "Angel," where he played the 200-plus-year-old vampire Angel. But with Deschanel down for a return to their characters, we will just have to wait and see if her co-star changes his mind one day.