The Law & Order: SVU Character You Likely Forgot Serena Williams Played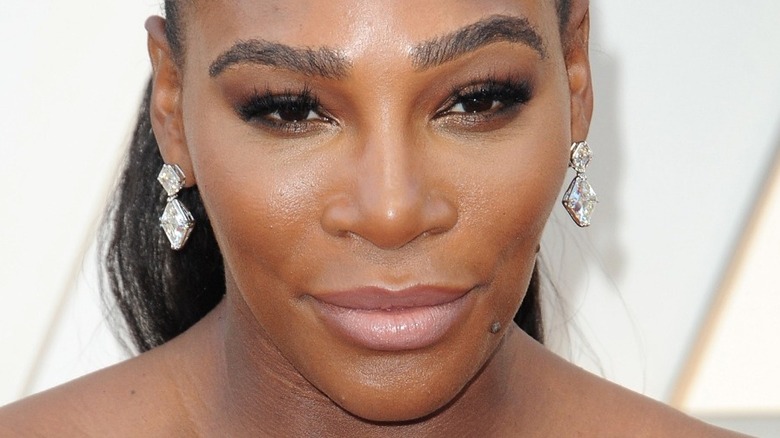 Tinseltown/Shutterstock
The name Serena Williams is practically synonymous with success. After winning her first Grand Slam title at the U.S. Open in 1999, Williams became one of the most decorated tennis players in history (via The Washington Post). With a total of 23 Grand Slam titles, Williams introduced the world to the term "Serena Slam" with consecutive wins in all four major tennis championships, earning multiple Olympic gold medals along the way (WION). According to the same outlet, she's also won numerous doubles matches alongside her sister, Venus, who's an accomplished tennis player in her own right. Even as Williams approaches retirement from the sport, her legacy will undoubtedly continue to flourish (via Vogue).
Beyond the tennis court, Williams has a variety of professional pursuits. She launched her clothing line in 2018 and aims to promote diversity through her venture capital firm, Serena Ventures (via Serena Williams). Along with her business endeavors, Williams has dedicated time to acting. According to IMDb, she's racked up 27 acting credits since voicing herself on an episode of "The Simpsons" in 2001. She's lent her vocals to characters on popular animated shows like "Fosters Home for Imaginary Friends," "Avatar: The Last Airbender," and "The Legend of Korra." Williams has also showcased her acting skills on "ER," "My Wife and Kids," and "Drop Dead Diva." The tennis champion has had such an interesting career that you might have missed her cameo on "Law & Order: Special Victims Unit."
Serena Williams played college student Chloe Spiers on Law & Order: SVU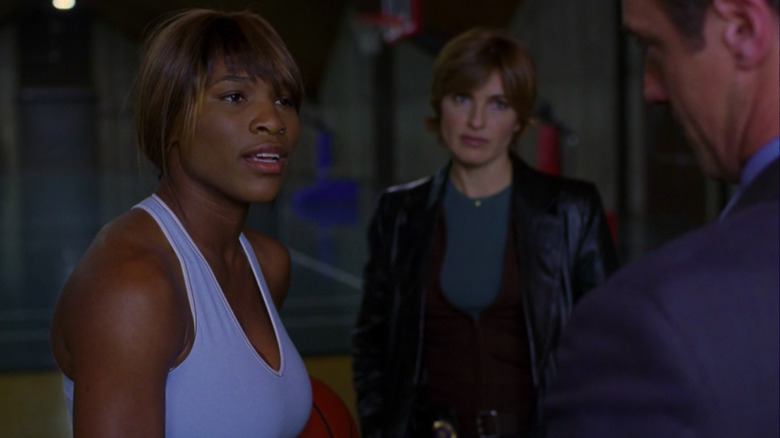 NBC
Serena Williams makes a brief appearance in a Season 5 episode of "Law & Order: Special Victims Unit." Aptly titled "Brotherhood," the installment focuses on the death of a college student who was deeply involved in Greek life. The victim, Tyler Henry, was the pledge master of a tight-knit fraternity. The list of suspects in his murder grows tenfold when Detectives Elliot Stabler (Christopher Meloni) and Olivia Benson (Mariska Hargitay) discover that Henry is making a profit by posting exploitative images of his female peers on the internet. However, Chloe Spiers was the only woman who tried to take legal action against Henry. Spotting a clear motive, the detectives decide to investigate further.
A conversation with Spiers reveals that Henry recorded her stripping at a bar after she'd had too much to drink. Fearful that she would lose her basketball scholarship, Spiers tried to get the video taken down to no avail. Her story leads detectives to her father, Vernon (Clayton LeBouef), who has a criminal record, though they quickly rule out the Spiers' involvement in Henry's death. Even though Chloe only appears in one scene, her account leads the team to look closely at Henry's secretive fraternity brothers. As one of many A-list stars who've appeared on "Law & Order: SVU," Williams does a great job selling her character's passion for basketball, although it's pretty bizarre to see her without a tennis racquet in her hand.