Brandi Was Frustrated With Jarrod For Pulling This Prank On Storage Wars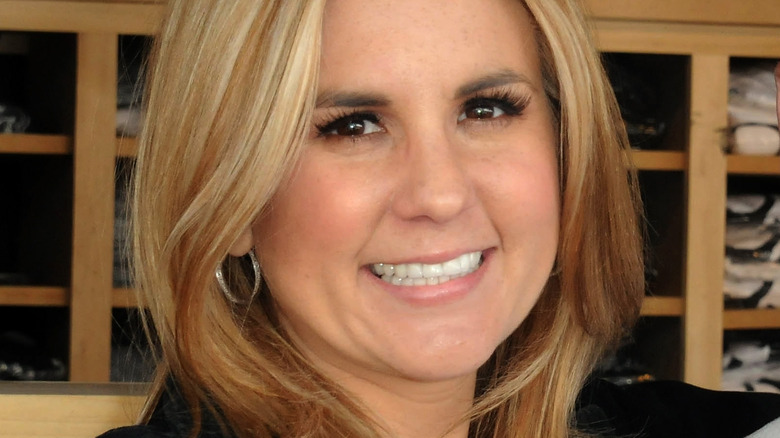 Albert L. Ortega/Getty Images
Brandi Passante is a staple of A&E reality competition series "Storage Wars" as one of the few cast members credited on almost every season. For much of her early tenure, Brandi worked alongside her partner Jarrod Schulz, to the extent that they eventually earned their own tandem spinoff series titled "Brandi & Jarrod: Married to the Job." In fact, Jarrod and Brandi left "Storage Wars" for a short period of time to focus exclusively on their new show.
Over the course of Brandi's time on "Storage Wars," however, she and Jarrod gradually grew apart. At one point, even, they were both still credited cast members, but no longer worked together as a result of the dissipation of their relationship. During this time, Brandi described running into Jarrod as uncomfortable, but still something she could tolerate. Eventually, however, A&E appears to have fired Jarrod after he was charged with domestic battery following a heated encounter with Brandi in the wake of their breakup.
Of course, even when Brandi and Jarrod were together, their dynamic wasn't always harmonious. Among some of the times the two "Storage Wars" stars clashed was when Brandi became frustrated at a prank Jarrod pulled on her with legitimate consequences.
Jarrod bid on storage lockers behind Brandi's back
A&E's shared a video to its YouTube channel titled "Storage Wars: Top 4 Couple Fights w/ Brandi & Jarrod," consisting of what could be considered the four most memorable times Brandi Passante and Jarrod Schulz argued with one another on-camera as a couple. One of those four fights begins after Brandi wins a storage locker auction by unknowingly placing a bid with an inadvertent arm raise.
This leads into a montage of Jarrod covertly placing bids on lockers by quickly raising his hand behind Brandi's back. Because the two of them worked together as a duo at that point in time, the auctioneer counts these as bids that Brandi is placing herself. Brandi naturally becomes frustrated by Jarrod's behavior, which culminates in her yelling at Jarrod to stop. As a consequence of the prank, Brandi then has to buy these lockers for the amount of the bids Jarrod placed in her name.
Since then, of course, Brandi left Jarrod, who himself was then likely fired from "Storage Wars." Nevertheless, Brandi is still at the heart of some heated moments on-camera. In a People interview published in advance of the show's 300th episode, for example, Brandi described cast member Lisa Delarios as both a friend and someone against whom she competes fiercely. The same competitive spirit that inspired Jarrod's prank, then, continues to fuel Brandi's present day "Storage Wars" stardom.