Carol Burnett Would Make History If She Hosted SNL Like The Internet Wants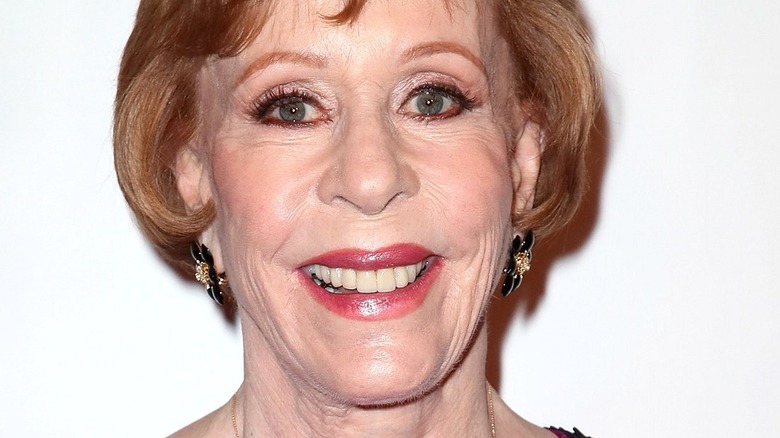 David Livingston/Getty Images
Before "Saturday Night Live," there was the "The Carol Burnett Show," the variety show featuring the sketch comedy of the titular comedian and her sidekicks Vicki Lawrence, Tim Conway, Lyle Waggoner, and Harvey Korman. While the sketches were planned in advance, the cast would take their cues from the live audience and each other and often improvise where it was headed. While the show ran for 11 seasons, Burnett had to fight to get the show made, recalling to The Hollywood Reporter a conversation with an executive who allegedly told her, "You know, Carol, variety is Sid Caesar, it's Jackie Gleason, it's Dean Martin — it's a man's game."
Fortunately, Burnett was persistent, and the show went on to win 25 Emmy awards. The talented Burnett has since shown up in everything from "Mad About You," in which she won an Emmy for her performance as Theresa Stemple, to "Better Call Saul," where she played Marion. Bob Odenkirk, who played Jimmy McGill/Saul Goodman on the series, praised her work, telling TV Guide that "she loses herself in the role. She plays it with sensitivity and humor, and she's a game performer, up for anything, discovering stuff in the moment."
While she's received numerous awards recognizing her contribution to comedy, such as the Mark Twain Prize for American Humor in 2013, a hosting gig on "Saturday Night Live" could make history of another kind for Burnett and the show.
Carol Burnett would replace Betty White as SNL's oldest host
When "Saturday Night Live" sent out a tweet on August 29 asking fans "Who do you want to host SNL?" for Season 48, more than 40,000 people commented on their picks. Some picked themselves, and some made top ten lists. But one name kept coming up: Carol Burnett. Even actor Patton Oswalt tweeted, "Guys, Carol Burnett. Come ON. Please?" Surprisingly, legendary comedian Burnett has never hosted "Saturday Night Live," and if she does host an episode of the upcoming season, she'll make history as the oldest host of the show.
The current holder of the oldest "SNL" host title is the late Betty White, who last hosted the show in 2010 at the age of 88. Burnett is 89 years old at the time of writing. Since news began spreading that Burnett has never hosted the iconic show, fans have been speculating as to why she's never been asked. In Doug Hill and Jeff Weingrad's "Saturday Night: A Backstage History of Saturday Night Live," they claimed that Lorne Michaels wasn't a fan of performers breaking character the way they did on "The Carol Burnett Show," and some fans wondered if word had got back to Burnett (via Television Academy Foundation). But she did an interview in 2016 with Larry King in which she said that she'd host the show — if she was asked. 
With that said, it looks like the next move is up to Michaels.