LaMonica Garrett Says 1883 Is Different From The Typical Western In A Very Important Way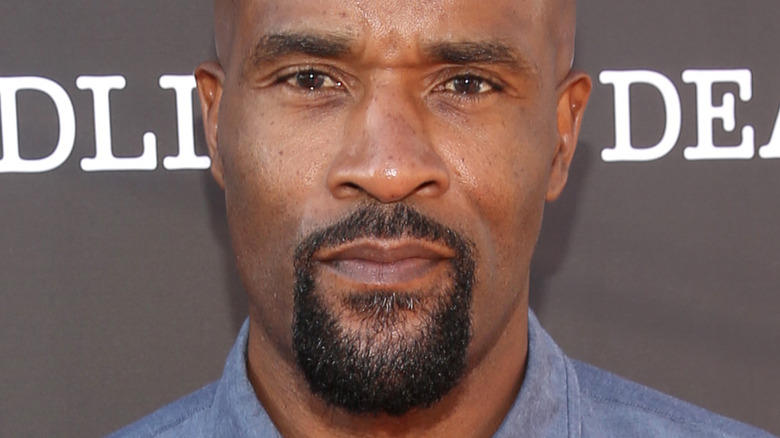 Jesse Grant/Getty Images
It's a very good time to be a fan of Western fiction. And if you count yourself a lover of that dusty, gun-slinging genre, you largely have Taylor Sheridan to thank for the current influx of cowboy-centric drama spotted in cinemas and the streaming realm. The writer, director, actor, and producer has, after all, almost single-handedly revitalized the genre in recent years with big screen hits like "Hell or High Water," and "Wind River," and, of course, his smash-hit modern Western opus "Yellowstone." That series alone is proving the gift that keeps on giving, too, with Sheridan and Paramount going full franchise on the "Yellowstone" world via a handful of spin-off shows.
The first of those spin-offs is the prequel Western "1883," which debuted to mostly positive reviews (per RottenTomatoes) on Paramount+ in late 2021. It did so fronting an unconventional cast including beloved vets like Sam Elliott, country music icons Tim McGraw and Faith Hill, and relative newcomers LaMonica Garrett and Isabel May. As the lone African American character in the series' regular cast, Garrett's steely-eyed Pinkerton Thomas proved one of the more notable of Sheridan's "1883" creations and helped set "1883" apart from the pack in terms of both representation and narrative ambition. According to Garrett himself, such characters are indeed a big part of why the hit Paramount+ series "isn't your grandfather's Western."
LaMonica Garrett says varied perspectives make 1883 unique in Western canon
LaMonica Garrett made those comments during a recent interview with Movieweb promoting the Blu-Ray release of "1883." And in talking up the first season of "1883," Garrett offered that characters like his own make the series unlike anything many fans have seen as they provide a starkly different perspective from the traditional Western gaze, stating, "A lot of Westerns we saw growing up, we saw one perspective through one set of goggles, and pretty much didn't really see a whole lot of else."
Garrett went on to add, "It's a Dutton family story that 'Yellowstone' created, but it's told in a way where you get to see it through the lenses of people that you didn't necessarily see it from before," noting specifically the African American perspective has rarely been explored in the Western genre. Outside of his own character Thomas (a freed slave who served in the U.S. Army before his Pinkerton days), Garrett goes on to claim Sheridan bolsters his ambitiously inclusive portrait of the Old West in how he represents Native American factions, depicts settlers as immigrants, and frames the entire story as a coming-of-age tale told from the perspective of the teenaged Elsa Dutton (Isabel May), who also narrated the first season of "1883."
As Deadline confirmed, perspectives will change dramatically in Season 2 of "1883." Tentatively titled "1883: The Bass Reeves Story," said season will focus on legendary African American lawman Bass Reeves (David Olewoyo). And even if Garrett is likely lamenting not returning to the Western fold as Thomas, he's no doubt happy the African American perspective will be front and center moving forward.