Katharine Hepburn's Hilarious Response To Jane Fonda Congratulating Her Oscar Win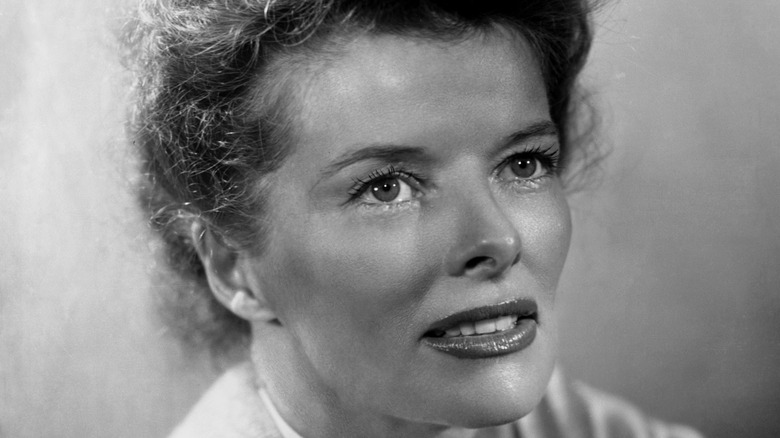 Print Collector/Getty Images
Very few have cast a longer shadow over Hollywood than Katharine Hepburn. To many, she is the quintessential leading woman, and every leading woman after her is merely following in her footsteps. When she passed away in 2003, the obituary in The Los Angeles Times described her as uniquely transcendent. "We never looked at her with envy or jealousy," said Elizabeth Taylor, "because she worked with such grace and wit and charm. You only wish that one day you could be like her" (via The Los Angeles Times).
Even Jane Fonda seems to have been a little bit in awe of Hepburn. The two famously worked together in 1981's "On Golden Pond," in which they played a daughter and mother with a complicated relationship. Fonda also produced the film and brought in her real father, Henry, to play her character's father on-screen. Jane and Henry's own relationship had long been quite strained (via Page Six), but from the sound of it, Hepburn wasn't particularly fond of her either. Appearing on "Inside the Actors' Studio" in 2005, Fonda told James Lipton that she and Hepburn first met while prepping for "On Golden Pond." "The first time I met her, you know what the first words she said to me were? 'I don't like you!'"
Hepburn goaded Fonda after winning her fourth Oscar
Fast forward to the 1982 Academy Awards. "On Golden Pond" was nominated for 10 Oscars, including Katharine Hepburn for best actress and Jane Fonda for best supporting actress in one of her most memorable roles to date. As it turned out, Hepburn ended up winning, while Fonda lost to Maureen Stapleton in "Reds." Jane Fonda did get a chance to walk to the podium that night, however, as she accepted the Oscar on behalf of her father Henry for his performance in "On Golden Pond," since he was too ill to attend the ceremony (via The Hollywood Reporter). Although Fonda was left out of the acting accolades for the evening, she called Hepburn the next day to graciously congratulate her on her win.
"[Hepburn] really thought that I was out to win more Academy Awards than she was," said Fonda in a 2021 interview with Harper's Bazaar, "and when she won for On Golden Pond I called to congratulate her, and she said, 'You'll never catch me now.'"
At the time, Hepburn had already won three Oscars for best actress. Meanwhile, Fonda was close behind with two for her performances in "Klute" and "Coming Home" (via IMDb). So, when both Fonda and Hepburn were nominated for their work in "On Golden Pond," the ever-competitive Hepburn saw a young rival closing in. Seems like she didn't have to worry since to this day, Hepburn holds the record for the most Oscars won by a performer.