Are Kevin Hart And Mark Wahlberg From Netflix's Me Time Friends In Real Life?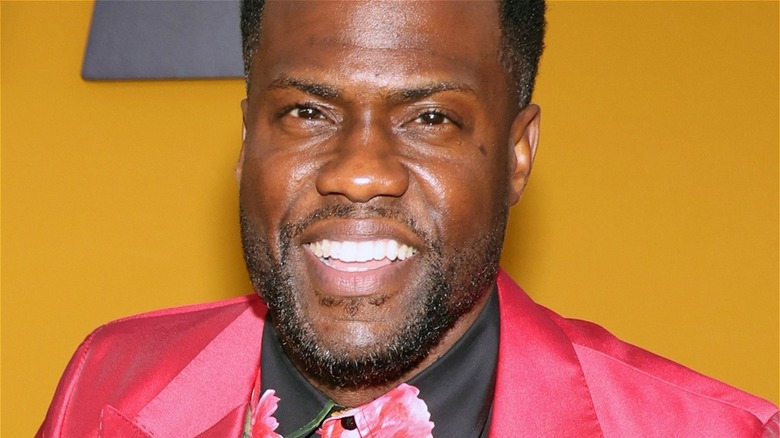 David Livingston/Getty
It's no secret that Kevin Hart has a lot of celebrity friends and so does his "Me Time" co-star Mark Wahlberg. In fact, many of their Hollywood pals are actually close with both of them, like Dwayne "The Rock" Johnson (via Twitter). But do the two acting heavyweights actually have a friendship outside of Hollywood themselves? 
Netflix's "Me Time" is described by the streaming giant as a buddy comedy that focuses on a "devoted stay-at-home dad" — played by Hart — who enjoys "his first me time in years by joining his hard-partying old friend (Wahlberg) on a wild birthday adventure," per Netflix. When it comes to making friends in show business, both Hart and Wahlberg seem to have no problem whatsoever finding famous people to hang out with, especially Hart. In addition to Johnson, the 43-year-old is reportedly pals with Nick Cannon, basketball player Chris Paul, Ice Cube, Ludacris, Drake, Pharrell Williams, Chris Rock, Taraji P. Henson, and Dave Chapelle, among many, many others (via Ranker). But he's also said to be a great friend to his non-celebrity buddies, as well. 
Back in 2018, Hart made headlines for buying a batch of classic muscle cars for his friends and work crew (via Instagram). "Just treated my guys to Old School cars," Hart wrote in an Instagram post, showing off the new whips. "I wouldn't be where I am today without my team. Love y'all.....We ride together we die together." So, does Hart's generosity and loyalty also extend to Wahlberg, and are the two of them actually friends in real life? 
Yes, Hart and Wahlberg are 'old friends'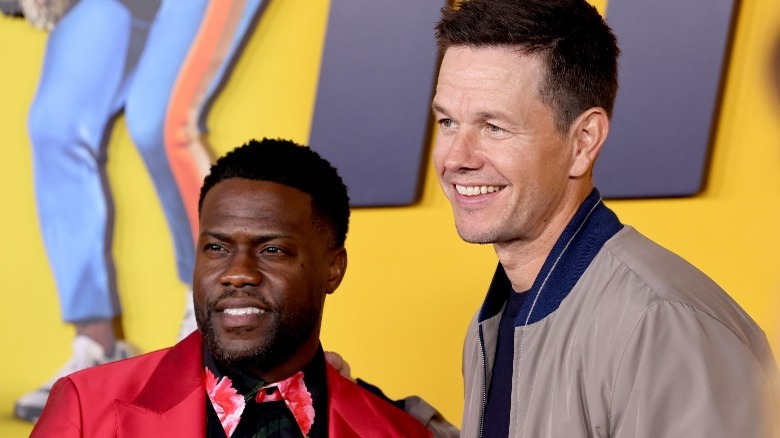 David Livingston/Getty Images
According to Netflix's fan companion site TUDUM, Kevin Hart and Mark Wahlberg are reportedly close friends who go way back after meeting several years ago "on the Hollywood circuit," the site says. Their bromance has also been confirmed by the actors, themselves, in interviews. 
"Much like Sonny and Huck, Hart and Wahlberg are old friends," writes TUDUM's Jean Bentley in an August 2022 profile piece on "Me Time" and the Hollywood friendship. "After meeting and bonding on the Hollywood circuit, the duo decided they needed to collaborate on a project, which eventually became 'Me Time,'" Bentley adds. According to Wahlberg, shooting the Netflix movie was a complete blast, especially since he and Hart gelled so well off-screen. "The real joy about working with Kevin is his comedy comes from a very nice place," Wahlberg told Bentley. "He just enjoys making people laugh. And he is as funny as anybody I've ever seen." While filming "Me Time" last year, Hart — who last starred in "The Man From Toronto" — took to his Instagram page to talk about the chemistry he and Wahlberg had on set. 
"Having a blast working with @markwahlberg," Hart wrote in a September 2021 post, which was accompanied by a picture of the Hollywood duo. "'Me Time' is funny as hell," Hart added. "Our chemistry on set is exactly what I thought it would be. F***ING GREAT....2 professionals that truly care about their craft." Those looking to see Hart and Wahlberg do their thing on-screen together can find "Me Time" currently streaming on Netflix.