How Critics Really Feel About Kevin Hart's Performance In The Man From Toronto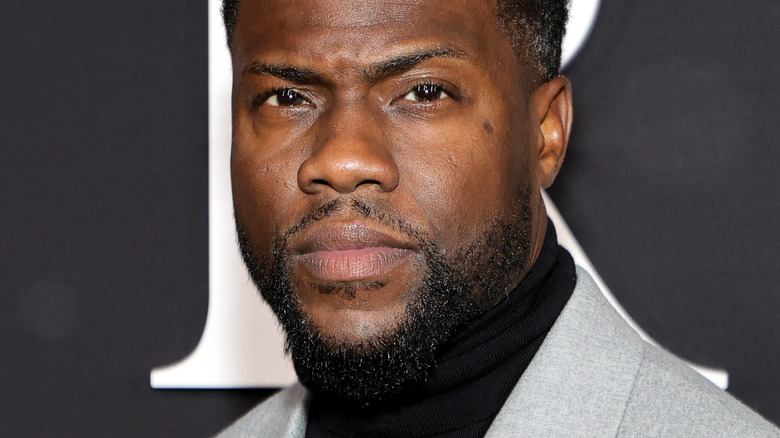 Mike Coppola/Getty Images
Kevin Hart has cemented himself as one of the most popular comedians of the 21st century. The funnyman holds three spots in the top 10 highest-grossing stand-up films of all time (via Box Office Mojo). With success in stand-up and films, Hart was named as Forbes' highest-paid comedian in 2019, though it hasn't just been accolades for the Philadelphia native — the comedian has faced numerous controversies and backlashes in recent years (via the BBC). The star has also faced tons of criticism throughout his career, particularly from critics who have labeled him unfunny (via People). 
When taking a look at his filmography, it's clear that there are just as many hits as there are misses in terms of critical success. In 2018, MEL MagazineE pondered why the comedian excels at stand up but isn't able to draw the same success in his film, saying, "On stage, Hart invites us to mock him  —  the punch line is often that he's in the wrong  —  but he's rarely been able to translate that into movies. It's because there's something fundamentally different about the two mediums."
In recent years, though, Hart's output has been more well received (via Rotten Tomatoes), showcasing a pivot in the way he presents himself. After a dramatic performance in "Fatherhood" and a blockbuster appearance alongside Dwayne Johnson in "Jumanji: The Next Level," Hart recently joined Woody Harrelson for "The Man from Toronto." In the action-comedy, the actor plays a man who is mistaken for a deadly hitman, only to be forced to work with said contract killer. Audiences are clearly tuning into the movie, but what are critics saying about Hart's newest role?
Critics can't ignore Kevin Hart's infectious energy in The Man from Toronto
Kevin Hart is continuing his streak of wins by learning about the woes that come with being a hitman in "The Man from Toronto." Directed by Patrick Hughes, the mastermind behind the "Hitman's Bodyguard" franchise, "The Man From Toronto" received over 50 million hours of viewership on Netflix during its release weekend, making it one of the streaming service's most successful films in recent memory.
While the film has fared poorly critically — it holds a 22% on Rotten Tomatoes – critics can't deny the hard work Hart has put into the feature. While discussing the film's shoddy dialogue, Time Magazine's Stephanie Zacharek couldn't help but point out how Hart is able to elevate every scene he's in, writing of the "Ride Along" star that, "Hart is something of a stocky comic iron man, a scrappy pro with the ability to twist and bend even the lousiest dialogue into a pretzel shape that can make you laugh despite yourself." Mick LaSalle of the San Francisco Chronicle agreed with this sentiment, saying "Hart's mode is to be loud and fast, but he's always thinking, so that his face registers flickers of thought and feeling that give texture to his acting." And while Hart stands on his own two feet, /Film also pointed out the comedian's "strong chemistry" with Woody Harrelson, which led to some of the film's funniest scenes. 
While "The Man from Toronto" may not be a critical darling, the consensus confirms that Hart gives it his all, which has led to another memorable performance.