Paul Newman Absolutely Despised His First Ever Film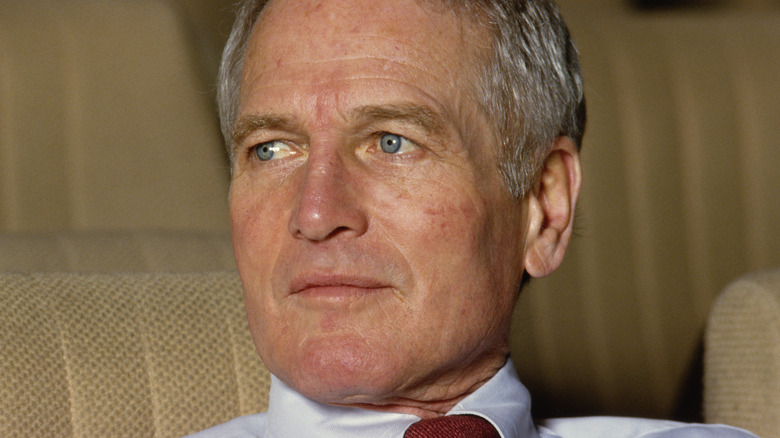 Georges De Keerle/Getty Images
Today, audiences remember Paul Newman as a philanthropist, political activist, Hollywood legend, and one of the greatest movie stars of all time. Before he died in 2008 at the age of 83, he received an Academy Award for best leading actor in "The Color of Money" and a Primetime Emmy Award for best supporting actor in the TV miniseries "Empire Falls" (via IMDb). Fans of Newman and Old Hollywood will always remember his most notable roles in classic films, such as "Cool Hand Luke," "The Hustler," "Butch Cassidy & The Sundance Kid," and remember how he shared the silver screen with fellow legend Elizabeth Taylor in "Cat on a Hot Tin Roof." 
Yet, even the biggest legends still had their humble beginnings. According to film critic Shawn Levy's biography of the actor, "Paul Newman: A Life," Newman's father and mother ran a sporting goods store. Before he became an actor, he also served in the United States Navy during World War II. Soon after, he began acting professionally, with his first listed credit in 1949 for a TV series titled "The Aldrich Family." He worked steadily in TV for some years, before he made his cinematic debut in a 1954 film called "The Silver Chalice."
Despite being a large production that also starred Natalie Wood in a brief turn, Newman did not have kind things to say about his big-screen debut.
Newman initially hated his debut film and even ran advertisements against it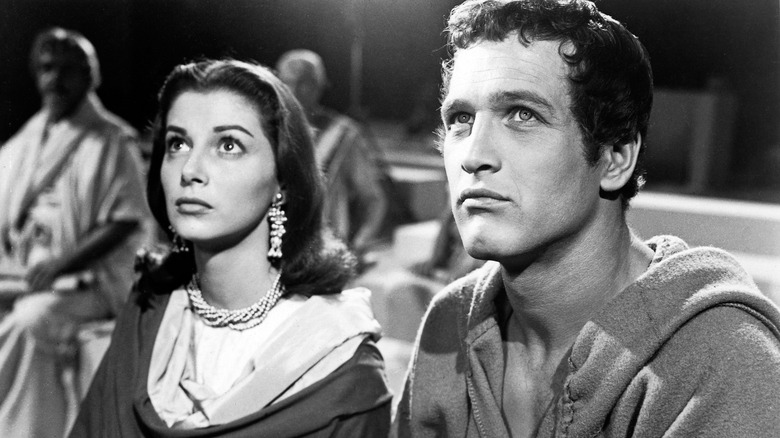 United Archives/Getty Images
"The Silver Chalice," directed by Victor Saville, is a historical epic about a Greek sculptor named Basil (played by Newman) who travels to Jerusalem and Rome in an effort to craft Jesus Christ's cup that was used during The Last Supper (via IMDb). Levy's "Paul Newman: A Life" discusses in detail how much Newman despised the film at the time of its debut. "I was horrified and traumatized when I saw the film," Levy quoted him as saying. "I was sure my acting career had begun and ended in the same picture." Newman believed that the movie had the distinction of being the worst film of the 1950s.
His hatred of the film lasted for years, and in 1963, Newman ran an advertising campaign against the film. According to Levy, Newman spent $1,200 on ads in Los Angeles newspapers telling people to not watch the film when it aired on local television. As these types of campaigns tend to, it had the opposite effect -– publicity generated by Newman's anti-campaign generated more interest in the film. Viewership ratings of the film were high, despite the fact the actor told readers of the local papers, "Paul Newman apologizes every night this week – Channel 9."
There may be many reasons Newman disliked the movie, yet one that stood out was critics noting his resemblance to fellow lauded actor Marlon Brando. As Levy wrote, a number of critics remarked on their facial resemblances. This may have played a role in Newman's disdain for the film.
Newman grew to appreciate having made The Silver Chalice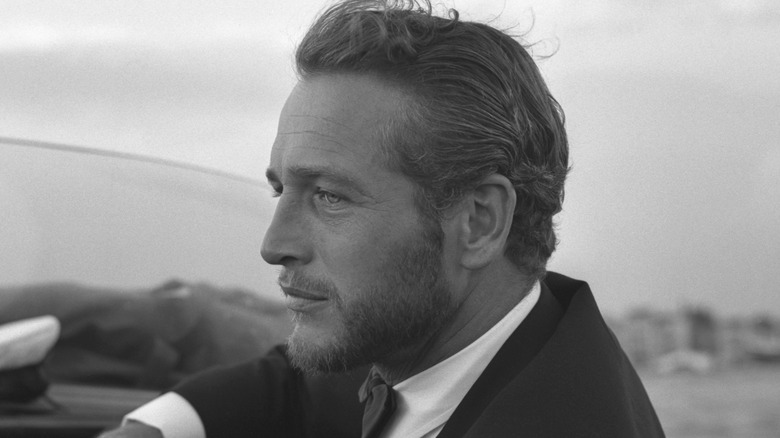 Archivio Cameraphoto Epoche/Getty Images
Critics and audiences have not been kind to "The Silver Chalice," so Paul Newman's own hatred of the film wasn't distinct from the general critical consensus around it. Yet, Levy remarked in his biography of Newman that the actor had nonetheless learned to appreciate that any press – even poor critical press – can still be a boon to a young actor early in their career. Levy quoted him as saying, "It's like juvenile delinquency: if you can be the worst kid on the block, you can make a name for yourself."
Newman obviously wouldn't have to worry about bad press following him for long, though. Though for some time after "The Silver Chalice" he stuck to TV series (via IMDb), his big-screen star didn't take too long to rise. He and his "Silver Chalice" co-star Pier Angeli reunited for the 1956 film "Somebody Up There Likes Me," and in 1958, he starred in "The Long, Hot Summer" with wife Joanne Woodward and "Cat on a Hot Tin Roof" with Elizabeth Taylor. The Hollywood legend's career would only grow from there.