Shia LaBoeuf Once Voiced A Studio Ghibli Character You Likely Don't Remember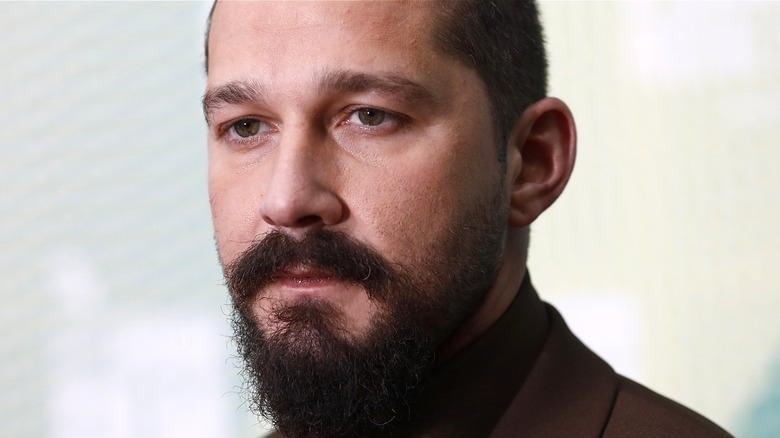 John Phillips/Getty Images
It's a tough time right now for Shia LaBeouf, with the actor currently embattled in a public war of words with Olivia Wilde over claims that he was too unruly to work with on the set of her movie "Don't Worry Darling," which ultimately led to his exit, per Variety. LaBeouf claims he actually stepped away on his own accord and quit the production due to scheduling issues, telling Looper and Wilde in an emailed public statement: "I quit [Don't Worry Darling] because your actors & I couldn't find time to rehearse." Sources at Warner Bros. told Looper that the separation was a mutual decision by everyone involved following disputes between LaBeouf, Wilde, and the cast. 
"I say this as someone who is such an admirer of his work. [LaBeouf's] process was not conducive to the ethos that I demand in my productions," Wilde told Variety in an August 24 cover story. "He has a process that, in some ways, seems to require a combative energy, and I don't personally believe that is conducive to the best performances," Wilde said. "I believe that creating a safe, trusting environment is the best way to get people to do their best work. Ultimately, my responsibility is to the production and to the cast to protect them. That was my job."
Following LaBeouf's career over the past decade has been a roller coaster ride, with brief stretches of cinematic success and public praise accompanied by rolling bunny hills of controversy. But at the bottom of it all, he's still a talented actor with countless Hollywood credits to his name — including one from Studio Ghibli that almost everyone seems to forget. 
LaBeouf voiced Asbel in the 2005 English version of Nausicaä of the Valley of the Wind
It's a role that even the most diehard Shia LaBeouf fans seem to forget about, with many only discovering it years after the fact. For the 2005 English version of the '80s animated classic "Nausicaä of the Valley of the Wind," LaBeouf voiced the character Asbel, who was originally portrayed by Yoji Matsuda, and this fact still shocks fans who weren't aware of this before they saw his name in the credits.
"Shia LaBeouf VOICES ASBEL?!?!?!" gasped Twitter user @NoraJeanne7 back in 2020 after rewatching the Studio Ghibli film, which was first released in 1984. "I completely forgot that Shia Labeouf voiced Asbel lmfao," wrote @FinalFawntasy. But LaBeouf wasn't the only major Hollywood star to work on the 2005 English dub.
In addition to LaBeouf, the 2005 English version of "Nausicaä of the Valley of the Wind" also featured Mark Hamill, Patrick Stewart, Uma Thurman, Alison Lohman, and Edward James Olmos (via IMDb). It marks only one of two times where the "Transformers" poster boy lent his voice to an animated feature, with the other being 2007's "Surf's Up," where he voiced the penguin character Cody Maverick. He has, however, been open about his love of animated films, telling Collider in June 2007 that "animation has completely changed and I've always been a big fan."