What House Of The Dragon's Speedy Season 2 Renewal Could Mean For A Song Of Ice And Fire's Future
Ollie Upton/HBO
Dragons take flight, court intrigues turn deadly, and blood flows freely in the eagerly awaited "Game of Thrones" prequel series "House of the Dragon." The new epic aims to be a worthy successor to the network's sprawling "Game of Thrones," which grew out of author George R.R. Martin's "A Song of Ice and Fire" series of novels. "House of the Dragon" is adapted from Martin's book "Fire & Blood," and jumps back almost 200 years to chronicle the story of the Targaryen dynasty long before the times of Daenerys (Emilia Clarke).
As it turns out, anxious Westeros-watchers need not have worried about the new series' performance. As The Hollywood Reporter notes, the 2011 premiere episode of the original "Game of Thrones" drew a respectable 2.2 million U.S. viewers. But as reported by Deadline, the debut installment of "House of the Dragon" captured nearly 10 million U.S. viewers, likely a primary reason why the prequel series has already been renewed for Season 2. So, what does the blazing-fast 2nd season pickup for the new show portend for the future of the wider "A Song of Ice and Fire" world at HBO?
The swift Season 2 renewal for House of the Dragon could mean more spin-offs in the future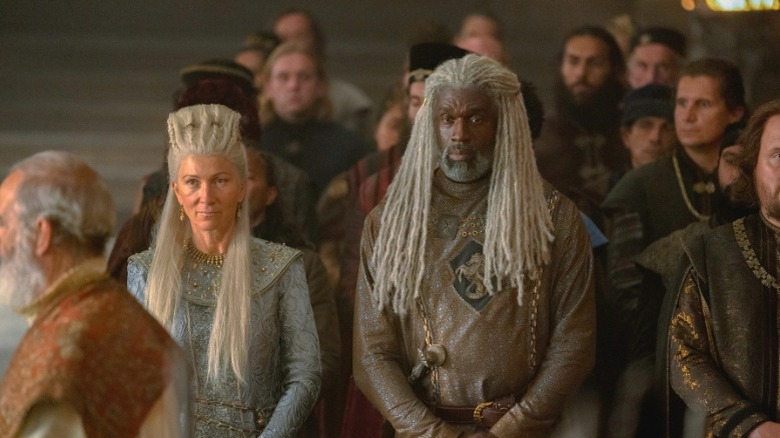 Ollie Upton / HBO
As CNBC reports, the "House of the Dragon" series premiere was the biggest in HBO's history. With this sort of breakout debut, it's no surprise network execs are feeling good about this launch. As relayed to Deadline by Executive Vice President of HBO Programming Francesca Orsi, "We are beyond proud of what the entire 'House of the Dragon' team has accomplished with season one," she said, then adding, "We couldn't be more excited to continue bringing to life the epic saga of House Targaryen with Season 2."
The truth is, the ability of "House of the Dragon" to win over viewers is likely central to whether more shows in the Westeros-verse are produced. As showrunner Ryan J. Condal told The Hollywood Reporter, he feels the show's success will determine if further visits to this vast fantasy realm are mounted. "I think there's a lot of interest in seeing other corners of this world," Condal said, "[But] I think all that will rely heavily on 'House of the Dragon' doing what it needs to do commercially for HBO." 
Thanks to George R.R. Martin's rich worldbuilding, there are tons of potential "Game of Thrones" spin-off shows we'd like to see. And, if these initial numbers are any indication, it seems safe to say we'll likely be getting more explorations of Westeros and the other kingdoms of "A Song of Ice And Fire" from HBO in the future.