Here's Why Twin Peaks Fans Think You Should Skip These Season 2 Episodes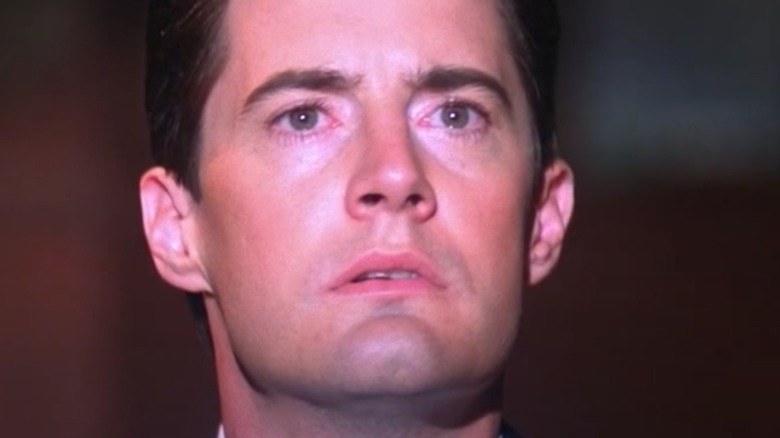 CBS
Television viewers had never really seen anything quite like "Twin Peaks" prior to its 1990 premiere. And quite frankly, we're not sure they've seen anything like it since. Sprung from the wildly unpredictable mind of legendary auteur David Lynch (who co-created the series alongside Mark Frost), the 1st season of the iconic show hung on a central mystery, one that had the whole of the pop culture pantheon asking the same question: "Who killed Laura Palmer?"
The investigation into the murder of the troubled teen in question (played by Sheryl Lee) has since opened the door to mysteries beyond space, time, and belief. Many of those mysteries remain unsolved even long after FBI Special Agent Dale Cooper (Kyle MacLachlan) and company discovered who killed the enigmatic Palmer girl. And they only deepened by the end of Lynch's masterful "Twin Peaks" revival series. Trying to assemble the philosophical pieces of Lynch's small screen magnum opus is, of course, exactly what makes the endlessly ambitious series so much fun to experience.
It's also what makes "Twin Peaks" so endlessly rewatchable three decades after the series changed the primetime game (per The A.V. Club). It seems, however, that even diehard fans of the show opt out of an episode or two when they do a rewatch. And in a 2017 Reddit thread, some "Twin Peaks" fans deemed a run of Season 2 episodes worthy of skipping. Here's why.
Some fans think half of Twin Peaks' 2nd season can be skipped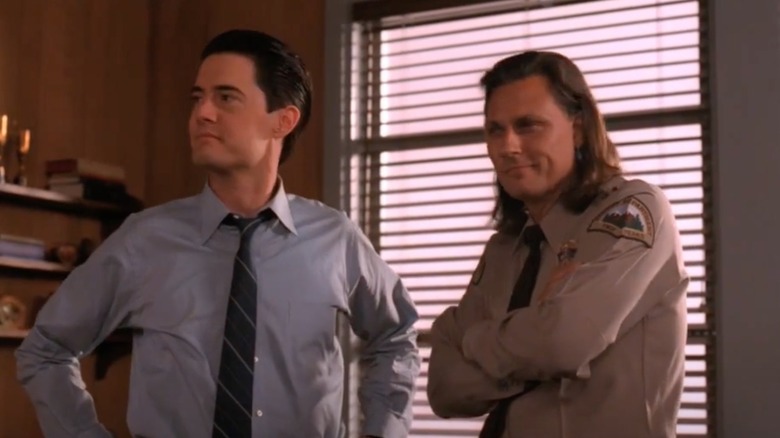 CBS
Those "Twin Peaks" fans are pretty adamant that the second half of the show's 2nd season is problematic at best. That's not entirely surprising, as Season 2 of "Twin Peaks" remains a polarizing thing even for diehard fans. David Lynch himself still has issues with the season, telling The New York Times in a 2014 interview, "It got very stupid and goofy in the second season; it got ridiculous," before noting that he wasn't really involved with Season 2 after Laura Palmer's killer was revealed. That shocking reveal came in Episode 14 of the season, and some "Twin Peaks" fans agree with Lynch in that you can probably skip many of the episodes that aired in its wake.
As it is, at least one of those Redditors believes you can actually skip most of the second season of "Twin Peaks" on rewatch, with u/Ginny_F******* telling fellow fans and series newcomers, "Just watch everything up until the 'who killed Laura Palmer' arc is realized, and then skip the rest up until the last episode." User u/LikelyWhisper99 shares a similar opinion, adding that fans should also be sure to watch the 1992 film "Twin Peaks: Fire Walk With Me."
User u/TheNewColor wasn't quite as harsh in their assessment of Season 2 but still notes that the 11th episode of the season (titled "Masked Ball") is one some fans cannot abide, "People consider episode 11 to be the worst." Indeed, there's an entire other Reddit thread on the sub dedicated to that particular episode. And the comments section is as spicy as you might think.  
Twin Peaks fans might be wise not to skip those episodes
Part of the problem "Twin Peaks" fans — and David Lynch himself — have with the back half of Season 2 is that it meanders too often in silly plot contrivances that are mostly meaningless in the context of the series' dense, overarching story. While it might be easier to just skip over the lot of them, some intriguing narrative bits are tucked away in those episodes you really shouldn't miss. That's particularly true of "Masked Ball," which, as noted by Redditor u/TheNewColor, essentially explains what the Black Lodge is in "Twin Peaks" mythology.
That location is at the epicenter of the "Twin Peaks" narrative, with Dale Cooper and others believing it to be the driving force behind Laura Palmer's death and many other strange happenings in both the peculiar town of title and beyond. And yes, Deputy Tommy "Hawk" Hill's (Michael Horse) description of the Lodge as a soul-destroying shadow realm proves tragically accurate late in the season. It, of course, also serves as a veritable template for Lynch's mind-blowing exploration of Black Lodge mythology in the recent "Twin Peaks" revival series. 
If you're looking for another reason not to skip this particular episode, it also features the small-screen debut of David Duchovny. And yes, "The X-Files" star's appearance as DEA Agent Denise Bryson put "Twin Peaks" well ahead of its primetime counterparts in terms of transgender representation, even if a cisgender man playing the part is a touch problematic (per The Daily Beast). As for the other episodes some "Twin Peaks" fans say you can skip, they arguably offer fewer nuggets in regards to the series' lore or its groundbreaking characterizations. But there are puzzle pieces aplenty within for Lynchian super fans willing to endure a few "goofy" subplots.