The Invitation And Legacies Actor Thomas Doherty Explains Why He Can't Stay Away From Vampires - Exclusive
Kathy Hutchins/Shutterstock
Once you've played a charming, generations-old vampire, it's hard to go back. Thomas Doherty made his vampire debut on The CW series "Legacies." There, he played a self-serving vampire and love interest to Lizzie (Jenny Boyd) — before getting a mild redemption arc. All it took was trying to force Lizzie into becoming a vampire and imprisoning her forever.
Now, Doherty is playing an even darker vampire named Walter alongside Nathalie Emmanuel (Evie) in "The Invitation." The movie is directed by Jessica M. Thompson, who put a feminist spin on the vampire genre and its frequent use of damsel tropes.
During an exclusive interview with Looper, co-stars Emmanuel and Doherty praised each other's work on the film, and Doherty discussed his love for character acting, playing villains, and why he can't stay away from vampire stories. Emmanuel also explained how the film defies the problematic tropes of the genre.
Once a vampire, always a vampire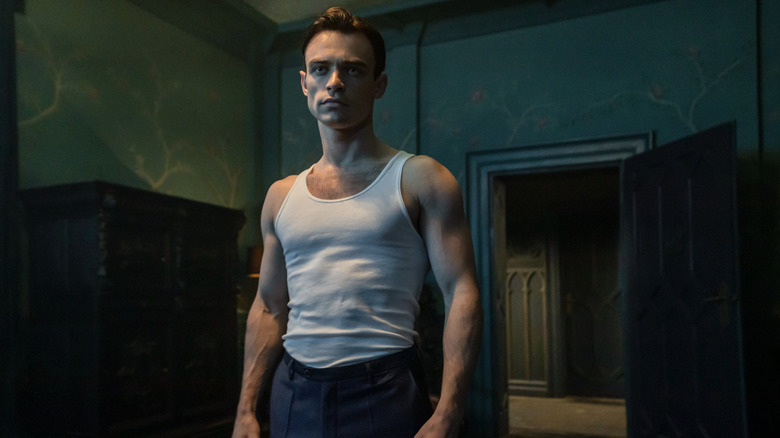 Sony Pictures
Thomas Doherty explained what drew him to vampire roles like Sebastian on "Legacies" and Walter in "The Invitation." "I grew up doing theater, and I have always loved characters. I always feel like I'm a character actor trapped in a boy-next-door body, which is very sad. Is that funny?" he said. Emmanuel chimed in with, "It's very sweet."
Everyone loves watching villains, but plenty of actors love playing them, too. Doherty added, "I've always enjoyed playing characters. For some reason, I'm drawn to playing villains. It's really interesting to play villains."
Oftentimes, the most compelling aspects of villains are their backstories and human moments. "On the surface, they are bad, but again, there's always [the] human condition. It's always a case of what made them bad. I find that part very, very interesting," Doherty explained. "No one's born a narcissist or a sociopath. It's a developmental dysfunction. So it's quite interesting to dive into that and see why that is the case."
When it comes to Walter specifically, Doherty noted, "Playing Walter, it was a bigger scale, working on this movie and working with Nat and Jess [M. Thompson, the director] and this production company. It was definitely a level up, and it was very exciting, and [I] had a blast."
Sidestepping toxic vampire tropes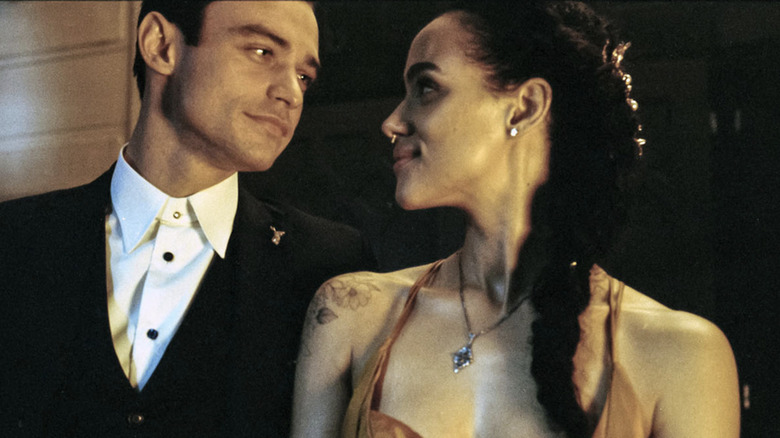 Sony Pictures
There's no denying that "The Invitation" doesn't fall into the trope of having women completely forget who they are in pursuit of a vampire love interest. Nathalie Emmanuel explained, "What's different about this kind of telling of a vampire story is the way that the whole production of entrapping her makes her question herself."
Of course, Evie does struggle with staying true to herself amid the allure of Walter. "The way that she's gaslit throughout this whole film is ... We are talking about something that we see all the time in real life, like, 'Oh, I'm going to make you think that you are crazy,'" Emmanuel added. "She does [still] lose herself for a minute with him because he basically becomes everything she needs him to be. And she really falls for it, but in the moment where she's forced into this situation, she really fights back."
Oftentimes, if women don't advocate for themselves, no one else will — and that's precisely what Evie does. Emmanuel noted, "That's a sign of her being a modern woman and someone who has had to advocate for herself her entire life. It's a really fun spin on something, a landscape, that we're already so familiar with."
"The Invitation" is now playing exclusively in theaters.