Nathalie Emmanuel And Thomas Doherty Talk The Invitation And Revamping The Vampire Genre - Exclusive Interview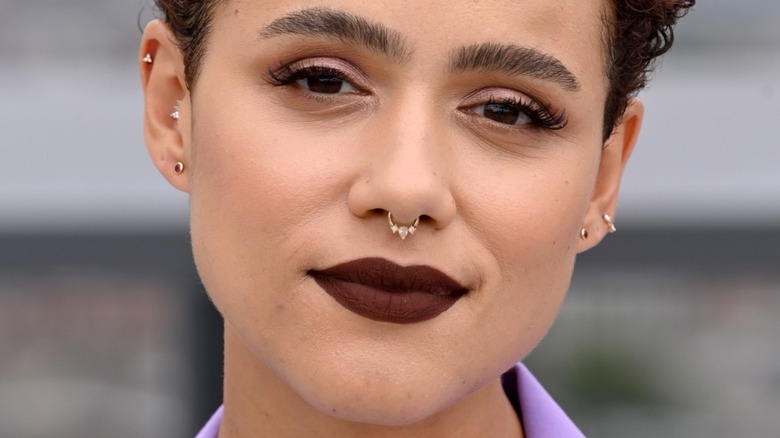 Eamonn M. Mccormack/Getty
When it comes to playing vampires, "The Invitation" actor Thomas Doherty is a pro. Before playing the ages-old vampire Walter in "The Invitation," he played Sebastian on the CW series "Legacies" for ten episodes. Doherty isn't a stranger to playing villainous roles, either, as he took on the role of Harry Hook in the "Descendants" films. Doherty dusted off his Disney roots in 2016 for "The Lodge" and later went on to play Liam on "High Fidelity" (2020) and Max Wolfe on "Gossip Girl" (2021).
Like Doherty, his co-star Nathalie Emmanuel, who plays Evie, has an impressive resume. Emmanuel has played Ramsey in the "Fast & Furious" franchise since "Furious 7," and she scored the role of Harriet in the second installment of the Dylan O'Brien-led series "The Maze Runner." Of course, "The Invitation" isn't Emmanuel's first stint on a dark and gritty project. Beginning in 2013, she played Missandei in "Game of Thrones." From there, she went on to play roles in "Four Weddings and a Funeral," "The Dark Crystal: Age of Resistance," and "Army of Thieves."
During an exclusive interview with Looper, Emmanuel and Doherty discussed their work on "The Invitation," why Doherty loves character acting, how "The Invitation" puts a modern spin on the vampire genre, and how the duo cut through the intense scenes between filming.
A vampire track record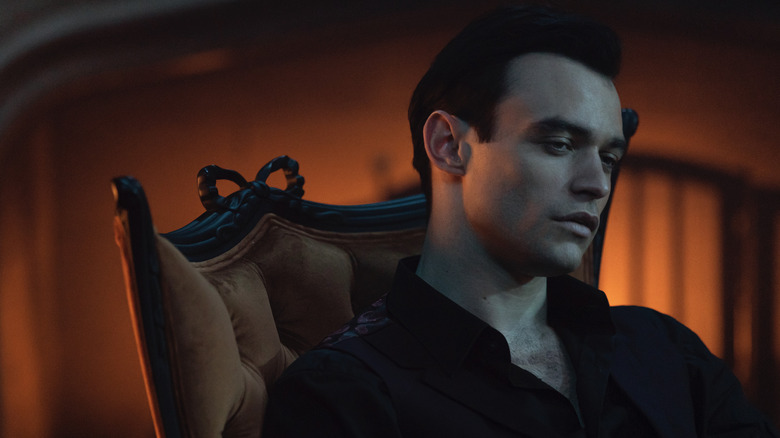 Sony Pictures
Thomas, this isn't the first time you've taken on a vampire role, as you played Sebastian on "Legacies." What draws you to these roles? And with the terrifying core element of "The Invitation," what was different and exciting about playing Walter?
Thomas Doherty: I grew up doing theater, and I have always loved characters. I always feel like I'm a character actor trapped in a boy-next-door body, which is very sad. Is that funny?
Nathalie Emmanuel: It's very sweet.
Doherty: It's hard. But I've always enjoyed playing characters. For some reason, I'm drawn to playing villains. It's really interesting to play villains. On the surface, they are bad, but again, there's always [the] human condition. It's always a case of what made them bad. I find that part very, very interesting. No one's born a narcissist or a sociopath. It's a developmental dysfunction. So it's quite interesting to dive into that and see why that is the case. Playing Walter, it was a bigger scale, working on this movie and working with Nat and Jess [M. Thompson, the director] and this production company. It was definitely a level up, and it was very exciting, and [I] had a blast.
Emmanuel: And he did a phenomenal job.
Doherty: Thank you.
Emmanuel: No, seriously. It's a tough character, and like you say, he's a character actor. You were amazing.
Doherty: Thank you. As were you.
Sidestepping genre clichés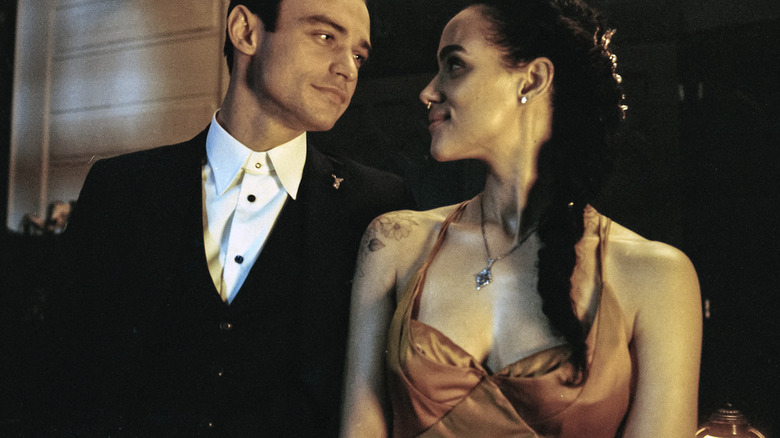 Sony Pictures
Nathalie, I love that "The Invitation" sidesteps the overplayed arc of having a woman fall for a vampire while losing all rationality and her sense of self. In that vein, what stands out to you most about Evie's refusal to give in to the hand (or fangs) that she's dealt?
Emmanuel: What's different about this kind of telling of a vampire story is the way that the whole production of entrapping her makes her question herself. It's almost like the situation that she's placed in makes her lose herself in a different way, not into the person, but into ... She's like, "I'm questioning all of my instincts, all of my defense mechanisms that are going up, and I'm not sure why." Even that in herself makes her question and lose herself. It's a slightly different way of doing it.
The way that she's gaslit throughout this whole film is ... We are talking about something that we see all the time in real life, like, "Oh, I'm going to make you think that you are crazy." She does [still] lose herself for a minute with him because he basically becomes everything she needs him to be. And she really falls for it, but in the moment where she's forced into this situation, she really fights back. That's a sign of her being a modern woman and someone who has had to advocate for herself her entire life. It's a really fun spin on something, a landscape, that we're already so familiar with.
Bonding over gummy bears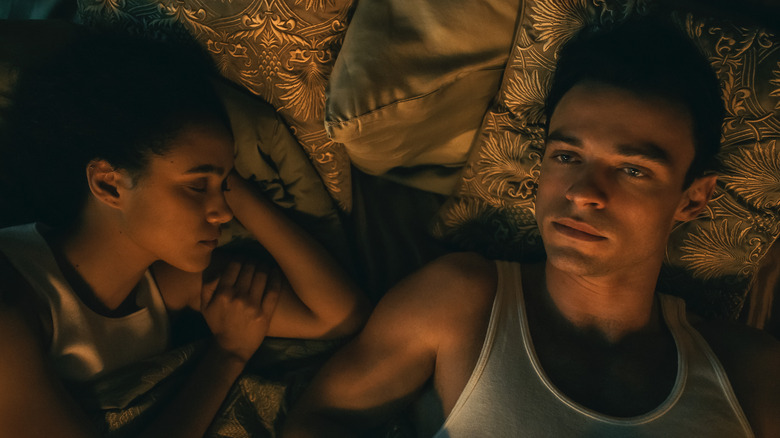 Sony Pictures
Most of your scenes together are pretty intense. What were some of the highlights of working together? And did you do anything between takes to blow off steam?
Emmanuel: We ate gummy bears.
Doherty: They were amazing.
Emmanuel: Well, vegan ones because I have lots of vegan sweets around.
Doherty: They were so good.
Emmanuel: Our tents were often put together, and they were separated by wood, and I'd pass them through the little gap [and] be like, "I've got new ones."
Doherty: They were so good. So we ate gummy bears.
Emmanuel: And the little sour worm things.
Doherty: Yeah. My favorite thing to do with you was ... I don't know, we just had fun. I loved working with Nathalie.
Emmanuel: Yeah, we had a really great time. We got on like a house on fire. We got on immediately, and it was good vibes from the gate. That made it really useful. [For] every actor, sometimes you have days where you question yourself. You're like, "Oh, how am I doing?" And it was great because I felt like we really supported each other in those moments and felt like we were on the same team. I don't know what my favorite scene was ... I actually really enjoyed the dinner. I enjoyed the rehearsal dinner.
Doherty: That was my favorite scene in the whole thing. Three days.
Emmanuel: Smelly, rotting food.
"The Invitation" will be released exclusively in theaters on August 26.
This interview has been edited for clarity.