Who Plays June Hall-Yoshida On Netflix's Never Have I Ever?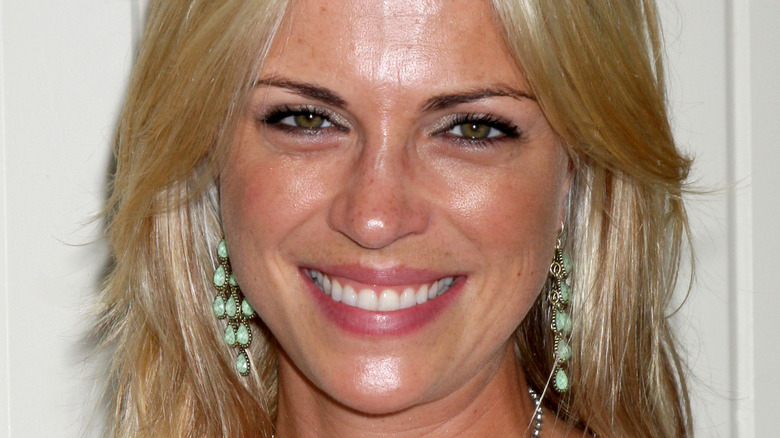 Kathy Hutchins/Shutterstock
Teen dramedy "Never Have I Ever" — co-created by Mindy Kaling — debuted its 3rd season on Netflix on August 12, 2022. Throughout the series, Devi Vishwakumar, played by Maitreyi Ramakrishnan, has navigated a tumultuous and chaotic relationship with her longtime crush, Paxton Hall-Yoshida (Darren Barnet).
In the 3rd episode of Season 2, Paxton, now injured and in danger of not receiving a sports scholarship, decides to improve his grades in order to get into college. His mother, June Hall-Yoshida, advises that he has to work hard if he really wants this, so Paxton accepts Devi's tutoring even though they've recently had a falling-out. His grades do improve, which ultimately leads to his decision in Season 3 to go to Arizona State University for college, leaving his family in California.
As the indirect precipitator of such a major decision, June certainly left her mark on the season — and many fans may have wondered who plays Paxton's mother and where they have seen her before.
Soap opera star Kelly Sullivan plays Paxton Hall-Yoshida's mom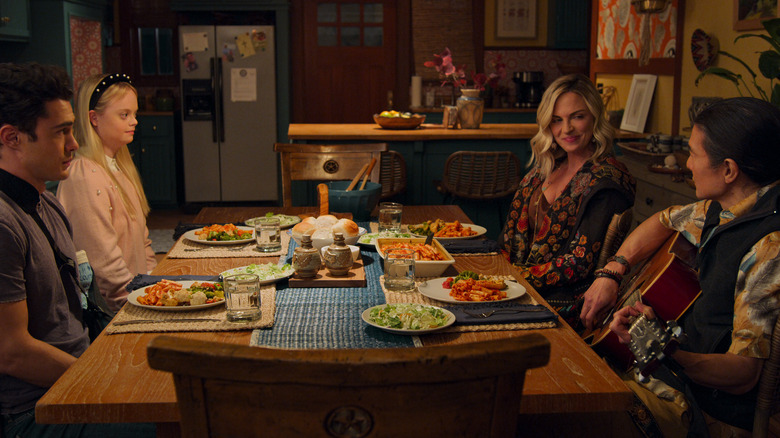 Netflix
June Hall-Yoshida in "Never Have I Ever" is played by Kelly Sullivan, whose big-screen debut came as a Bavarian peasant in the 2005 film version of "The Producers," based on the Mel Brooks Broadway show. She would continue her working relationship with Brooks, starring as Inga the lab assistant in the Hilton Theater's stage production of "Young Frankenstein" in 2008 (via New York Theatre Guide). 
Meanwhile, soap opera fans may know Sullivan from "General Hospital," where she played Kate Howard from 2011 to 2014 after taking over the role from actress Megan Ward. The character of Howard has a split personality that manifests as Connie Falconeri, a buried persona from her past. Sullivan really enjoyed the part, telling MSN of the episode where Howard and Falconeri meet within her, "I call it my Gollum scenes from 'Lord of the Rings,' when he's having his moment on the log as Gollum and Sméagol. It's just so cool."
She also appeared in "The Young and the Restless," where she played Sage Warner from 2014 to 2016. During her time on soap operas, she was nominated for two Daytime Emmy Awards for outstanding supporting actress in a drama series — in 2014 for her role in "General Hospital" (via Los Angeles Times), and in 2017 for her role in "The Young and the Restless" (via The Hollywood Reporter).
Sullivan appeared in several popular TV series
After a solid start in daytime soaps, Kelly Sullivan's first lead role in a scripted primetime TV series came in 2016 when she starred in Tyler Perry's "Too Close to Home" as Bonnie, the oldest sister of a working-class woman who has an affair with the President of the United States. In an interview with Parade, Sullivan recalled, "I was really excited about being a part of TLC's first scripted series. That'll be a part of history, so I was really looking forward to that and just working with Tyler."
Other notable television appearances include her role as Mrs. Hart in "Henry Danger," where she appeared in 36 episodes from 2014 to 2020, and as Vicki Manderly in one episode of Apple TV+'s "The Morning Show." She also had a small role as Kathryn, a realtor, in the 2017 film "Roman J. Israel, Esq." alongside Denzel Washington.
With Sullivan's on-screen son Paxton moving away for college in Season 4 of "Never Have I Ever," it's worth remembering that her introduction was critical to an evolution that Barnet told Collider he'd wanted for his character ever since Season 2. If you're wishing for more Sullivan after meeting her in "Never Have I Ever" Season 3, it may be time to turn on a soap opera or hunt down some of her other small but impactful roles.