Mel Brooks Facts That You Probably Never Knew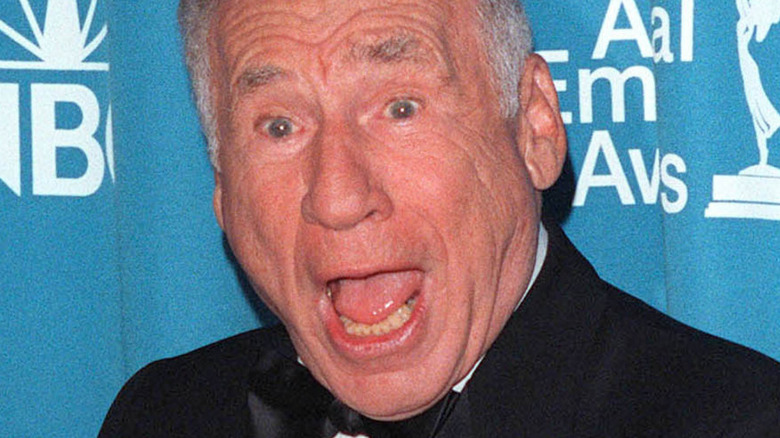 Featureflash Photo Agency/Shutterstock
Mel Brooks has been making us laugh for over 70 years. He started out as a writer on the legendary TV comedy "Your Show of Shows," starring Sid Caesar, then created "The 2000 Year Old Man" with his writing partner and close friend Carl Reiner.
Once Brooks broke through on the big screen with "The Producers," he was off to the races, and he followed with "Blazing Saddles," "Young Frankenstein," "Silent Movie," "History of the World, Part 1," "Spaceballs," and more.
But Brooks didn't just make hilarious movies. His work also made strong statements against racism and antisemitism, all while making audiences laugh themselves silly. While many are afraid that today's audiences are too uptight about everything, it's great to see that Brooks' films have continued to make people laugh for generations.
For a long time, not much was known about Brooks or the behind-the-scenes stories of his work, but with the release of his wonderful autobiography, "All About Me," a number of surprising revelations have now come to light. Here's a list of things you may not have known about the comedy legend.
He served in World War II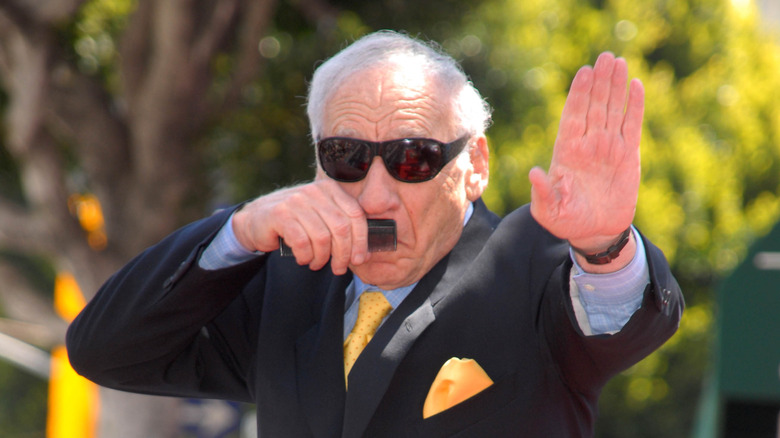 s_bukley/Shutterstock
In his autobiography, Brooks doesn't make a direct link between fighting Hitler and his comedy career, but racism and antisemitism are themes in his two best films, "The Producers" and "Blazing Saddles," and to some degree, serving in World War II helped shape him into the comedic genius he became.
Three of Brooks' brothers, Bernie, Lenny and Irving, served in the war. As Brooks recalled in his memoir, he figured he'd be drafted anyway, and if he served, he could graduate high school early and the government could fund his college education. So he was officially in the Army when he turned 18.
Brooks was trained to be a combat engineer, and he learned how to undo landmines. While he served, he entertained the troops, and put together a talent troupe among his fellow soldiers. He also got written up in the "Stars and Stripes" official military newspaper with the headline, "A Star is Born?"
Brooks got an honorable discharge in June 1946, and as he wrote in his book, the Army "gave me quite an education. If you don't get killed, you can learn a lot. You learn how to stand on your own two feet."
A year after he was discharged, he broke into writing for a brand-new medium, television, and landed on the writing staff of "Your Show of Shows."
He became truly successful when he met Anne Bancroft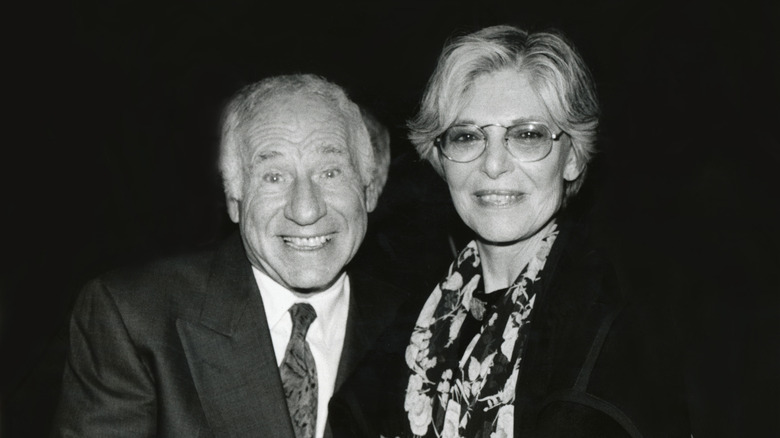 Lindsay Brice/Getty Images
They say that behind every great man there's a great woman, and Brooks' career really took off once he met the love of his life, Anne Bancroft.
Bancroft and Brooks were both native New Yorkers, with Bancroft growing up in the Bronx and Brooks growing up in Brooklyn. In 1962, Bancroft became a star with her acclaimed performance as Annie Sullivan in "The Miracle Worker," for which she won an Academy Award. But she would become best known for playing Mrs. Robinson in "The Graduate."
Brooks was still struggling when he first saw Bancroft perform, and it was love at first sight, or "kismet," as he put it in his book. As Brooks recalled, a friend took him in 1961 to a rehearsal for a Perry Como show at the Ziegfeld Theater in New York, and Bancroft was in the cast. He saw her perform a musical number, titled — ironically enough — "I Wanna Get Married," and at the end of the number, Brooks leaped to his feet and yelled, "Anne Bancroft! I love you!"
Brooks and Bancroft were married in 1964, and they were together for 41 years. Bancroft died on June 6, 2005 at the age of 73, and Brooks still misses her dearly. He told People, "Living this life without her is not easy. There were a lot of great kisses and great spaghetti."
He was one of the creators of Get Smart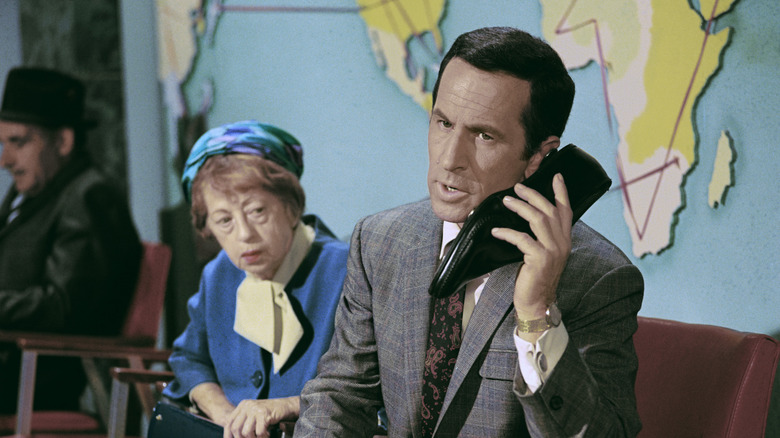 NBC
In the 1960s, secret agents were the hottest thing around thanks to the success of James Bond. Secret agents were also making audiences laugh hysterically thanks to the "Pink Panther" series with Peter Sellers.
Mel Brooks got the assignment: Create a combination of 007 and Inspector Clouseau. Brooks developed the show with the wonderfully witty Buck Henry, who wrote the brilliant big screen adaptations of "The Graduate" and "Catch-22." Not only did they make a great writing team, but they also loved to play pool, and spent many hours at the pool table when they should have been working.
Maxwell Smart, played by Don Adams, worked for CONTROL, and he fought against the evil agency KAOS. He had funny gadgets like the cone of silence and his shoe phone, and he also had several classic catch phrases like, "Would you believe?," and "Missed it by that much." He also had a love interest on the show, Agent 99, played by Barbara Feldon.
"Get Smart" was originally set up at ABC, but the network wasn't impressed with the pilot and passed on the series. Then, as Brooks recalled in his autobiography, he ran into Grant Tinker, the legendary head of NBC. Tinker asked, "Do you have anything that fell on the floor from the Sid Caesar shows that you didn't use?" Boy, was he in luck. "Get Smart" would ultimately have a great run, launching in 1965 and finally going off the air in 1970 after 138 episodes.
His least known film is one of his best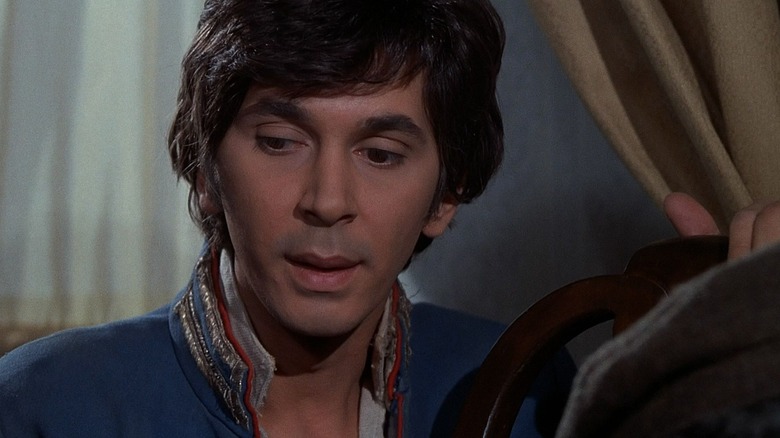 UMC
Everyone knows the classic Brooks films: "The Producers," "Blazing Saddles," "Young Frankenstein," "History of the World, Part 1," and so on. But one of Brooks' best comedies is a little-seen cult movie, "The Twelve Chairs."
Brooks made "Chairs" after the triumph of "The Producers," based on a hilarious book written by two Russians, Ilya Ilf and Yevgeny Petrov, while their country was turning into the Soviet Union. 
As Brooks recalls in "All About Me," a friend gave Brooks a copy of the novel, and Brooks loved it. The story took place after the Russian revolution, where the aristocrats, upper class and middle class had to give up their possessions. But the main character of the story, Vorobyaninov, learns that there are diamonds hidden in a chair that was taken away, which launches a madcap search for the jewels.
"The Twelve Chairs" was the first time that Brooks worked with Dom DeLuise, and they became close friends and partners in hilarity in "Blazing Saddles," "Silent Movie," and "History of the World Part 1." (Anne Bancroft also cast DeLuise in her directorial debut, "Fatso.") 
For whatever reason, the film never took off, and it's rarely mentioned among Brooks' filmography. As Brooks wrote in "All About Me," "The picture did pretty well in New York, where people went to art house theaters to see special little movies like 'The Twelve Chairs.' But it never made it across the George Washington Bridge."
Mel Brooks used comedy to speak out against racism and antisemitism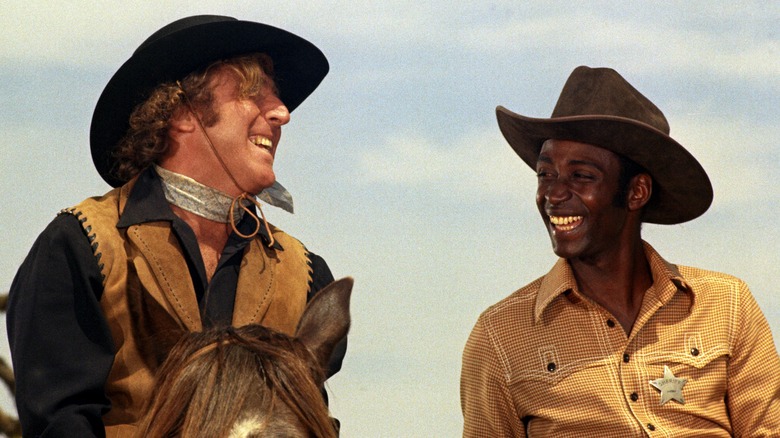 Warner Bros. Pictures
"The Producers" and "Blazing Saddles" weren't just hilarious comedies. They made strong statements about racism and antisemitism, with Brooks using comedy as a wonderful Trojan horse to give audiences good messages.
As Brooks wrote in his autobiography, most people got the joke with "The Producers," but he did get some angry letters from rabbis and people from Jewish organizations about the film. Brooks wrote back to them and explained, "The way you bring down Hitler and his ideology is not by getting on a soapbox with him, but if you can reduce him to something laughable, you win. That's my job."
As he explained in "All About Me:" "One of the reasons that I was attracted to 'Blazing Saddles' was that even though it was a wild comedy ... Racial prejudice is the engine that really drives the film and helps to make it work."
Michael Green, senior lecturer of film and media studies at Arizona State University, told NPR, "Blazing Saddles' is a satire of racism. That's what makes it so groundbreaking. [Brooks] satirizes racism; he shows how stupid it is." NPR also points out that "Blazing Saddles" set a template for many interracial buddy comedies to follow, like "48 Hours" and "Lethal Weapon."
Young Frankenstein was Gene Wilder's idea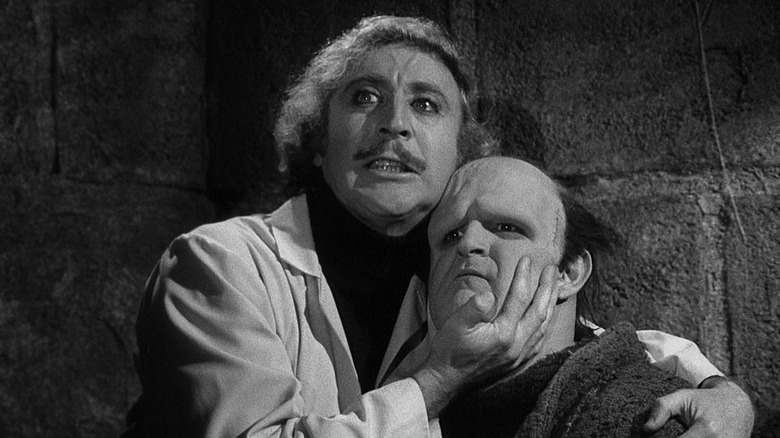 20th Century Fox
Mel Brooks first worked with Gene Wilder on "The Producers," and together they would make one of Mel's all-time best films, "Young Frankenstein." But what you may not know is the original idea for "Young Frankenstein" came from Wilder.
As Brooks recalled in "All About Me," during the filming of "Blazing Saddles," he noticed Wilder scribbling ideas down on a pad. Wilder envisioned a comedy about the grandson of Baron Frankenstein, who initially scoffs at his grandfather's legacy. He eventually realizes that being a Frankenstein is in his blood and soon follows in the family's mad footsteps.
Wilder showed it to Brooks, and told him, "My dream is for you to write it with me and direct the movie." Brooks asked Wilder how much money he had in his pocket. Wilder had $57, and Brooks took it as "a down payment" on the project. 
At one point though, one idea seemed a little too wacky, and Brooks and Wilder had a big fight over it. As Wilder was writing the script, an incredulous Brooks asked, "You tap dance to Irving Berlin in top hat and tails with the monster? Are you crazy?" A heated 20-minute argument ensued, and Brooks finally said, "OK, it's in." 
As Wilder recalled to The Hollywood Reporter, he asked Brooks, "Why did you put me through this?" and Brooks responded, "Because I wasn't sure if it was right or not. And if you didn't argue for it, I knew that it would be wrong. But if you really argued, I knew it was right."
He was advised by Alfred Hitchcock on High Anxiety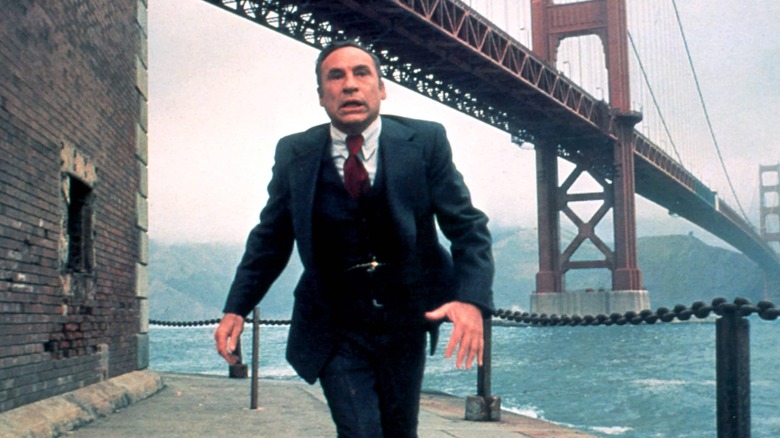 20th Century Fox
In late 1977, Mel Brooks released "High Anxiety," his comedic tribute to the master of suspense, Alfred Hitchcock. But many may not know that Brooks met Hitchcock while making the film and was advised by him.
Brooks approached "Hitch," as many people called him, when he had an outline for the film, and if Hitchcock didn't like it, Brooks probably would have moved on to another idea. As it turns out, Hitchcock was a big fan of "Blazing Saddles," telling Brooks it was "miraculously funny."
"High Anxiety" included parodies of many of Hitchcock's most famous scenes, poking fun at "Psycho," "Dial M for Murder," and "Vertigo." When the film was finished, Brooks and Hitchcock watched it together at the premiere. Hitchcock didn't outwardly laugh at the film, except for a scene that parodied "The Birds," where a flock of birds relieve themselves all over Brooks.
Brooks didn't think Hitchcock liked the film until he got a gift — a case of rare wine — with a note from the master director that said, "What a splendid entertainment, one that should give you no anxieties of any kind."
He produced two of the finest films of the '80s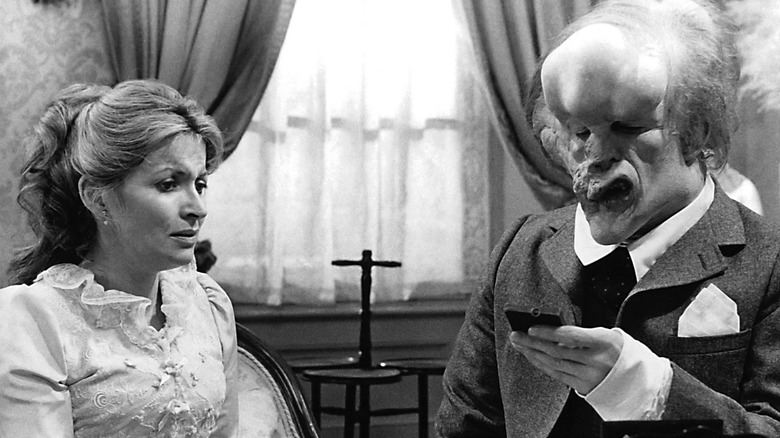 Paramount Pictures
While everyone knows Brooks as the man behind "The Producers," "Blazing Saddles," and "Young Frankenstein," many may not know he produced a wide variety of films under his own production company, Brooksfilms.
Anne Bancroft's directing debut, "Fatso," a comedy-drama starring Dom DeLuise, became the first movie released under the Brooksfilms banner in 1980. The same year, Brooksfilms released "The Elephant Man," the true story of Joseph Merrick, a man with a rare disease that left him heavily deformed. It was nominated for Best Picture, and John Hurt, who played Merrick, was nominated for Best Actor.
David Lynch was hired by Brooks to helm "The Elephant Man" after the director made a name for himself with the midnight cult film "Eraserhead." Brooks also hired David Cronenberg to helm the gory 1986 remake of "The Fly," starring Jeff Goldblum and Gena Davis, widely considered one of the best horror films of that decade.
Other Brooksfilms titles include the beloved comedy "My Favorite Year," which was based on "Your Show of Shows," and "Frances," the biopic of troubled actress Frances Farmer, featuring an acclaimed performance by Jessica Lange. All these titles, and the talent who made them, prove that Brooks has wide-ranging tastes and isn't afraid of backing risky work.
He's the father of World War Z creator Max Brooks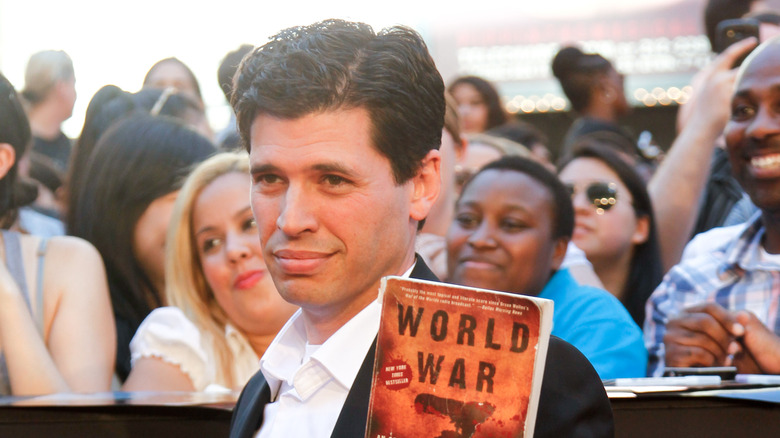 Debby Wong/Shutterstock
Brooks is the father of four children from two marriages. He and Anne Bancroft had Max Brooks in 1972. Mel has used the name Max for several characters, like Maxwell Smart and Max Bialystock, and his son Max has become a great success in his own right as the author of the best-selling novel "World War Z."
Before anyone thinks Max is an entitled show biz brat who had his career handed to him, he's had a lot of obstacles to overcome before he became a success, including (via The Guardian) dyslexia and severe anxiety issues. Just as his father used hilarity as a way to give the world strong messages, Max explained that his coping mechanism with dyslexia "is to use wit and humor."
Max was somewhat of a miracle baby: Bancroft had him when she was 40, and when she realized her son was dyslexic, she did everything she could to help him, including coming up with a learning method where Max read along with books on tape.
After Max graduated college, he wrote for "Saturday Night Live," then moved into writing humorous horror novels. His first novel, "The Zombie Survival Guide," came out when he was 31, and he really hit the jackpot with "World War Z" in 2006. It has reportedly sold over a million copies and was adapted into a hit movie starring Brad Pitt.
His latest book is "Devolution: A Firsthand Account of the Sasquatch Massacre."
He received a Kennedy Center Honor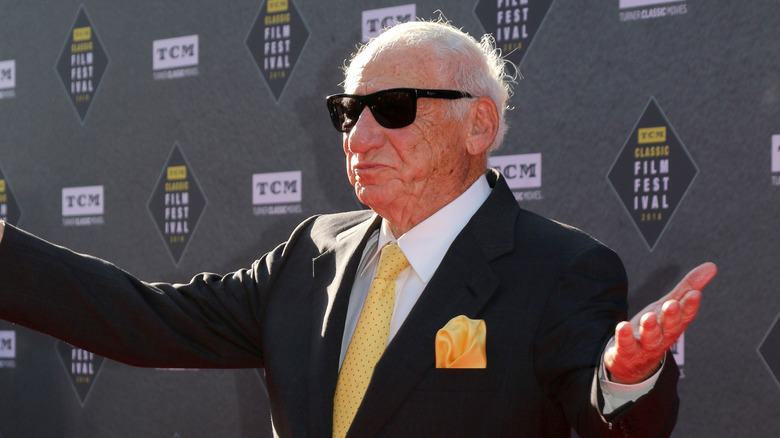 Kathy Hutchins/Shutterstock
In 2009, Mel Brooks received a Kennedy Center Honor along with Robert De Niro, jazz pioneer Dave Brubeck, Bruce Springsteen, and opera singer Grace Bumbry.
Brooks was offered a Kennedy Center Honor when George W. Bush was in power, but turned it down as a protest against the Iraq war. When he finally came forward several years later to receive his honor, he jokingly asked if he could have two of them, and was told, "One per customer."
At the ceremony, President Barack Obama said (via The Wrap) that Brooks was "born to entertain," adding that he saw "Blazing Saddles" when he was 10 years old. "[Brooks] pointed out that I think, according to the ratings, I should not have been allowed into the theater," Obama continued. "That's true. I think I had a fake ID. But the statute of limitations has passed."
Also at the event, Ben Stiller called Brooks a "pioneer" and "trailblazer," quipping, "He's like the Barack Obama for short funny Jews."
He's an EGOT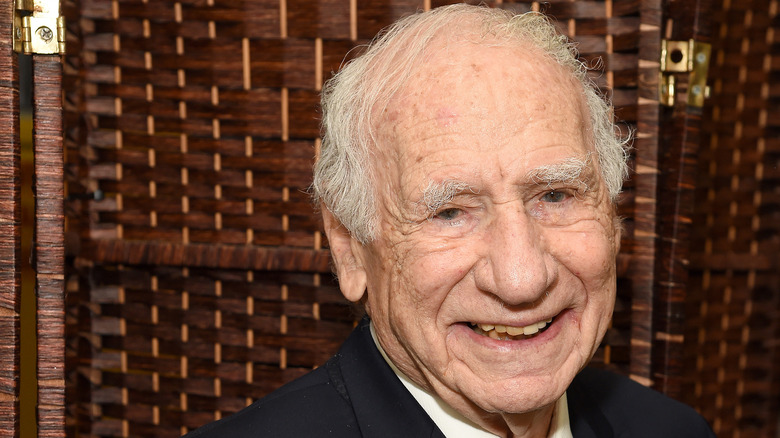 Michael Kovac/Getty Images
If you're not familiar with the term EGOT, it means that someone has won an Emmy, a Grammy, an Oscar and a Tony. Mel Brooks is indeed an EGOT, one of only 16 people who can say that.
Brooks won an Emmy for Best Writing in Variety for "The Sid Caesar, Imogene Coca, Carl Reiner, Howard Morris Special," as well as three other Emmys for Best Guest Actor in a Comedy. He's won three Grammys, including Best Spoken Comedy Album for "The 2000 Year Old Man in the Year 2000," and Best Musical Show Album for "The Producers" in 2000.
Brooks won an Oscar for Best Original Screenplay for the 1968 version of "The Producers," and he won a Tony for Best Musical, Original Score and Book of a Musical for the stage adaptation of "The Producers" in 2001.
As Brooks told NPR, "The only reward I haven't received, I think, is Woman of the Year, and I don't know if that's not in the works. Just as an honorary Woman of the Year. I may get that too, but I'm not looking forward to it."
He's still active at 95 and working on History of the World Part 2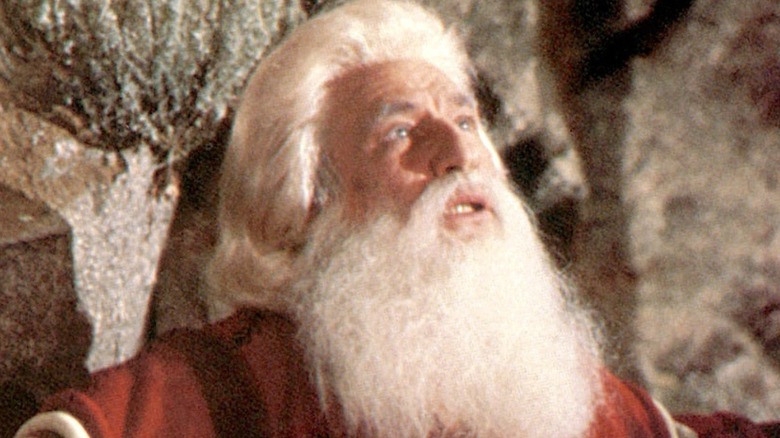 20th Century Fox
Mel Brooks will turn 96 on June 28, and he's still actively working and creating. In fact, he's currently working on "History of the World Part 2."
According to one report, this will be an eight-part miniseries for Hulu, and Brooks is onboard as a writer and executive producer. It was also recently reported (via The Ankler) that Nick Kroll, Ike Barinholtz and Wanda Sykes were also recruited as actors and writers, along with Rob Corddry, Seth Rogen, and J.B. Smoove. Other unconfirmed reports claimed that Adam Sandler, Jay Ellis, Jack McBrayer, Steve Martin, and Martin Short, to name a few, have been offered roles.
It's quite a testament to Brooks that he's still in demand on the eve of his 96th birthday, that some of the biggest names in comedy are clamoring to work with him, and that he is still a revered and respected figure in comedy history.
Mel Brooks' best work shows that laughter has great power to heal, as well as educate and inform people. Perhaps it is the power of laughter that has kept Brooks alive and well for over seven decades in showbiz, and thankfully, he's not showing any signs of slowing down.