Kat Coiro Dishes On How Charlie Cox And Tim Roth Seamlessly Reprised Their MCU Roles In She-Hulk - Exclusive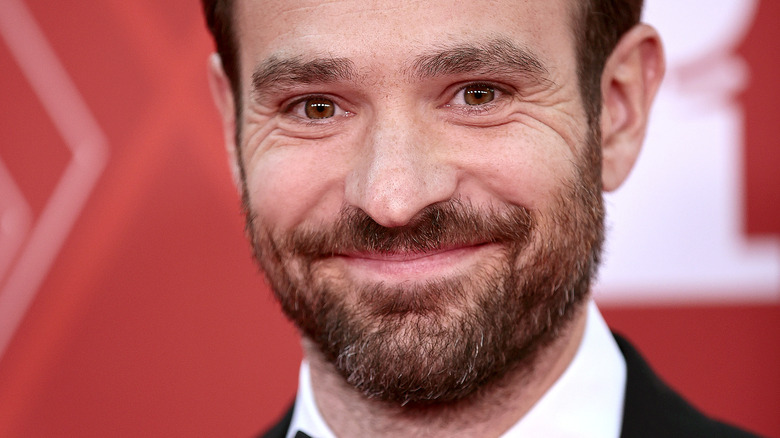 Dimitrios Kambouris/Getty Images
"She-Hulk: Attorney at Law" is the perfect setup for the MCU to bring back fan favorites that fans haven't seen for a while. While Charlie Cox's Daredevil had a small cameo in "Spider-Man: No Way Home," he's making an appearance in "She-Hulk," too. It's only fitting that the two Super lawyers would interact in some capacity, and fans can't wait to see where their adventures take the show.
Meanwhile, "She-Hulk" offers opportunities to dive deep into the motives of villains and the circumstances that led to their villainy. With Jessica's role as a lawyer, we can look at villainous backstories without a mustache-twirling monologue and a body count. Fans never really expected to see Tim Roth's Abomination again, but if ever there was a project for him to come back to, this is it. Of course, with a new Hulk in town, it's only natural that Mark Ruffalo would make an appearance as Hulk — though his debut in the show's first episode is a bit more substantial than a cameo. So what was it like having these Marvel staples come back into the fold?
During an exclusive interview with Kat Coiro, the "She-Hulk" director dished on working with Cox, Roth, and Ruffalo.
The gang's all here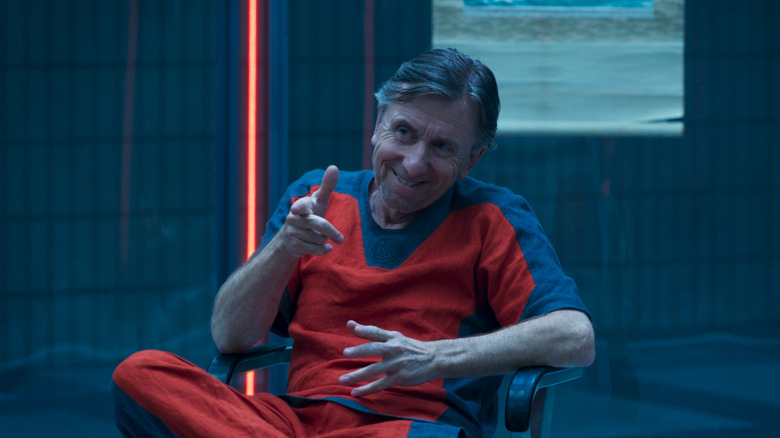 Disney+/Marvel Studios
On whether or not it took any coaxing to get Charlie Cox and Tim Roth back into character, Kat Coiro said, "They're both such strong actors, and they came in with such strong points of view because they'd been playing these roles for significantly longer than we were operating in [the] 'She-Hulk' world." She praised their ability to go with the comedic flow of the show, adding, "Very quickly, they adapted to this new tone that was more comedic than what they'd been used to."
While the actors were worried they were taking things too far, Coiro wanted the actors to take their scenes to the limits. There's a lot more wiggle room to play around in an MCU comedy, and they probably won't get the chance elsewhere. Coiro recalled, "I remember the only question all of the existing MCU characters asked me was, 'Can I go this far? Am I going too far?' I'd always say, 'Go as far as you want. This really is a half-hour comedy.'"
Hulks smashing it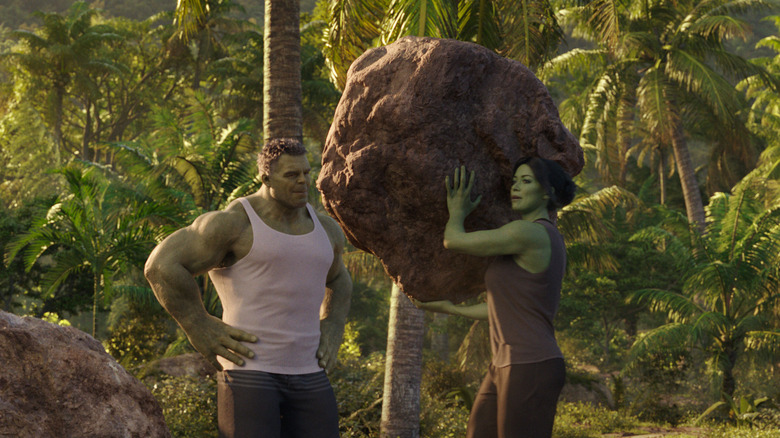 Disney+/Marvel Studios
Tim Roth and Charlie Cox aren't the only ones who reprised their roles for "She-Hulk," however. Mark Ruffalo signed on to the show in a pretty significant capacity to jumpstart the Hulk aspect of the show. On the highlights of working with Ruffalo and whether Ruffalo and Tatiana Maslany get the opportunity to improv or ad-lib at all, Coiro said, "I know it's funny when people talk about Mark as a cameo because that is a lot of Hulk in that first episode. And it's a lot of Hulk in a way we haven't seen him, which is in these small, intimate, dialogue-driven scenes."
No one ever has a negative word to say about Ruffalo, and Coiro is no different. "Mark is a dream of an actor, and he's so open and so expressive," she added. "Even though he's been playing the role for a decade, he came in with totally new, fresh eyes. [He] and Tatiana had this remarkable chemistry together that felt very much like a big brother [and] little sister and was very playful. We actually capitalized on their chemistry and let it inform the episode."
New episodes of "She-Hulk: Attorney at Law" stream Thursdays on Disney+.