Seth MacFarlane Got His Start On This Beloved Cartoon Network Classic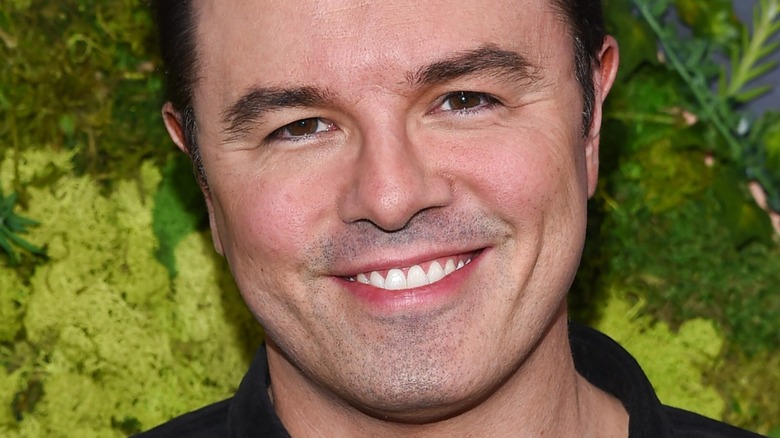 DFree/Shutterstock
Though he is today one of the most recognized people in television, Seth MacFarlane had to get his start somewhere just like everyone else. TV writing and animation are tricky businesses to break into and show cancellations are always a risk, potentially putting a writer or creator right back where they started.
MacFarlane's creations have also weathered their fair share of stumbling blocks. Considering the controversies that "Family Guy" has provoked over the years, he could have easily found himself starting from scratch. Instead, he has been able to build on an impressive string of successes, even gaining induction into the Television Hall of Fame in 2020 (via Emmys.com).
Still, there was a time when adult animated humor was not such a surefire formula. By the time "Family Guy" premiered, most viewers could probably point to "The Simpsons" as a successful example, but not much else. So it makes sense that MacFarlane got his start on a cartoon that deliberately walked the line between adult sitcom and kids' show.
MacFarlane got his start on Johnny Bravo
Speaking with WIRED in May of 2022, Seth MacFarlane answered some of the most Googled questions about him. One of those questions included, "Did Seth MacFarlane work on Johnny Bravo?"
"I did work on Johnny Bravo," answered MacFarlane. "That was actually where I got my start, at Hanna-Barbera/Cartoon Network." The future "Family Guy" creator was a writer and part-time storyboard artist for what was at the time one of Cartoon Network's most beloved shows. But he was only employed for the first season. "And then, they fired us all, and got some new guys," he said, "and, you know, that's when the show went south."
MacFarlane is no doubt being a bit facetious here, but "Johnny Bravo" ran for 4 seasons and 179 episodes between 1997 and 2004 (via IMDb). Its subject, the titular Mr. Bravo, was a self-proclaimed womanizer whose egotistical behavior was only matched by his dim-wittedness. Despite its premise, and despite the inclusion of a fair amount of adult humor and innuendo in each episode, "Johnny Bravo" was ostensibly a kids' show. Its first few years on the air were still in the relatively early days for Cartoon Network, and well before the premiere of Adult Swim in 2001. William Fischer at Collider quotes creator Van Partible in the "Johnny Bravo" DVD commentary: "No one was really watching Cartoon Network... As far as content, they were pretty lenient."
As for MacFarlane, he wasn't the only writer let go during the series' run. "Johnny Bravo went through multiple retools during its run," wrote Fischer, "and the shifts in look and tone were so pronounced that it's all the more impressive that the show retained viewers."
Cartoon Network has proven important to Seth MacFarlane's career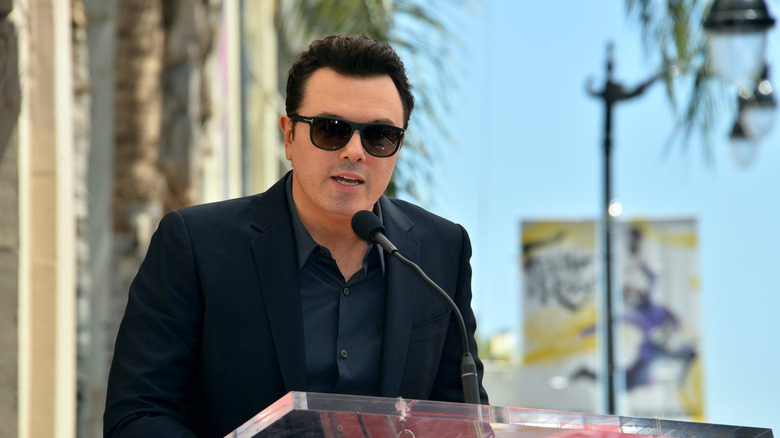 Featureflash Photo Agency/Shutterstock
Seth MacFarlane's relationship with Cartoon Network did not end with "Johnny Bravo," though. In fact, you might say that if not for the connection between the two, we might not have the cultural phenomenon that is "Family Guy," or any other MacFarlane creations for that matter. MacFarlane was hired for "Johnny Bravo" because his professor at Rhode Island School of Design submitted his senior thesis short "The Life of Larry" to Hanna-Barbera, who was responsible for most of Cartoon Network's original programming at the time (via IGN).
The voices and personalities in "The Life of Larry" and its sequel "Larry & Steve" would serve as a strong basis for Peter and Brian Griffin. After "Family Guy" was canceled by Fox in 2002, Cartoon Network swooped in and bought the rights to the show. Reruns on the Adult Swim block started in 2003, and viewership increased by 239%, prompting Fox to revive the series (via Entertainment Weekly).
Adult Swim continued to air reruns of "Family Guy" until 2021, when Disney's acquisition of Fox prompted the former to move "Family Guy" reruns to FX and FXX. It also continues to rerun episodes of another MacFarlane co-creation, "American Dad!" (via AdultSwim.com).