The Disturbing Jan Theory That Would Change Everything About The Office
Throughout the show's nine-season run, "The Office" introduced fans to a slew of hilarious personas, and out of all the characters that made an appearance on the mockumentary sitcom, Jan Levinson (Melora Hardin) stands out as one of the most unpredictable personalities on the Emmy-winning series.
Actress Melora Hardin has successfully entertained fans with her wild take on the ever-evolving enigma that is Jan Levinson. When first introduced in Season 1, Episode 1 (The Pilot"), she appeared to be a stern businesswoman with little patience for any foolish behavior. But things changed over time, and her actions became more comically outrageous as the NBC comedy progressed. The former Dunder Mifflin CFO's life spirals after a divorce, a termination, and a live-in relationship with her former subordinate Michael Scott (Steve Carell). While the romance started hot and heavy with a scandalous trip to Sandals, Jamaica, it quickly became less than ideal for both parties, especially Michael.
Jan does treat Michael poorly, even to the point of not letting him sleep in the same bed with her because she has space issues. She drives him into financial turmoil and even decides to have a baby without him breaking his heart. In an unused scene, it turns out tennis star Andy Roddick was the biological father.
It's no secret that there is ample evidence to showcase these two were not right for one another. But an "Office" fan theory that would change everything suggests the nefarious Ms. Levinson was capable of much worse.
Fans think Jan was planning to kill Michael
In Season 4, Episode 13 ("Dinner Party"), fans witness an incredibly awkward and eye-opening affair where the tension slowly escalates throughout the evening between the two, with Michael thinking Jan may have even poisoned the soup. It turns out some fans think murder may have been on the menu.
The game-changing theory posted by u/B-e-a-u speculates that "Jan was going to kill Michael Scott after getting pregnant." Also mentioned were several details that support the notion Jan could be capable of homicide, like her erratic behavior and control issues. The user capped the assertion off with, "who's to say she wouldn't kill Michael after he had the vasectomy reversed(snip, snap, snip, snap) for his sperm, inherit his newly renovated condo, possibly a life insurance policy, and make more money with her candles for the vigil. I think if Michael didn't go with Dwight he would have been murdered that night." U/wesleypipes5011 referenced the possibly poisonous soup, saying, "I always thought the poison thing was a throwaway joke but you just made me believe this 100%."
Had the killing gone down this way, the series would have ventured into true crime territory for sure, changing the dynamic of the series drastically. But while there is no definitive evidence to support the claims that Jan could have done such a thing had the circumstances been different, the actress that played the character has her own thoughts on the episode and the couple.
Melora Hardin admits the couple had some issues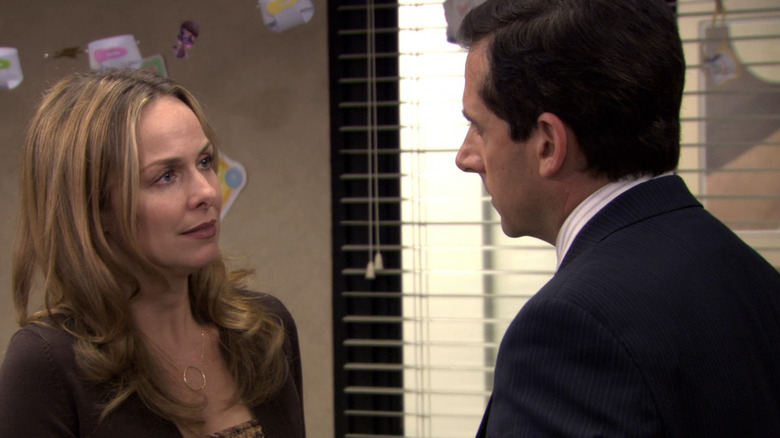 NBC
Melora Hardin revealed in a clip from "Today" on YouTube that her favorite episode was the aforementioned "Dinner Party" entry, and, while the topic of homicide didn't come up, she did enjoy destroying three TV screens while shooting. She also admitted the two were not an ideal pair. "There's something about Jan and Michael that's very charged," Hardin said about the chaotic "Office" couple. "Those two together are just like a perfect match of imperfection in a lot of ways." While she does admit the duo was a bit toxic and that Jan had her moments, it doesn't seem like murder was ever on the menu.
In terms of whether or not a return to TV for the character could provide answers to this killer conundrum, Hardin said in an interview with TooFab that the idea doesn't interest her that much. "I don't think it's doable," she added. "I don't think the fans would even really like that." Her journey with the Doris Day cover artist could be over on the small screen, or she could be covering for Jan, not wanting her dark side to be revealed.
Fans may never get definitive clarification on whether or not the founder of Serenity By Jan was planning on murdering the manager of the Dunder Mifflin Scranton branch, but at least they can still relive all of those memorable Jan moments, including the "Dinner Party" episode, over and over again.