We Finally Know The Father Of Jan's Baby On The Office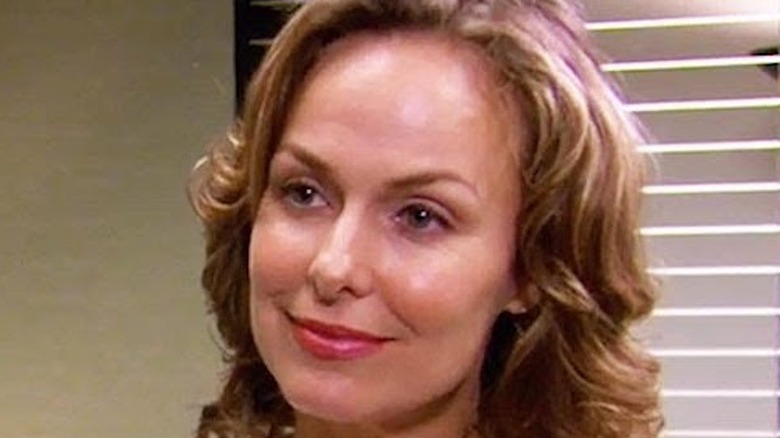 NBC
In Season 4's two-part "Goodbye, Toby" episode of "The Office," we learned that Jan (Melora Hardin) was several months pregnant after Kevin (Brian Baumgartner) ran into her at the grocery store. After Michael (Steve Carell) ran up to the store at Kevin's request, he was hit with the news that Jan had conceived a child while they were together, but through a sperm donor. The Dunder Mifflin manager was devastated, but still helped Jan through the end of her pregnancy, and seemed delusional over the fact that he was not the father at times.
Fans never learned the true paternity of Jan's baby — who Dwight (Rainn Wilson) admitted could have been anyone but Michael — as Jan utilized a sperm bank. It turns out, the father was meant to be revealed in the second part of "Goodbye, Toby," but the scene between Jan and Michael where she speaks the name never aired. It's finally been revealed who the father of the candle-maker's baby is, and it is a shocker.
Jan's sperm donor is a famous real-life athlete
On Jenna Fischer and Angela Kinsey's "Office Ladies" podcast, they recently revealed the patronage of Jan's baby. The actresses, who played Pam and Angela on "The Office" for nine seasons, said there was an amazing scene that was cut, which would have solved the mystery long ago. According to the hosts, former tennis star Andy Roddick is the father of Jan's baby. Roddick, who often visited his friend Rainn Wilson on set, was named as Astrid's dad, sort of an homage to the athlete. Kinsey spelled out exactly how the deleted scene went, which obviously was packed with laughs.
"Jan looks to Michael like she's expecting him to be very impressed. And Michael says, 'The tennis player?' And Jan says, 'Well, it's a little more than that. He's the sixth-ranked player in the world and he's won four grand slams.' And Michael says, 'That's a lot of grand slams, I guess.' And Jan says, 'And he's a humanitarian — something with orphans.' And Michael is quiet and Jan goes, 'Michael?' And Michael says, 'Can I just sit here for a minute without more things coming into my head?'"
"I have to imagine that the reason they wrote it as being Andy Roddick's sperm was a little bit of a nod to Andy, who has an amazing sense of humor," Kinsey added. "I am so sad for his sake that this did not stay in the episode." 
Fans can now put this decade-long year mystery to bed, although the idea of Michael's potential devastation in this deleted scene would have made for one more amazing memory from "The Office."