What Pennywise From The Original It Series Looks Like Today
It's been over 30 years since the first onscreen adaptation of Stephen King's novel "It" debuted in November of 1990. Tim Curry starred in the TV miniseries as the sewer-dwelling clown, Pennywise, that would live in the nightmares of impressionable children for decades — including some of the cast. During a panel at the 2017 Fan Expo in Canada, Curry recalled one of the opening scenes of "It" and his interactions with the child actor who played Georgie, saying that when Georgie first encountered Pennywise, the young actor broke character during the shot.
When Georgie reaches down into the sewer to retrieve his lost sailboat and Pennywise utters his spine-chilling line, "You'll float, too," it's not just a scene that pop culture at large will never forget. "You're scaring me," Curry remembered child actor Tony Dakota telling him. Who can blame him? The anecdote just goes to show that the casting of Pennywise was perfect with Curry in that role. But he's much more than a painted face: Curry has played many different parts throughout the years, and it's easy to see his amazing range when you take a look at his body of work.
Tim Curry had a huge career before and after It
By the time Curry played Pennywise in the TV miniseries "It," he was already something of a household name and an actor you instantly recognized when you saw him on screen. One of his first and most life-altering appearances came in 1975 with his starring role in "The Rocky Horror Picture Show," which is still one of Curry's major claims to fame. The actor went on to have roles in 1982's "Annie" and 1990's "The Hunt for Red October," and even hosted an episode of "Saturday Night Live" in 1981 before playing the terrifying clown Pennywise.
Curry continued to flourish after "It," inhabiting roles in film, on TV, and on stage. He even became a well-known (or at least, often-heard) voice actor and won the hearts of countless children playing the memorable role of Nigel Thornberry in "The Wild Thornberrys" beginning in 1998. In fact, if you turned on a cartoon in the 1990s, there was a good chance that Curry's voice would emerge somewhere with the over 50 voice roles he secured during the decade, according to IMDb.
But his life would forever change after he suffered a major stroke in July of 2012.
Tim Curry is still a voice actor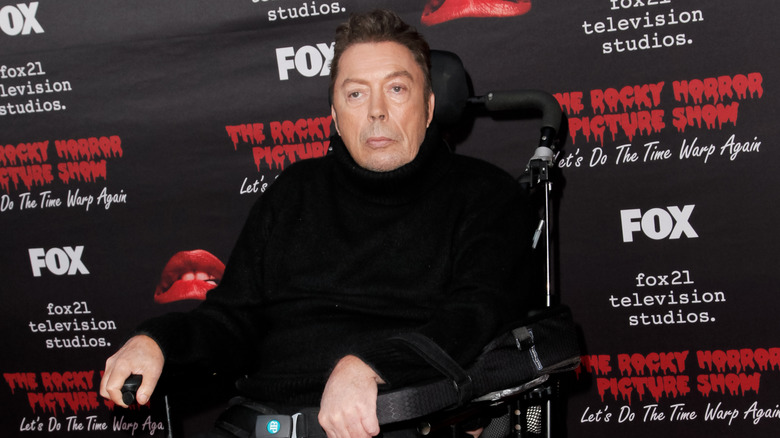 Tibrina Hobson/Getty Images
It wasn't until May of 2013 that the world learned Curry had suffered a stroke the year prior and was in the process of recovering. According to the biography page of Curry's website, his family and friends were able to keep his stroke a secret for almost a year until the Daily Mail reported the story. Curry's stroke left him wheelchair-bound, but this setback didn't stop him from acting. He returned to the industry as a voice actor and even made singing appearances in the late 2010s. Curry also famously voiced Chancellor Palpatine in the cartoon TV series "Star Wars: The Clone Wars" from 2012 to 2014.
The actor headed back out on the road and started making appearances at conventions in 2016 despite his new health-related challenges, and still makes time to participate in panels and sign autographs for fans. And it appears that he has no plans to stop interacting with his fans either — making himself available virtually by offering online meet-and-greets and pre-recorded messages on his website for a fee.
Curry also continued to work on new projects in the 2020s, playing the narrator in the 2022 horror film "Fork" and tapped during pre-production to voice Necrofer the Death Bringer in the animated sci-fi film "Dagon: Troll World Chronicles." And if you want to circle back to Curry's big break, you can always check out his 2020 appearance during a virtual livestream of "The Rocky Horror Picture Show," where he reprises his role as Dr. Frank-N-Furter in a cast reading – and singing — of the cult classic.