The Untold Truth Of Stephen King's It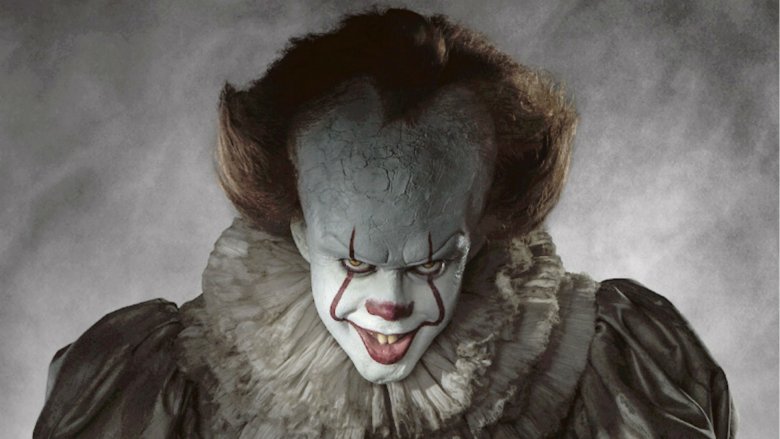 Stephen King's It has captured imaginations (and scared off pants) since its publication in 1986. The novel's unique structure—jumping between two narratives featuring the same group of protagonists as children and adults, set 27 years apart—gave King a chance to explore the development of his characters and the history of his setting like never before, and its story introduced us to one of the most terrifying villains in all of fiction: the malevolent, shape-shifting extradimensional entity who appears most often in the form of Pennywise, the Dancing Clown.
A 1990 ABC miniseries adaptation starring the great Tim Curry as Pennywise traumatized It readers as well as viewers who'd been reluctant to take on the novel's 1,138-page heft, and 27 years later, a theatrical adaptation surpassed all audience expectations, cleaning up at the box office while becoming one of the most critically acclaimed films of 2017. Since King's masterpiece is enjoying a well-deserved moment in the spotlight, let's take a look at the untold truth of It—in all of its various blood-chilling forms.
The novel was inspired by the Three Billy Goats Gruff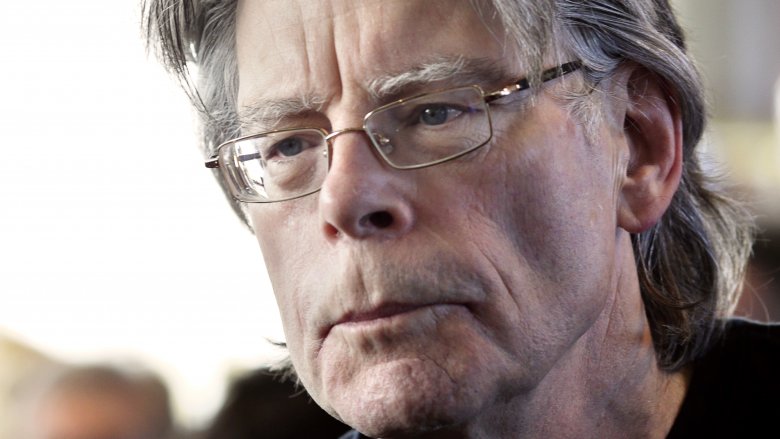 Getty Images
In the afterword to the 25th anniversary edition of King's original novel, the author offered some insight into how Pennywise came to be. As King tells it, while he was crossing a wooden bridge over a dry creek bed, he thought back to one of the horror stories of his own childhood, "The Three Billy Goats Gruff." He remembered how that story's troll—who lived under a bridge "very much like the one [he] was crossing"—would approach its victims with the question "who is that trip-trapping on my bridge?" This question, King says, "struck [him]—even as a child—as innocent on top, but very sinister beneath." 
This led him to begin thinking about the fantastical fears of our childhood in contrast to our more mundane adult fears, and he "began to see a structure where [he] could alternate children battling real monsters with the adults they became... years later." He put the idea on the back burner, but over the next two years, it wouldn't leave him alone. In a flash of inspiration, the idea of the troll under the bridge came back to him, but he "decided that the bridge could be the city, if there was something under it. What's under a city? Tunnels. Sewers. Ah! What a good place for a troll!" By the summer of 1981, he'd fleshed out the story enough in his mind to begin researching in earnest.
Bangor was the inspiration for Derry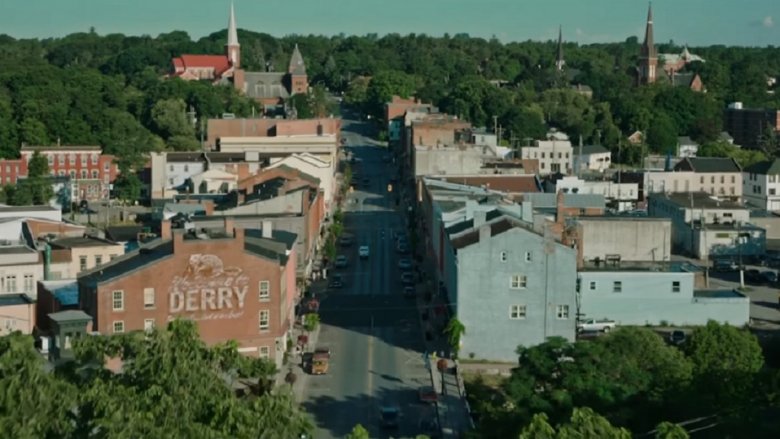 The afterword offers further glimpses into the origins of Derry, the quaint little town with a horrifying secret which has since reappeared in several of his works. The town of Bangor, Maine, where King and his family were living at the time the novel was conceived, served as the inspiration for It's setting. The city's very character and sense of troubled history inspired him to portray Derry as something of a character in its own right—and as an extension of his otherworldly villain. 
King remembers walking around town thinking about his novel, but also "asking questions: what happened here? And here? And here? I knew Bangor had been a rough place back in the day... I wanted to know what people remembered. The worst things they remembered." He learned about several tragic, half-forgotten pieces of the city's history—"a fire at a servicemen's nightclub... a Depression-era shootout with some bad boys called the Brady Gang... I also learned about the miles of sewers beneath the city, some of them... long since abandoned." 
He began to incorporate fictionalized versions of some of these stories into his manuscript, giving Derry a violent past in which major tragedies seem to happen every 27 years, always coinciding with a rash of child murders... all destined to be largely forgotten, until the cycle starts again.
A chance encounter with a clown might have helped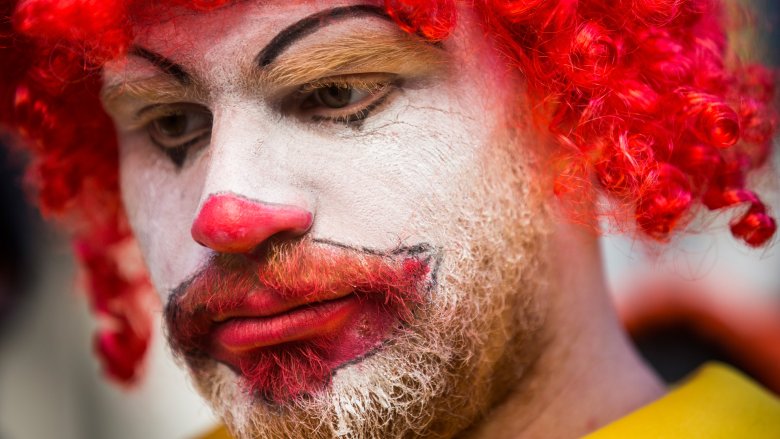 Getty Images
The idea to make a seemingly harmless clown the preferred form of his shape-shifting monster may not have come at all, if not for a chance encounter on an airplane. Speaking with host Conan O'Brien on his late-night talk show, King was asked if he had ever had a scary experience with a clown which might explain the character of Pennywise. His answer was hilarious and revealing: the encounter he'd had wasn't exactly scary, but it's easy to see how it might have stuck with him.
King remembered, "I was on a book tour, my first big book tour... I'm sitting in first class, and the door opens... and Ronald McDonald gets on the airplane." The clown had a seat right next to the author—"because I attract weirdness, I'm like a weirdness magnet"—and proceeded to light up a cigarette and order a cocktail. Unable to resist, King asked the clown where he was coming from, to which the clown promptly replied "McDonaldland." The man turned out to be a potential McDonald's franchise owner on his way from a meeting in Chicago, but the incident set King's gears turning: "you talk about surreal... and you think, what if this plane crashes? I'm gonna die next to a clown!"
The miniseries' screenwriter wrote both versions of Carrie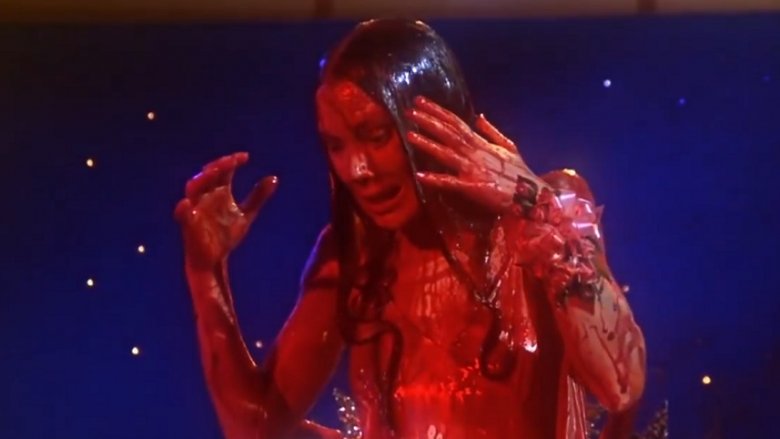 It became an instant favorite, with King's fans placing it immediately among his very best work (a position it still holds to this day). ABC immediately optioned the rights, with an eye toward adapting the story into a television project which would eventually become the 1990 miniseries. To begin wrangling the massive tome into a workable script, King turned to a pair of trusted collaborators—the first of which was Lawrence D. "Larry" Cohen, who had penned the screenplay for Brian DePalma's highly successful adaptation of King's novel Carrie.
Speaking with Yahoo! TV, Cohen remembered that he received an inquiry about adapting It before the novel had even been published, and was shocked upon receiving the manuscript. "The Fed Ex delivery guy rang the doorbell, and I opened it to find him struggling with the single largest Fed Ex container I'd ever seen," he recalled. "I took the box from him, and he said, 'Hang on; there's another one.' My initial thought was that they sent me two copies by mistake, but no, inside was the typed manuscript for It — all 1,100 pages." 
Cohen agreed to the job after reading only the first several chapters, and he worked almost totally independent of King, who was very "hands-off" in the process. Director Tommy Lee Wallace, a former John Carpenter protégé, would eventually perform a substantial rewrite on the back half of Cohen's script, which covered the second part of the miniseries. Strangely, Wallace did not read the novel beforehand (though he has since,) and to this day has ever met King.
George A. Romero almost directed the 1990 version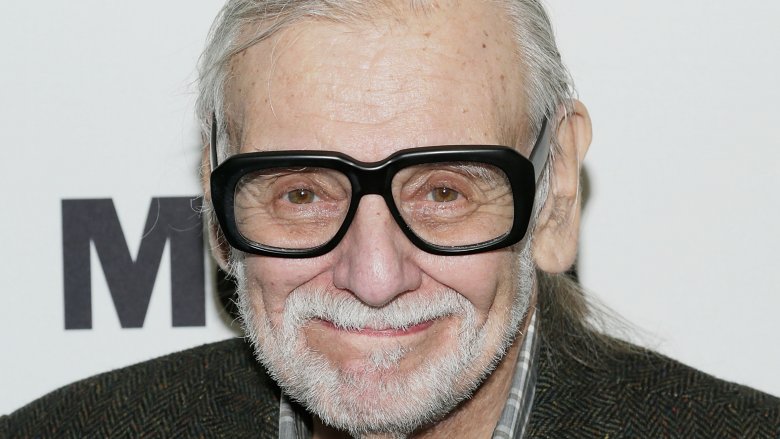 Getty Images
The second King collaborator to come aboard the miniseries was none other than Night of The Living Dead director George A. Romero, with whom King had worked on the 1982 horror anthology film Creepshow. In a 2016 interview with ComingSoon.net, Cohen explained that the miniseries had a very different conceptualization early in production, saying, "there was no restriction as to how many hours the miniseries was going to be—8, 10, even 12—and the guys already had George Romero in mind to direct. I thought he was a genius match for this particular piece."
Together, Romero and Cohen worked on the project "for the better part of a year," hammering out the story's structure, which they believed lent itself perfectly to the standard network TV miniseries structure of that time. The duo were excited about the opportunity to present "a true novel for television," but ABC had reservations. 
"When we began, the plan was to run 10 hours," Cohen said. "A little at a time, the network lost its nerve and cut back from 10 to 8, which started to worry us. This was It—a horror magnum opus that deserved—no, demanded—a marathon rather than a sprint. Four nights felt just about perfect... only for us to learn it would now be six. At that point, we lost Romero, who felt we were diluting [the story]." The runtime would eventually be pared down even further, and Stephen King's It premiered as a two-part, four-hour miniseries on November 18, 1990.
Two actors from the 1990 version died tragically in 2003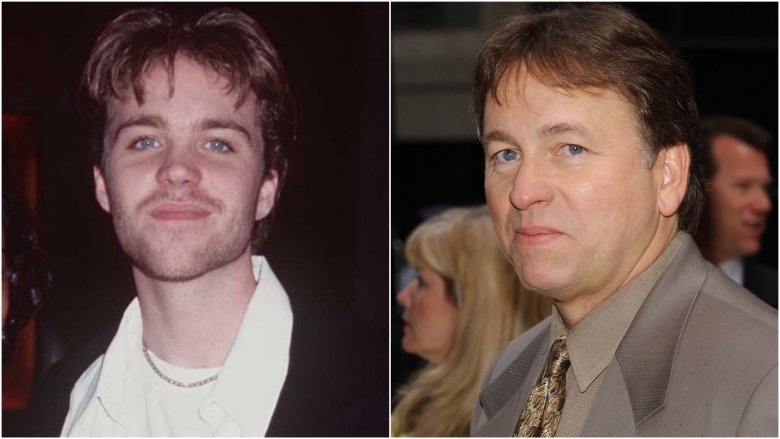 Getty Images
The 1990 miniseries has gone on to become a favorite in its own right, thanks largely to Curry's nightmare-inducing turn as Pennywise. It was also praised for deftly juggling King's interweaving narratives despite its limited runtime, and strong performances from both its child and adult casts. Unfortunately, two members of that cast—a former child star, and a beloved TV veteran—would meet untimely ends in 2003. 
Jonathan Brandis was a rising young star who'd been acting since the age of six when he was cast as young Bill Denbrough in the miniseries. He would later go on to become a teen heartthrob after being cast in SeaQuest DSV in 1993, at the age of 17. After the series' cancellation in 1996, Brandis struggled to adjust; set to make a comeback in the 2002 Bruce Willis vehicle Hart's War, he was crushed when his scenes were cut from the film. He died by suicide a year later at 27.
Also that year, beloved actor John Ritter—who portrayed the adult Ben Hanscom in the miniseries—became ill on the set of his sitcom 8 Simple Rules for Dating My Teenage Daughter, and was rushed to a hospital directly across the street. It still wasn't quick enough to save him—an undiagnosed heart condition had manifested itself, and Ritter died shortly thereafter of a torn aorta.
Stranger Things is practically an unofficial adaptation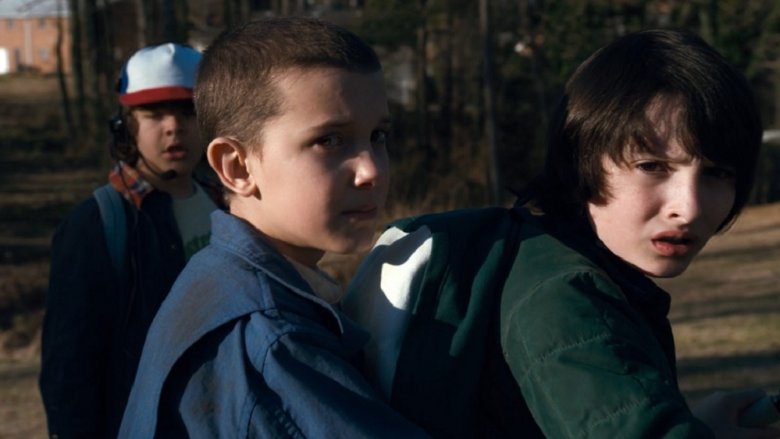 The 2017 film adaptation It (which revealed itself at the end to be Chapter One, with Chapter Two likely on the way in 2019) was first announced by Warner Bros. in 2009. In the eight years it took to get the project to the screen, several writers and directors were attached, but one filmmaking duo was never considered despite lobbying mightily to take on the adaptation: Matt and Ross Duffer, known collectively as the Duffer Brothers, who would go on to create the Netflix series Stranger Things.
Speaking to the Hollywood Reporter, the brothers revealed that they pleaded with Warner Bros. "a long time ago" to be the ones to adapt It to film, "and they were like, 'No.'" The brothers noted that "that's why we're doing [Stranger Things]...It is obviously a huge inspiration for the show. That's probably the biggest." Matt Duffer also remarked that the serial television format gave them the opportunity to tell the type of longform story they'd envisioned for It, or "at least that's how we made ourselves feel better about not getting the movie adaptation. We still would have done it, obviously." 
King himself is a fan of the Netflix series, offering his review via Twitter: "Watching Stranger Things is [like] watching Steve King's Greatest Hits. I mean that in a good way."
Pennywise 2017 might have been different... and still great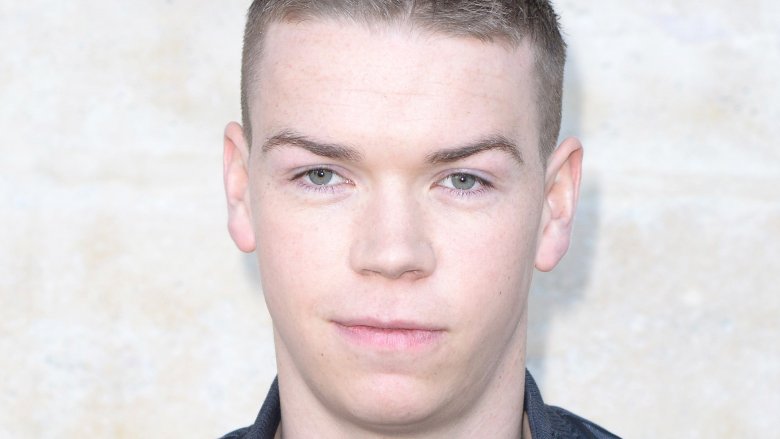 Getty Images
The film's long and arduous production had one of its more productive periods when it was being overseen by Cary Fukunaga, the writer/director of the well-received first season of the HBO series True Detective. Fukunaga's original draft of the screenplay (after a substantial rewrite courtesy of Annabelle scribe Gary Dauberman) was used as the basis for the final version, and he had even begun the casting process before exiting the project in 2015 over creative differences with Warner Bros. The film was then handed to Mama director Andrés Muschietti, who started casting from scratch—and many insiders will always wonder what might have been had Fukunaga's original choice for Pennywise remained.
Young actor Will Poulter (Maze Runner) had been cast in the role, and King himself was privy to test footage that had his hair standing on end. Speaking to Yahoo! TV, he said, "I saw a screen test of the guy [Poulter] they were going to cast as the new Pennywise, and he was f—ing fantastic! Even without the makeup, he was going to absolutely kill it. They were very close [to] going into production, and I think it would have been terrific."
It was announced in June 2016 that Muschietti had cast Swedish actor Bill Skarsgård in the role, and fans were treated to creepy teaser images of Skarsgård in costume early the next year. Any misgivings they might have had about the casting were crushed when Skarsgård's performance proved every bit as terrifying as Curry's.
Pennywise legitimately terrified the cast of the new film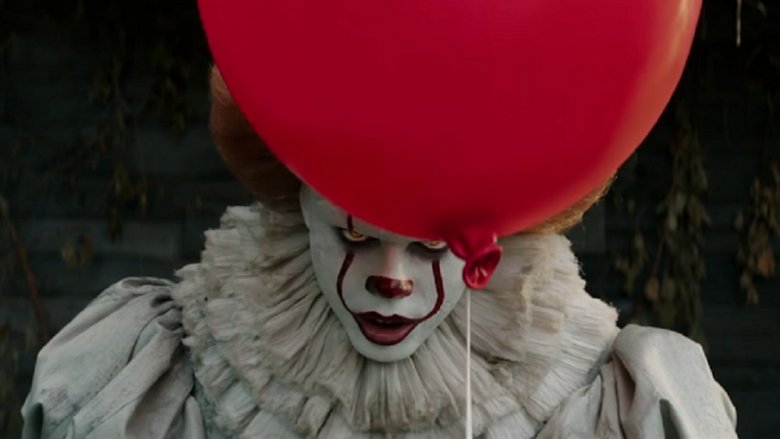 Any new interpretation of Pennywise was going to be held up to Curry's iconic performance, but Skarsgård took a vastly different and decidedly darker approach to the character. Speaking to People, he described his process: "You need to access parts of yourself where you're thinking, 'What's the most disturbing or horrifying thing that could happen right now?' And then you have to commit to that." 
Muschietti made the decision early in production to keep Skarsgård separated from the film's young cast until their first day of filming together, a strategy which he said paid off in spades. After screening a few advance clips for an audience at SXSW 2017 months before the film's release, he described how the young actors were warned repeatedly that Skarsgård was going to be scarier in costume than they were probably expecting, to which they all replied confidently that they were perfectly aware he was just an actor in makeup, and that they would be fine. 
They could not have been more wrong, according to Muschietti. "The day that he showed up on the stage, they f—ing freaked out," he recalled. "Bill is like, seven-foot high, and I can't describe how scary he looks in person. He's a wiry man, crouching, making sounds, snotting, drooling, speaking in Swedish sometimes. Terrifying."
Stephen King won't write about Pennywise ever again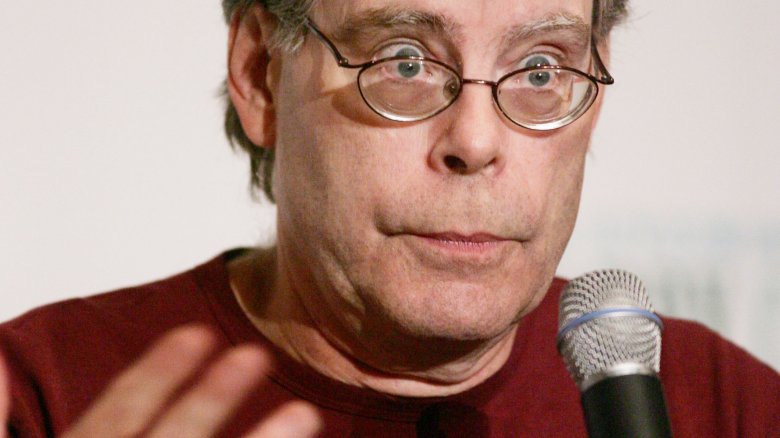 Getty Images
With all the positive attention the new film received, contributing to a wave of nostalgia for the miniseries and renewed appreciation for the novel, one might think that King would do well to consider revisiting Pennywise. It's not like there isn't precedent: the author took 22 years to complete the seven novels in his Dark Tower series (then waited another eight years to write an eighth), and wrote a direct sequel to The Shining, one of his most beloved works, a full 36 years after the original. But unfortunately, King has made it clear to any fans waiting for a return trip to Derry that they're going to be waiting a long, long time.
During a Reddit AMA in June 2013, the author was asked directly if there was any hope of ever getting a sequel to It, and he dashed fans' hopes in short order, saying, "I don't think I could bear to deal with Pennywise again. Too scary, even for me." So if, on some gloomy day, you find yourself walking a little too quickly past a storm drain for fear that you might might spot a grinning, sinister figure holding a red balloon down there, don't feel too bad. The guy that created Pennywise is just as freaked out as the rest of us.