10 Awesome Movies Like Sweet Home Alabama You Need To See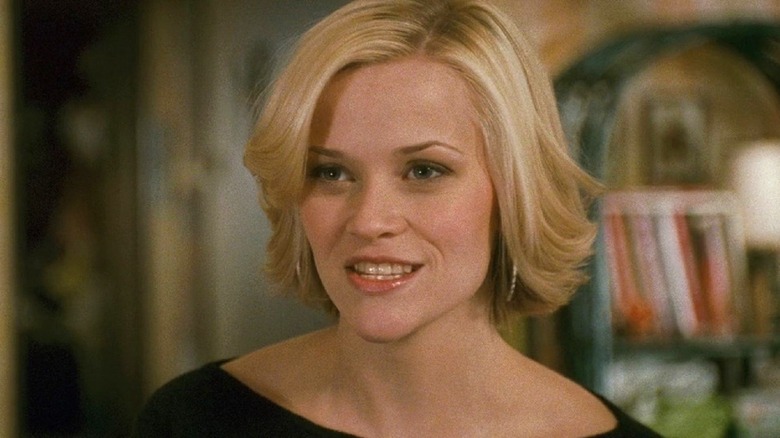 Touchstone Pictures
Released at the peak of Reese Witherspoon's rom-com career, "Sweet Home Alabama" is enjoyable, easy-going fluff that features a charming and likable performance from the Southern-born star. Taking its name from the famed Lynyrd Skynyrd song, "Sweet Home Alabama" focuses on successful New York fashion designer Melanie Carmichael, who's forced to confront her past after a surprise proposal from her boyfriend, Andrew (Patrick Dempsey) — one of the city's most eligible bachelors.
Despite being treated to a picture-perfect proposal, Melanie is keen to keep it under wraps as she's hiding a huge secret back home in Alabama. After the engagement goes public, Melanie has no choice but to head home where she confronts Jake (Josh Lucas) — the man she married in high school who's refusing to divorce her.
Torn between the new life she's made for herself in the Big Apple and the familiarity of home, Melanie soon realizes her deep ties to where she grew up and where she'd been so desperate to escape. The idea of soul-searching — whether it's in returning home or traveling to a new destination — in order to find yourself, find love, or just reevaluate your priorities is one of the key themes in "Sweet Home Alabama." If you're charmed by old-fashioned romantic stories like this one and you're looking for your next fix, here are 10 more that you need to add to your watchlist.
Moonstruck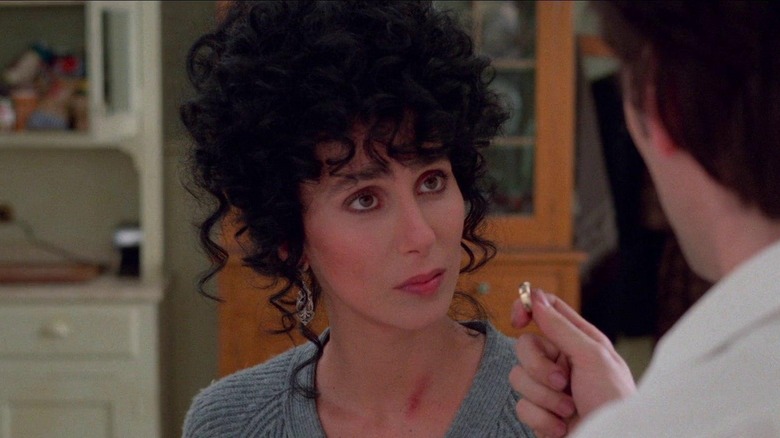 Metro-Goldwyn-Mayer
Widowed Italian-American widow Loretta (Cher) is worried she's cursed following the fate of her previous husband, so when boyfriend Johnny (Danny Aiello) proposes, she wants the big white wedding she didn't get before. Called away to Sicily to see his dying mother, Johnny asks Loretta to get in contact with his estranged brother Ronny (Nicolas Cage) to invite him to the wedding — and against her better judgment, Loretta begins to fall for him.
"Sweet Home Alabama" and "Moonstruck" both begin with a proposal, but they also share some other common themes. The internal conflict between head and heart is something that Melanie and Loretta share — both women are affected by their past relationships in some way, and this impedes their decision-making when it comes to choosing a long-term partner. In "Moonstruck," this is explored even further with some of the supporting characters also questioning their relationships and whether they're with the right person or not.
With energetic performances from the cast — including Oscar-winning performances from Cher and Olympia Dukakis — "Moonstruck" is a fun and frivolous romantic comedy with a strong emphasis on family, fate, and tradition. The film's effortless charm and the beautiful shots of the moonlit streets of Brooklyn are enough to make anyone believe in love, and it exudes a magical quality that all the best romantic comedies should have.
Made of Honor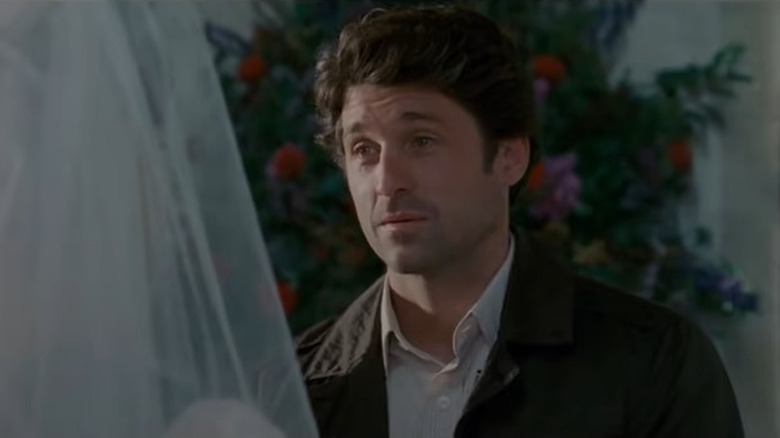 Sony Pictures Entertainment
After meeting as students, Tom (Patrick Dempsey) and Hannah (Michelle Monaghan) remain platonic best friends, frequently meeting to discuss the ups and downs of their respective love lives. Despite their differences — with Tom seeing a different girl every week and Hannah wanting to find Mr. Right and settle down — Tom realizes his feelings for Hannah are more than friendship when she travels to Scotland for work. Preparing to tell her how he feels when she returns, Tom is shocked to find she's engaged to a wealthy Scot and uses his role as her "maid of honor" in the bridal party to try and prove he is her Mr. Right.
In a similar way to "Sweet Home Alabama's" romantic conundrum, Hannah also finds herself caught between two men — the difference being that she spends most of the film oblivious to Tom's true feelings. Both Hannah and Melanie appear to have whirlwind romances with their prospective husbands as well, with "Made of Honor" making more of this race-against-time concept to see if Tom can win her over before she walks down the aisle.
Having seen Patrick Dempsey as the one who misses out on the girl in "Sweet Home Alabama," "Made of Honor" offers a fun reversal of this, and with the audience in on the secret of how he feels about Hannah, there's great fun to be had in seeing him trying to woo her. It may be formulaic and predictable, but it's an enjoyable and light-hearted watch with charming performances and an irresistibly warm center.
Always Be My Maybe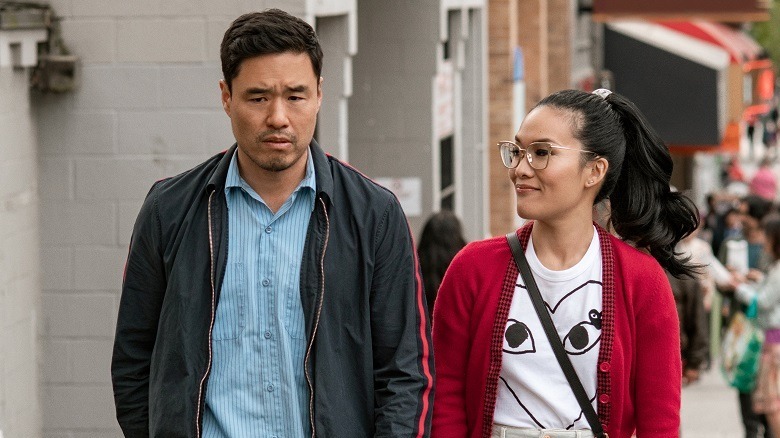 Ed Araquel/Netflix
Like Melanie and Jake in "Sweet Home Alabama," Sasha (Ali Wong) and Marcus (Randall Park) are childhood best friends, growing up next door to each other in San Francisco. After they share an awkward teenage tryst, they argue, and their lives gradually drift apart with Sasha moving to Los Angeles and Marcus remaining in his childhood home with his father following his mom's death.
Sasha — now a successful celebrity chef — is engaged to businessman and restaurateur Brandon (Daniel Dae Kim). However, when he goes to India on business, he suggests they take a break and see other people. Overseeing a new restaurant opening back in her hometown, Sasha returns to San Francisco and reconnects with Marcus and his father when they're hired to install the air conditioning in her luxurious rental accommodation.
While they'd been inseparable as children, Sasha and Marcus are actually very different — not just in the way their respective careers have gone but in their attitudes to their hometown. Similar to Melanie in "Sweet Home Alabama," Sasha has a love-hate relationship with her home and associates it with bad memories from her childhood, leaving Marcus to step in to try and help her reconnect with her roots and realize it wasn't the way she remembered it. With wonderfully relaxed chemistry between Ali Wong and Randall Park — and a scene-stealing cameo from Keanu Reeves — "Always Be My Maybe" is a laugh-out-loud film that proves you might not have to look far to find your true love.
Love & Basketball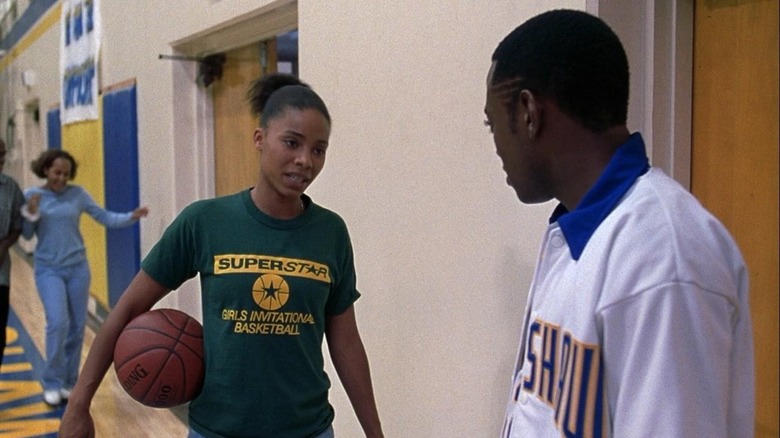 New Line Cinema
The origins of Monica (Sanaa Lathan) and Quincy's (Omar Epps) relationship in "Love & Basketball" isn't dissimilar to the way Melanie and Jake meet in "Sweet Home Alabama" — they're childhood friends whose relationship blossoms into something more romantic when they're in high school. For Monia and Quincy, a shared passion for basketball is what brings them together, and following their awkwardly endearing first kiss as kids, they stay friends and eventually start dating following their spring school dance.
While their love for the game brings them together, it also threatens their future happiness, particularly when their careers seem to be heading in different directions. Playing for their respective teams in their freshman year at USC, Monica and Quincy seem perfectly matched. Still, tensions arise when Quincy's home life begins to take its toll and Monica is forced to choose between prioritizing him or the game.
Structuring the story like a basketball game — telling Monica and Quincy's story in four "quarters" — "Love & Basketball" delivers a believable central romance that has as much to say about societal gender roles and the struggles of female athletes as it does love. Like "Sweet Home Alabama," it's a film that explores the relationship between two people who as much as they may try to move on, something always seems to pull them back together.
The Proposal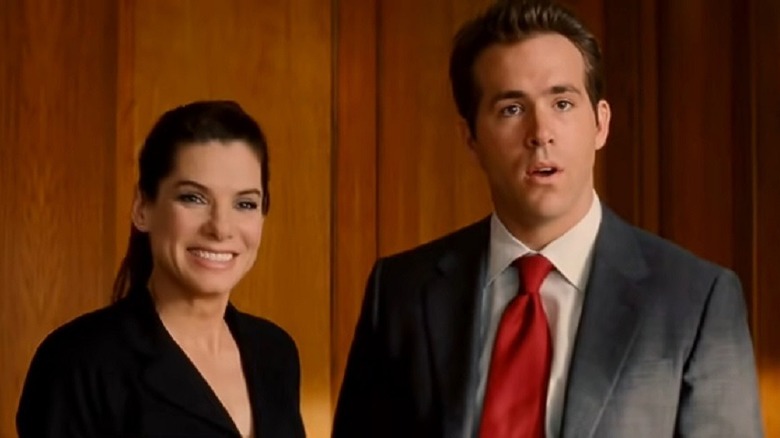 Walt Disney Studios
There's going above and beyond for your employer, and then there's agreeing to marry them in order for them to stay in the country. This is exactly the position publishing assistant Andrew (Ryan Reynolds) finds himself in when his boss Margaret (Sandra Bullock) learns that her visa application has been denied and she faces deportation to Canada. Agreeing to go along with the sham engagement under the proviso that Margaret will publish the book he's been trying to draw her attention to, Andrew takes Margaret to meet his family in the small town of Sitka, Alaska.
The idea of a professional woman traveling from a big city to a comparatively small and quiet town is something shared between "Sweet Home Alabama" and "The Proposal," with Melanie and Margaret respectively having to adapt to the culture shock. Margaret feels like a fish out of water, but Andrew's family — completely oblivious to the deception surrounding the engagement — welcome her in with open arms. Seeing Andrew with his family prompts Margaret not just to view him in a different light but opens up the wounds of her past as she laments the family she lost. Like Melanie in "Sweet Home Alabama," Margaret realizes the benefits of living in a close-knit community, and the experience softens her immeasurably.
For anyone familiar with rom-coms, you know the premise of two people pretending to be in love for mutually advantageous reasons will inevitably end up with them really falling for each other, and while "The Proposal" may be predictable, it's boosted by the excellent performances from Sandra Bullock, Ryan Reynolds, and the incomparable Betty White.
The Family Stone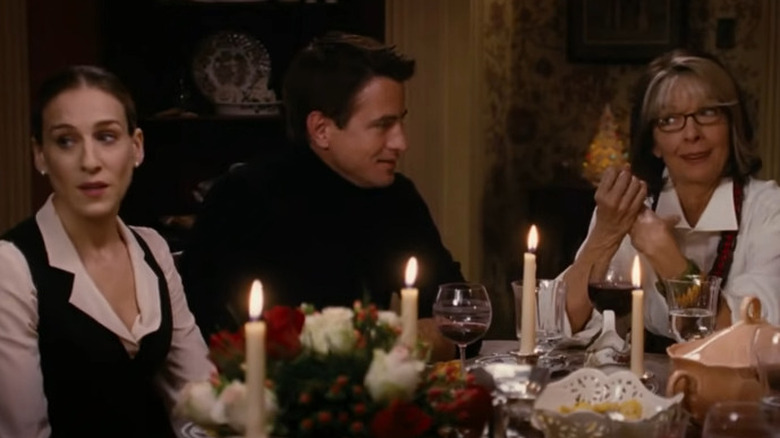 20th Century Fox
One of the most nerve-wracking stages of a new relationship is meeting the parents, and when you add in the extra pressure of doing it at Christmas — with the season's emphasis on family and unity — there's even more potential for disaster. Meredith (Sarah Jessica Parker) is already at a disadvantage when she travels with her boyfriend, Everett (Dermot Mulroney), to meet his dysfunctional family, with many of them having already decided she's too uppity and isn't going to fit in. It isn't long before she ruffles feathers, but Everett is determined to convince the family that she's worthy of the precious family heirloom he wants to give her when he proposes.
Dysfunctional families and returning to the homestead are two things that "Sweet Home Alabama" and "The Family Stone" have in common, but the idea that home can reveal the truth — particularly when it comes to love — is where they're especially similar. As Meredith spends more time with the family over the holiday season, she grows closer to Everett's brother, Ben (Luke Wilson), while Everett forms a bond with Meredith's sister, Julie (Claire Danes).
In real life, siblings swapping romantic partners would inevitably cause more tension than it does here, but "The Family Stone" — much like "Sweet Home Alabama" — focuses on the tumultuous nature of life and love with all of its ups and downs. There are laugh-out-loud and cringeworthy scenes but also surprising moments of profound sadness in "The Family Stone," and its honest portrayal of family life is what makes it so endearing.
The Notebook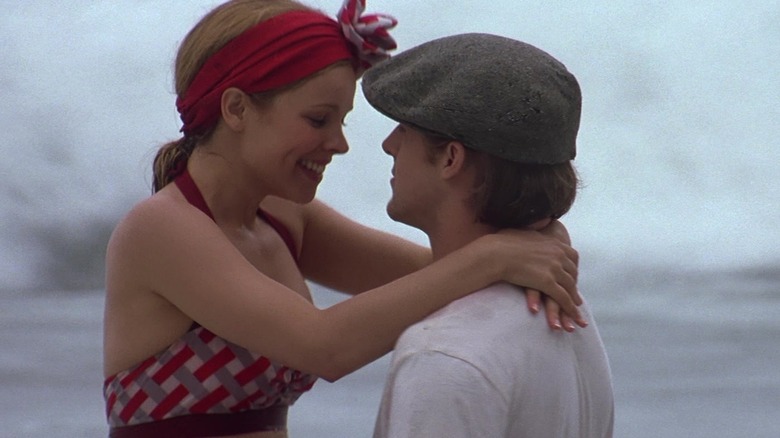 New Line Cinema
With a similar Southern setting to "Sweet Home Alabama," the old-fashioned love story of "The Notebook" focuses on mill worker Noah (Ryan Gosling) and heiress Allie (Rachel McAdams) and the passionate origins of their relationship and the trials they face along the way. Being from very different backgrounds — like Melanie and her new fiance in "Sweet Home Alabama" — Noah and Allie struggle to convince Allie's wealthy family that they're right for each other, and the tensions push them apart.
Based on the novel of the same name by renowned romantic author Nicholas Sparks, "The Notebook" is a heartfelt, unabashedly sentimental film about unrequited romance and how true love will always conquer whatever stands in the way. While "Sweet Home Alabama" takes a more light-hearted approach than "The Notebook," both films demonstrate that even when time is spent apart and other prospective love interests come along, it's hard to ignore that person you seem destined to be with.
With genuine chemistry between Ryan Gosling and Rachel McAdams, "The Notebook" is a tender film that accurately depicts the intense longing between the characters when they're apart and the obvious passion whenever they're together in their decades-spanning relationship. Watching Noah and Allie fall in and out of love and exploring how their relationship changes over time is what makes this film so memorable and makes the gut-punch, emotional ending hit even harder.
13 Going on 30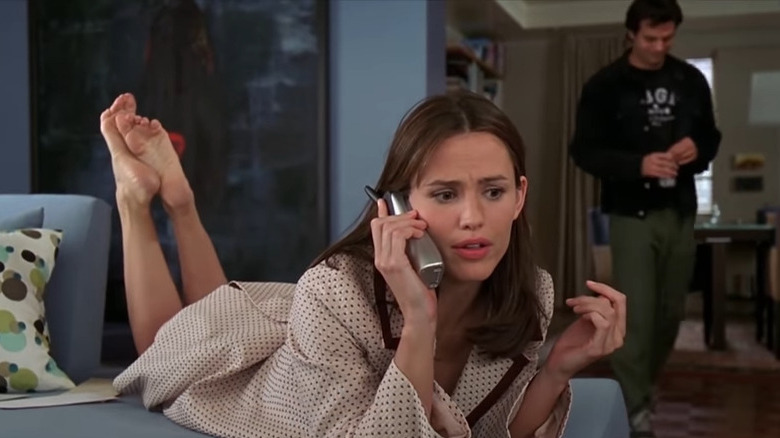 Sony Pictures Releasing
In "13 Going on 30," Jenna (Christa B. Allen) gets a fast track to her dream job and life when her birthday wishes to be "30, flirty, and thriving" come true. As she adjusts to the shock of her body magically aging 17 years, Jenna (now played by Jennifer Garner) can't believe her luck when she learns she works for her favorite publication, Poise — the glamorous lifestyle magazine she pored over as a teen.
Initially, it seems that Jenna has everything she's ever wished for, but when she tries to connect with her childhood bestie, Matt (Mark Ruffalo), she finds out that her dream career came at a cost — they're no longer friends, and she's grown distant from her family. Jenna is forced to grow up quickly and face the crushing realization that perhaps wishing her life away wasn't the best thing to do and that she didn't appreciate what had been in front of her the whole time.
Although the scenarios may be very different, there are certainly similarities between Melanie in "Sweet Home Alabama" and Jenna in "13 Going on 30" in the way that their connection with home nudges them into changing their mindset. In one particularly emotional scene, Jenna returns home and tries to "wish" herself back to how things were. As teenagers, it's easy to feel trapped by your hometown — a feeling that both Melanie and Jenna share — but they also realize in their own ways what they missed about home when they go back.
The Holiday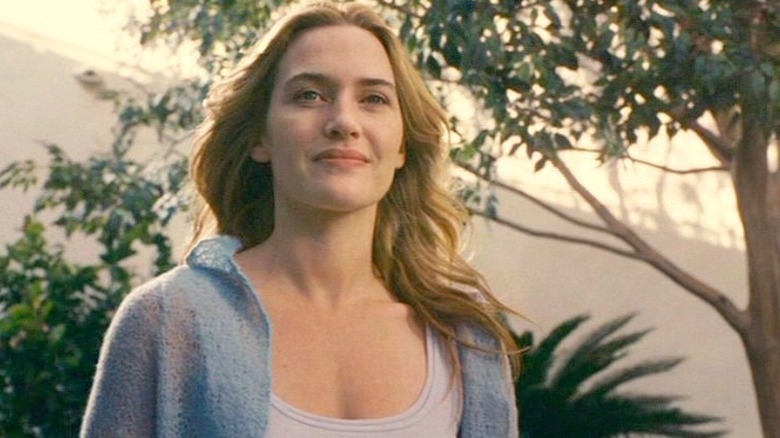 Sony Pictures
Iris (Kate Winslet) and Amanda (Cameron Diaz) are "The Holiday's" unlucky-in-love duo, who both find themselves heartbroken for the holiday season on opposite sides of the Atlantic. Making the spontaneous decision to swap houses for the holidays, Iris heads to sunny Los Angeles, and Amanda finds herself in a quaint, snowy village in Surrey. While they explicitly stated that the reason for their respective trips was to avoid men at all costs, love soon finds them when Iris meets Amanda's colleague, Miles (Jack Black), and Amanda is wooed by Iris' handsome brother, Graham (Jude Law).
"Sweet Home Alabama" proves that home is where the heart is for Melanie, but "The Holiday" switches this idea up with both Amanda and Iris finding love far away from home when they'd given up all hope of ever finding happiness. Not only do they find love, but Iris and Amanda also learn something about themselves, with Amanda growing to become more in touch with her emotions again and Iris becoming more assertive so she won't be walked over in relationships anymore.
It may be predictable and cheesy, but "The Holiday" is a perfect festive film with a joy that makes it a charming movie to watch whatever the season. Like "Sweet Home Alabama," there can be reassurance in watching something that you know is going to have a happy ending, and "The Holiday" is one that feels like a warm, comforting hug.
How Stella Got Her Groove Back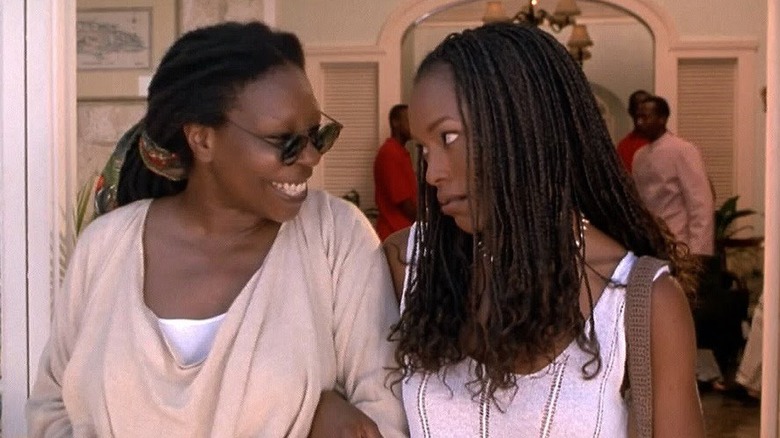 20th Century Fox
In "How Stella Got Her Groove Back," Angela Bassett stars as the titular character — an over-worked career woman and single mother — who's persuaded by her outgoing friend Delilah (Whoopi Goldberg) to take a break from the high-pressure world of stockbroking and take vacation with her in Jamaica. Struggling to find the balance between her work and her home life, Stella uses the vacation to take stock and rediscover what's important in her life — and her fresh outlook delivers an unexpected reward when she meets Winston (Taye Diggs).
"Sweet Home Alabama" sees Melanie returning home rather than embarking on a fun vacation like Stella. However, both films see the women finding love and learning something about themselves in unexpected ways. For Melanie, reconnecting with her husband and childhood sweetheart makes her realize how strong her ties are to home, and for Stella, the new surroundings help her to form a deeper connection with herself — something that opens her up to the prospect of love with Winston.
While the events that lead up to their decisions to take a trip are very different, both Melanie and Stella realize the benefit of switching up their surroundings, and both find love and happiness through their time away. For Stella, the vacation gives her that feeling of refreshment and rejuvenation — something most people can relate to — and just as the trip gives Stella the chance to switch off from the daily grind, this film will help you switch off from the real world, offering blissful escapism.