Attack On Titan's Trina Nishimura Could Have Played A Very Different Survey Corps Character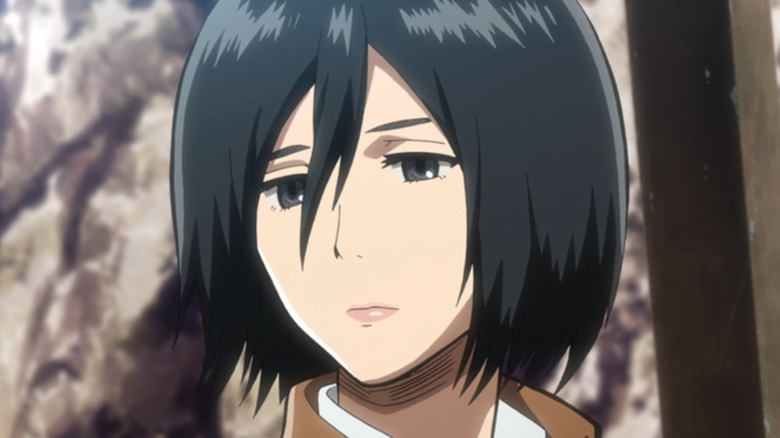 Kodansha/Funimation
"Attack on Titan" has blown the doors off of the world of anime over the last decade. The series isn't just one of the most successful and popular anime in the world — it's one of the most popular things on TV full stop (via Polygon). Based on the manga of the same name, the show imagines a world where the last of humanity cowers behind walled cities as massive giants roam beyond the barriers.
Part of its success has no doubt come from its compelling cast of characters. One such character is the fierce yet stoic Mikasa Ackerman (Yui Ishikawa/Trina Nishimura). With her devastating aerial skills and vicious titan-killing attacks, Mikasa is a force to be reckoned with in any combat scenario.
Trina Nishimura, the iconic English voice behind the heroine in "Attack on Titan," is also well known for her work on other flagship anime series like "My Hero Academia" and "Fullmetal Alchemist: Brotherhood." But in "Attack on Titan," she could have easily ended up voicing a different character entirely.
Trina Nishimura originally read for the part of Sasha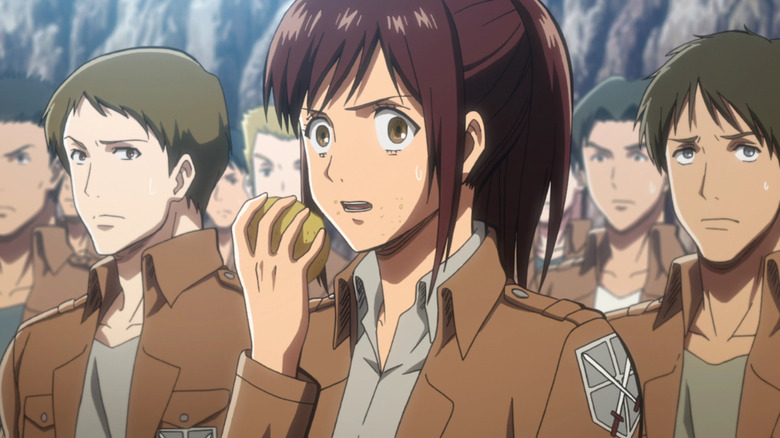 Kodansha/Funimation
Trina Nishimura joined fellow "Attack on Titan" voice actors Bryce Papenbrook and Mike McFarland to speak with Rolling Stone about some behind-the-scenes details of voice acting in the series. "So, I initially read for Sasha, whom I love because she loves potatoes, and I love potatoes," Nishimura joked. Here she's referencing the hilarious scene early on in the series, which sees Sasha Braus (Yu Kobayashi/Ashly Burch) caught eating a potato during basic training. The moment was so memorable that both fans in real life and characters in the show still regularly refer to Sasha as "potato girl."
Nishimura went on to reveal that she also read for Armin Arlert (Marina Inoue/Josh Grelle) before reluctantly trying out for the role of Mikasa. "Well, that's not going to happen," she recalled with a laugh. "But sure, I'll read for her. And I was incredibly surprised I was cast because so many people wanted to be part of the project."
Either way, because Nishimura took that chance, she ended up landing the role of a fan-favorite character who is regularly seen as a whirling blade of terror that can tear apart both titans and humans with ease. Look for more of Nishimura in "Attack on Titan" when the series wraps up with "The Final Arc" in 2023.